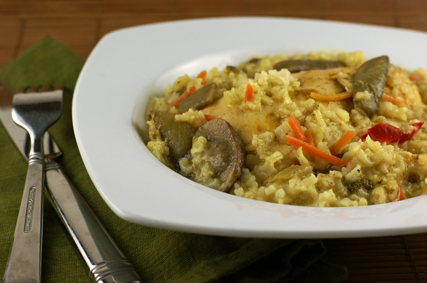 Can I just say that the slow cooker rocks?!
I'm sure those of you who use them regularly will agree.
Here's how it went down for us today.  Got up this morning around 8. Breakfasted. (Can that be a verb?!) Put on our coats. (Hello, 39 degrees.) Went to the gym. While running, I remembered that I forgot to start the slow cooker. *sigh*
Fast forward a few hours. Through 1 grocery store trip. Through lunch. And through getting kid #1 on the bus. When I remember again that I haven't started the slow cooker.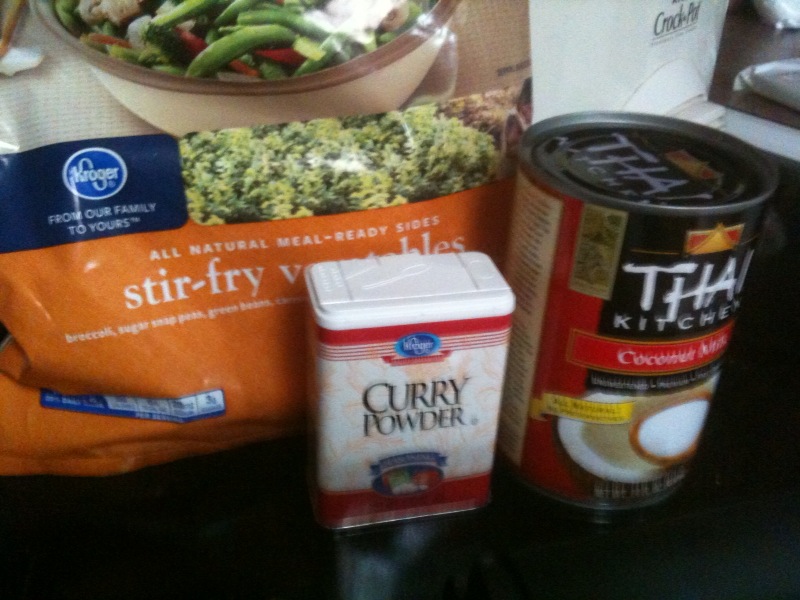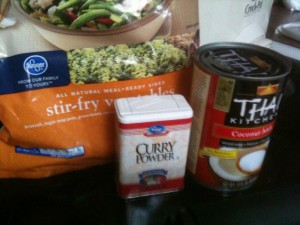 I have approximately 15 minutes from the time kid #1 gets on the bus until I have to leave to take kid #2 to preschool. The great news about this meal…it took me about 4 minutes to load the slow cooker. (Plus another few minutes later adding the rice.)
Spray the slow cooker. Dump in the coconut milk and stir in the curry powder (plus some salt and pepper…crushed red pepper for any of you spice-aholics). Add the chicken. Top with the frozen vegetables. Give it a little toss. Set on high for 6 hours…will be ready  by 6! Be on your way to preschool.
This was quite the interesting meal.  I can tell you that the right side of my mouth really enjoyed the meal, while my left side doesn't quite agree.
Reason: I had a dentist appointment this afternoon and left the place with no feeling on the left side of my face.  And a crooked smile. And a funny "twang."  The kids got a kick of the fact that they could flick my face and it didn't hurt. (Yes, I let them do that in the name of novocaine education and learning about feeling numb.)
You'd have to ask Steve, but I'm fairly certain that Tyler was the only one drooling at the dinner table.  I *may* have drooled a little from the left side. But only because it tasted so great! 😉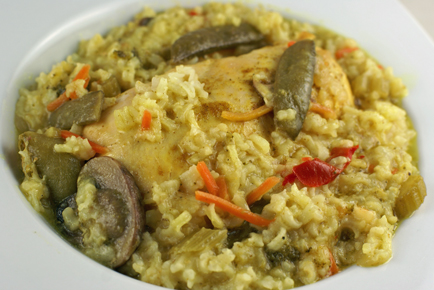 Scrumptious…it really was.  At least according to the right side of my mouth.
Slow Cooker Curried Coconut Chicken

Ingredients

1 can coconut milk ($1.09) Used $1 coupon on sale price
2 tsp curry powder ($.20)
Salt and pepper
3 boneless, skinless chicken breasts ($2.87)
1 bag frozen stir-fry mixed vegetables ($1.09)
1 cup white rice ($.20)
1/2 tsp ground ginger, curry powder each ($.10)

Directions

Shake the coconut milk vigorously.  Pour into the base of a lightly sprayed slow cooker.  Whisk away any chunks of the coconut milk if necessary.  Whisk in the curry powder and salt and pepper.   Place the chicken breasts into the coconut milk and spoon some of the milk over top of the chicken.  Top with the frozen vegetables.
Set slow cooker on high for 6 hours (or low for 8-10 hours) and let it fill your home with an amazing aroma as it cooks all afternoon/day.
About 20 minutes before dinner, cook the rice as directed with a few dashes of ground ginger and curry powder added to the water.  Extra flavor boost! (I stirred together the rice and veggies and some of the juices.)
Serve the Curried Coconut Chicken and veggies over the rice.

Cost $5.55