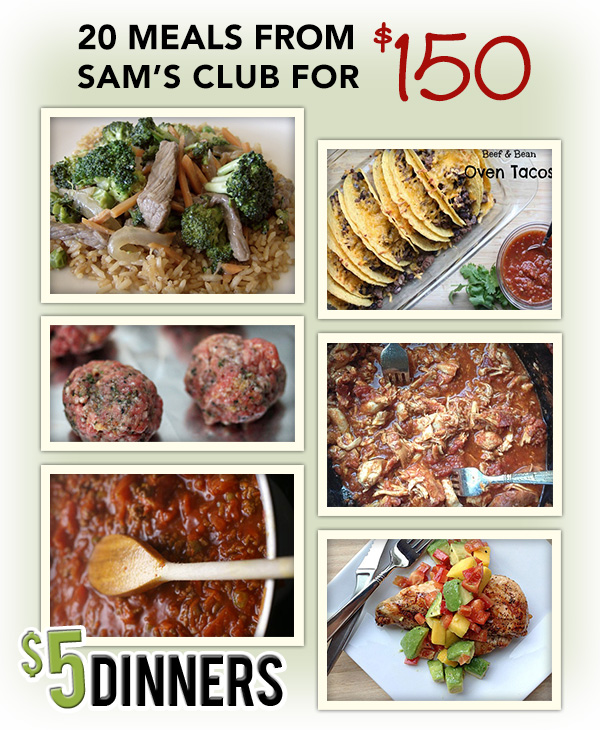 Our 20 Meals from Costco for $150 was quite popular as so many people found it helpful – yay!  So, we decided to do the same menu plan (with a few substitutions) for those that shop at Sam's Club.
Let's get to it, shall we?!?
Disclaimers
Yes, I realize this makes for more like $7.50 dinners. You'll have lots leftover! 

Produce prices may vary by region. And season.
Meals are for a family of 4. Larger families, or families with teenagers will need to adjust quantities.
Meals are as kid friendly, family friendly, and allergy friendly as I could make them. Hopefully you will enjoy them!
Mix and Match Meals – because of the bulk purchasing, this is really a game of mixing and matching ingredients. The ingredients are very common and work in a wide variety of recipes, so feel free to use them in other recipes besides those listed below.
I would expect you to have some ingredients needed for the different recipes in your pantry, like spices, soy sauce, etc. In the recipe/ingredient list and printable below, I've only included the ingredients from the Sam's Club purchase list.
Let's get to the recipes and printables, shall we?!?
Recipe List
Grilled Chicken with Mango & Avocado Salsa
Slow Cooker Chicken Parmesan
2 Spaghetti with Meat Sauce
2 Beef & Bean Soft Tacos (or these Beef & Bean Oven Tacos, if you have hard shell tacos on hand!)
2 Potato & Egg Breakfast Tacos
2 Slow Cooker Beef Stew – freezer pack
2 Slow Cooker Italian Chicken & Potatoes – freezer pack
2 batches Herbed Meatballs – for freezer
2 Beef Stirfry with Broccoli – freezer pack
2 Rice with Corn & Pinto Beans
Ingredients & Price List
1 big package of chicken breasts 6 lbs, fresh $10.50 or frozen $10.98
1 big package of ground beef (about 5 1/2 to 6 lb) ~ 17.50
2 – 2 lb Angus chuck roasts, cut into stew meat ~ $15.50
2 – 3 lb bags of baby carrots $7.96
2– 10 lb bags of russet potatoes $11.96
1 – 5 ct package of avocados $5.98
1 – 2 lb package of mango slices $7.98
2 – 20 ct bags of 6 inch tortillas $4.98
1 – 36 ct bag of Sam's bakery dinner rolls $4.98
1 – 4 lb package of frozen broccoli $5.89
1 – 18 ct package of eggs $2.26
1 – 6 lb package of spaghetti noodles $5.76
2 pack Prego pasta sauce $7.48
1 – 2 ct jars of Chi-chi's salsa $7.96
1 – 24 oz. container Parmesan cheese $8.48
1 – 12 lb bag of long grain rice $8.48  

 

1 – 8 ct package of canned corn $6.38
1 – 10 lb bag of dried pinto beans $7.76
1 – 8 ct package of canned tomatoes $6.27
Optional – a 6 pack fresh peppers $6.98
Total – $154.54
A couple of recipes call for bell peppers…they are optional, and would add another $5-$7 to the total.
Leftovers – you will have lots leftover too…including a jar of spaghetti sauce, lots of rice, jar of salsa, several pounds of potatoes, a ton of Parmesan cheese, a load of beans and smaller quantities of other ingredients. I did not reflect these "leftovers" in the total cost, so it would really be $10-$15 less than $150!!!
Also, please note that the recipes call for cooked beans…here is more information on how to cook dried beans since Sam's Club doesn't sell canned beans.  It's not hard – you can do it!
Also, due to having a large amount of inexpensive leftover rice and beans, feel free to pull some recipes from our Rice & Beans Budget post to help you use up those ingredients in a frugal way!
Make it Simple…get the recipes and shopping list printables for just $4!!!
Don't forget to check out all of the other printable meal plans and e-cookbooks in the $5 Dinners Store!