This meal is inspired by my brother in law. We went to visit them in Chi-town this past Labor Day weekend. He cooked up a storm! It was such a joy to watch him take on the same role as his dad! Host and chef! Also, want to say a quick congrats to my BIL for running the Chicago marathon and doing so in honor and memory of your dad!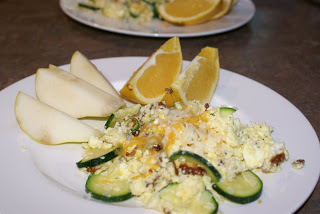 A simple omelet made with zucchini!
Ingredients
2

medium

zucchini

1

Tbsp

minced onion

10

eggs

1/4

cup

milk

1/2

cup

cheese

2

Tbsp

oil

fresh fruit

side dish
Instructions
Thinly slice or dice zucchini. Finely chop onion.

Whisk eggs and milk with a little salt and pepper.

Heat skillet on high. Add 1-2 T oil. Add egg mixture and let cook a little. Add zucchini, onion and cheese. Once eggs have cooked mostly through. Flip the omelet over and cook another 1-2 minutes.

Fold the omelet, and serve with sliced fresh fruit.