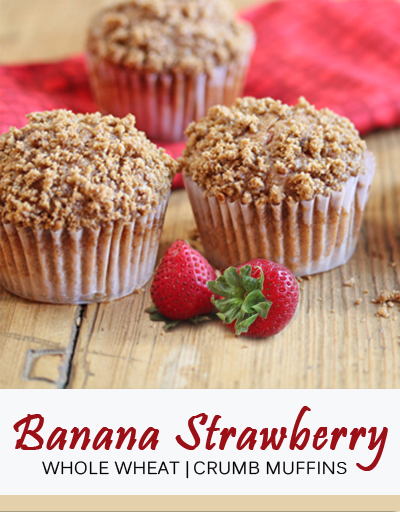 I don't remember the last time that I made muffins "from a box." And I'm afraid if I tried muffins from a box, I wouldn't like them. They may be extra sweet…but I'm afraid they wouldn't taste real. Or good even.
Since I gave up processed sugar and white flours this month, I've had to get creative with baking. I did get some wheat berries and sucanat to help make some sweeter treats that didn't have white flour or sugar involved. And I thought adding a crumb topping would be helpful since sucanat isn't quite as sweet as sugar. The sweet crumb topping was a perfect addition to these muffins.
These were phenomenal.
I did not think the kids would like them because they were made with all whole wheat flour (I've generally made muffins with half white and half wheat flour). I thought the density and thickness of the muffins from being made with all whole wheat would be a turn off.
Well, let me tell you…there were none left to freeze!
Between afternoon snack and being requested again that night for dessert, these guys didn't even have a chance to get into the freezer.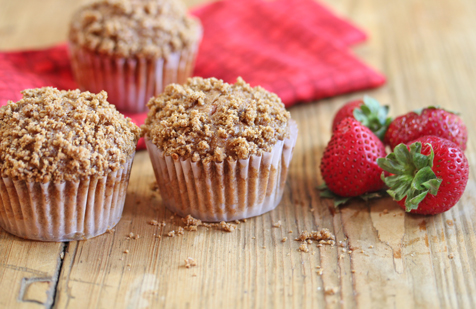 Ingredients
3 ripe bananas, mashed

3/4

cup

sucanat

1 egg

2

Tbsp

oil

1/4

cup

applesauce

1 1/2 cup whole wheat flour

1 1/2 tsp baking powder

1 tsp baking soda

1/2 tsp salt

1

cup

mashed strawberries
Instructions
2 Tbsp whole wheat flour

1/2 tsp cinnamon

1/4 cup sucanat

1 Tbsp + 1 tsp butter or margarine