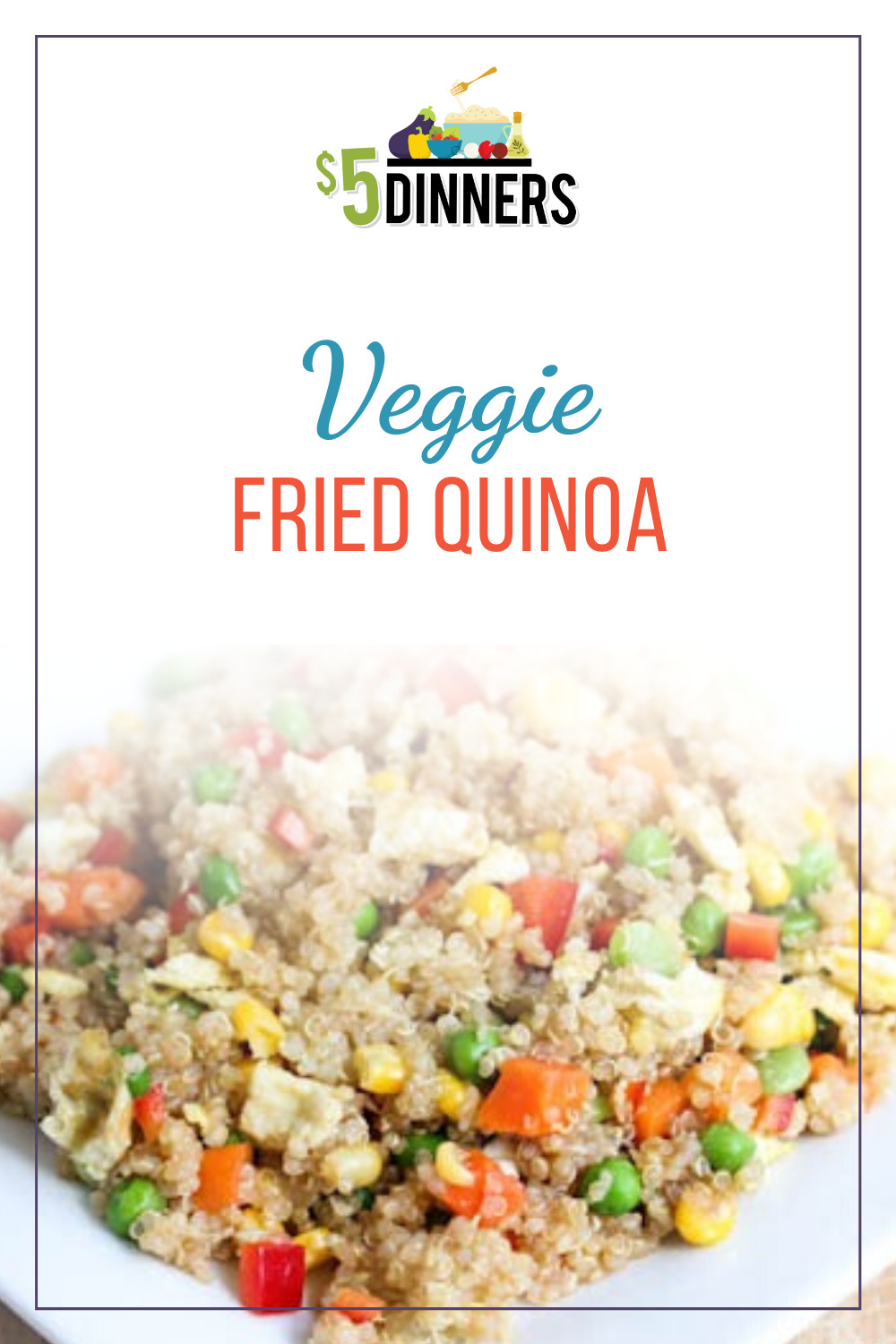 Stovetop Confession.
The other night I was making chicken and potatoes in the Dutch oven. (Similar to this.) I got it all started, set the lid on top and walked away to help Ryan finish up his math homework. But before I walked away, I forgot to turn the dial down to medium-low. And won't ya know….10 minutes later my nose caught wind of a smell that should never come from the kitchen…burning potatoes.
Sigh.
I knew right away that it wouldn't be salvageable, as that burned smell had permeated everything in the pot. So I needed an alternative & fast. I had already pulled out the mixed veggies to serve along side the chicken and potatoes…so I had to use those up. I knew a "fried rice" with some eggs would be perfect way to use up the veggies, but brown rice would take too long to cook. So I turned to quinoa instead and ended up whipping together a quinoa version of veggie fried rice. I happened to have a $.50 red pepper from Sprouts, the soy sauce and, of course, the eggs to round it out.
Love that the eggs provide the protein for this filling and healthy meal…and that can be on the table, even after a big mishap, in about 20 minutes. It's just what I needed on one of "those afternoons." I trust you know what kind of afternoon I'm talking about. 🙂
Had any kitchen mishaps lately? Or one of "those afternoons"? What's your 20 minute fix when you find yourself with a burnt meal or dud dinner?!? Or hectic witching hour???
A filling, yet healthy meal that is quick to cook!
Ingredients
2

cups

quinoa

2

eggs

16

oz

mixed veggies

(I picked out the green beans and served them separately. Cuz I'm weird like that.)

1

red pepper

seeded and diced

1/4

cup

soy sauce

1

tsp

ground ginger

Salt and pepper
Instructions
Cook the quinoa in a medium saucepan.

Meanwhile, cook the eggs, sorta omelet style/sorta scrambled style, so they are thin and flat, and then slice them up. (I used my pizza cutter.)

Cook the veggies as directed and drain off any liquid from cooking.

Once the quinoa is fluffy, usually after 15 minutes, toss in the veggies, egg pieces, soy sauce, ginger and salt and pepper to taste. Optional: toss in any leftover chicken or pork, finely chopped.

Serve Veggie "Fried Quinoa" as a one dish dinner, or with veggies or fruit on the side.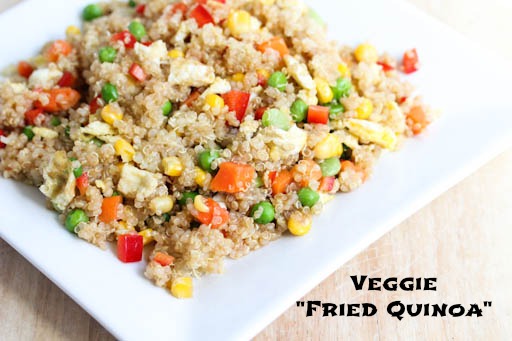 Disclosure: This post is part of a sponsored series from Safest Choice Eggs. As always, opinions are my own…and the burnt dinner was real. Sigh.