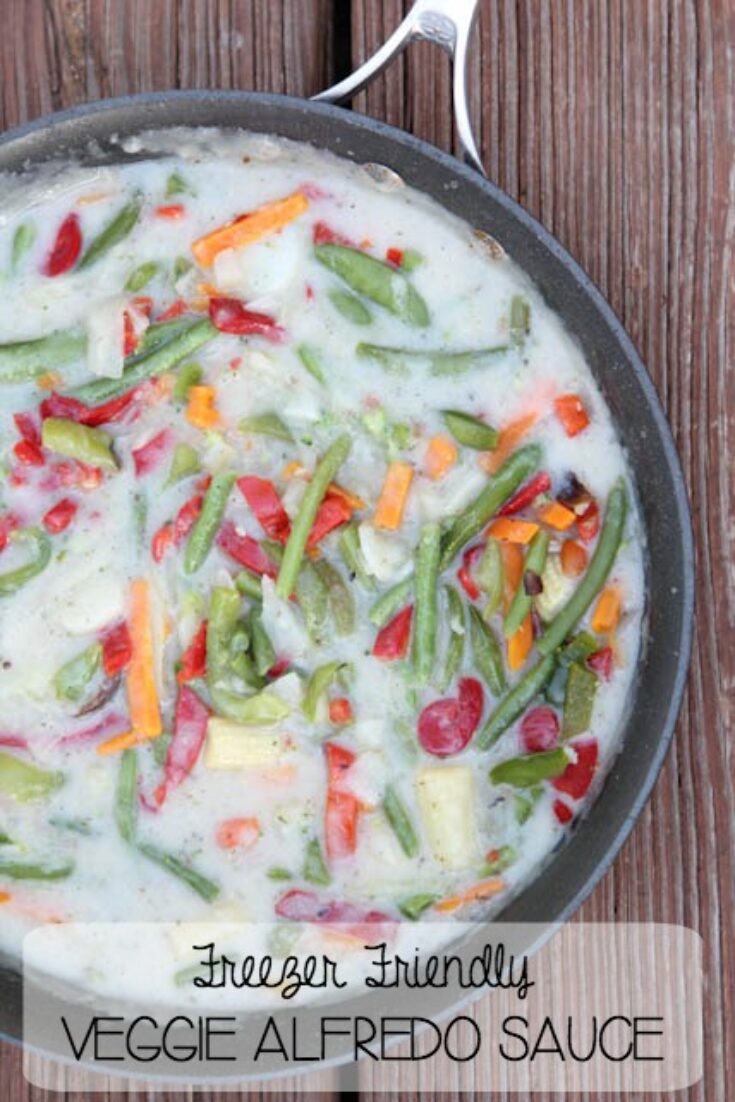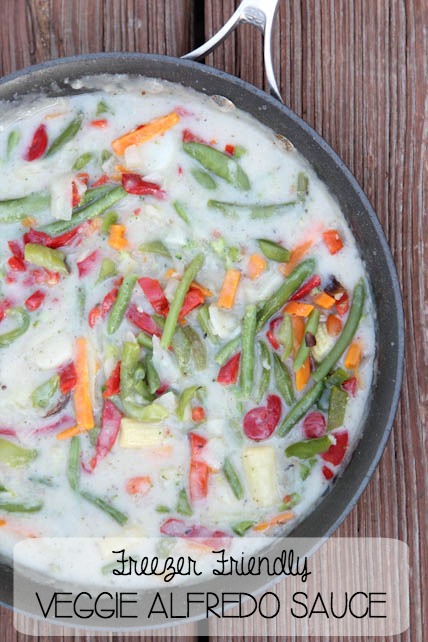 Have you ever made your own Alfredo sauce?!
If not, I implore you. Challenge you. Demand you. (hehe!) No, I really think you should try it!
I love playing with homemade white sauces, and in this case an Alfredo sauce with veggies. Creamy, cheesy, salty and delicious over pasta!
For this Alfredo sauce, I decided to save myself a few calories and used whole milk instead of half and half or heavy cream. And it's what I had on hand (what my husband drinks), so no need to purchase an additional item.
If you require that extra creaminess, then by all means substitute the milk in this recipe for half and half or heavy cream. I will say that there is plenty of creaminess from the other cheeses added to the sauce!
Here's the basic steps to a homemade white sauce.
Melt butter.
Whisk in flour.
Vigorously whisk in the milk/cream.
Let thicken.
To turn this into Alfredo sauce…
Add Parmesan and other seasonings.
Then add the veggies.
And finally serve over pasta.
Perfect meal for a 'Meatless Monday'…easy enough and quick enough for a busy weeknight dinner!
A perfect homemade Alfredo sauce!
Ingredients
1/2

cup

butter

1/2

cup

flour

3

cups

whole milk (or half and half/heavy cream)

1/2

cup

Parmesan cheese

1

cup

shredded mozzarella cheese

1

tsp

1 tsp garlic powder

Salt and pepper to taste

16

oz

frozen stir-fry veggie mix

1

lb.

pasta noodles
Instructions
In a large skillet, melt the butter. Whisk in the flour and then quickly whisk in the milk, making sure that the flour doesn't clump in the milk. Bring to bubbling over medium high heat and let the sauce thicken.

Cook the frozen veggies as directed and drain well. You don't want any extra water in the veggies thinning out the sauce.

Once thickened, stir in the Parmesan cheese, shredded mozzarella cheese, garlic powder and salt and pepper to taste. Mix in the prepared veggies.

Prepare pasta as directed.

Serve Veggie Alfredo Sauce over pasta.

To Freeze: Completely cool the sauce with veggies in the refrigerator and spoon into a plastic freezer baggie. Remove as much air from the baggie as you can and then flat freezeto save space.

To Thaw: Place the baggie in a bowl of warm water to quickly thaw it. (Or let thaw in the refrigerator overnight.)

To Reheat: Add thawed or partially frozen sauce to a skillet and reheat for 10-15 minutes over medium low heat, stirring often.