Trying to come up with something special for Valentine's Day?! Show your love by creating a pretty food board and pulling out some new games for a fun family night!
Staying home on Valentine's Day is what all the cool kids are doing.
And by cool kids, I mean me and my family 🙂
I'm spending what I WOULD be spending on a night out for two, on a charcuterie board and some new games for the whole family! The food of course will not last long, but the investment in the games is priceless!!
Charcuterie boards can get pretty fancy and complicated, but we aren't doing all that here. I just snagged all these items at our local grocery store.
I got the games on Amazon. Sometimes I forget HOW MUCH FUN family games are. The constant stream of giggles and laughter is good for soul.
So, let's get to it…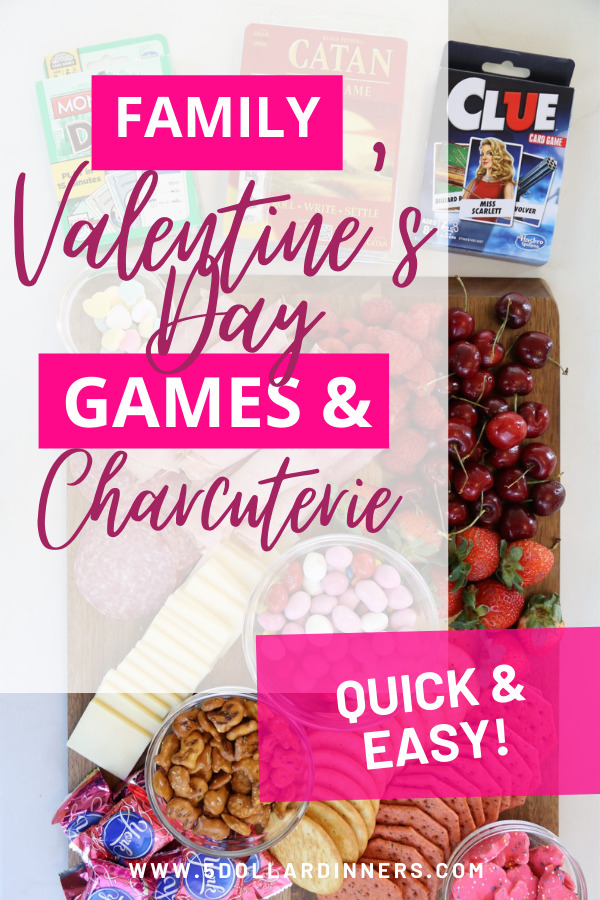 What to Include on Valentine's Charcuterie Board
Think about different pink, red, white, light brown colored foods that you can include on your board.
You want to consider a balance of sweet and salty, as well as protein options plus fruits and veggies.
Below is a list of items to add to your grocery list:
Red berries
Cherries
Ham delimeat
Salami
Pepperoni
White cheddar cheese slices
Light colored crackers
Beet colored crackers
Conversation hearts
Valentine's M&Ms
Almonds
Pretzel goldfish
White and pink animal crackers
Cherry tomatoes with ranch dressing dip
Here's a look at how our charcuterie board will look this Valentine's Day!
Also, don't miss out on the fun (and fast!) family game night ideas below.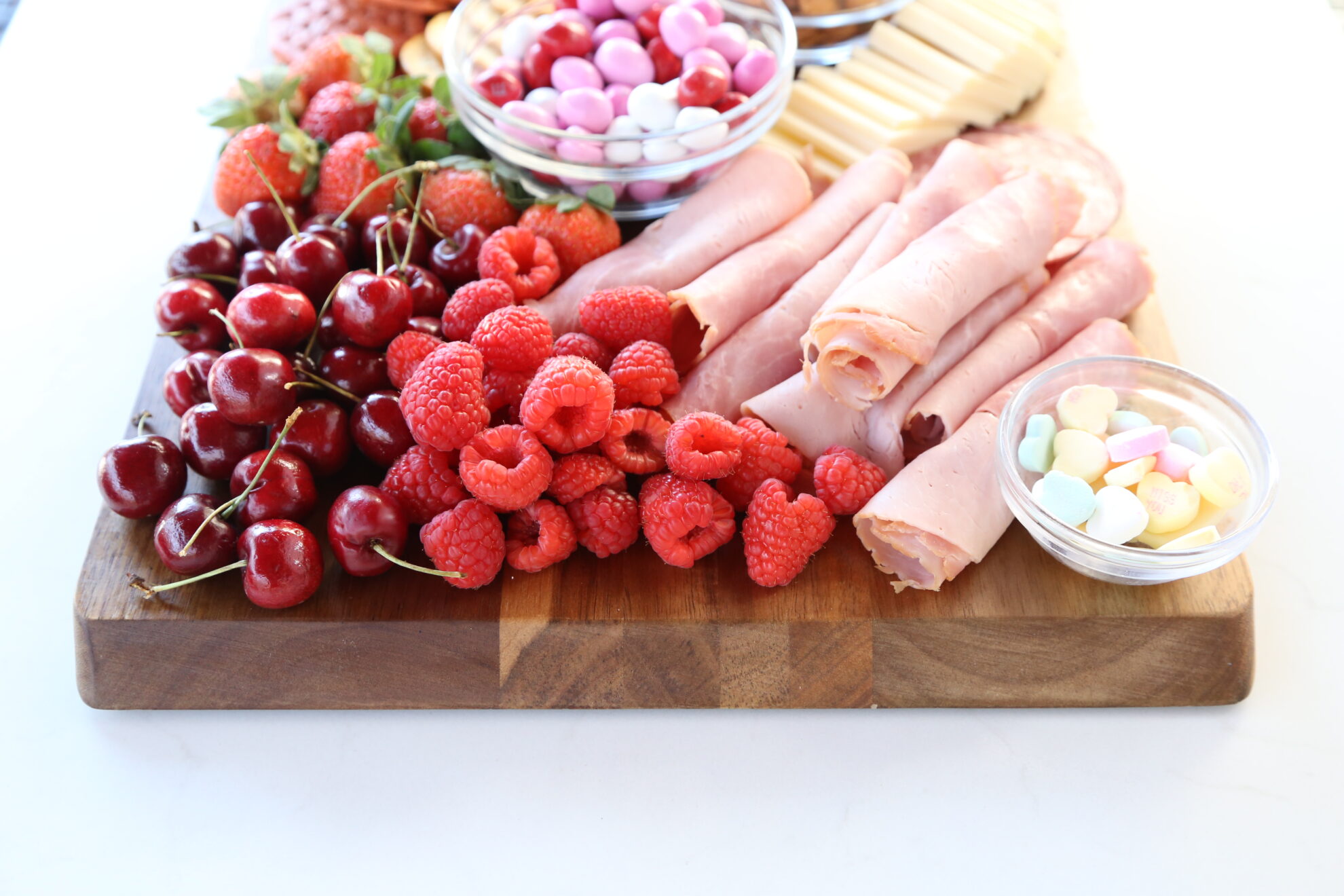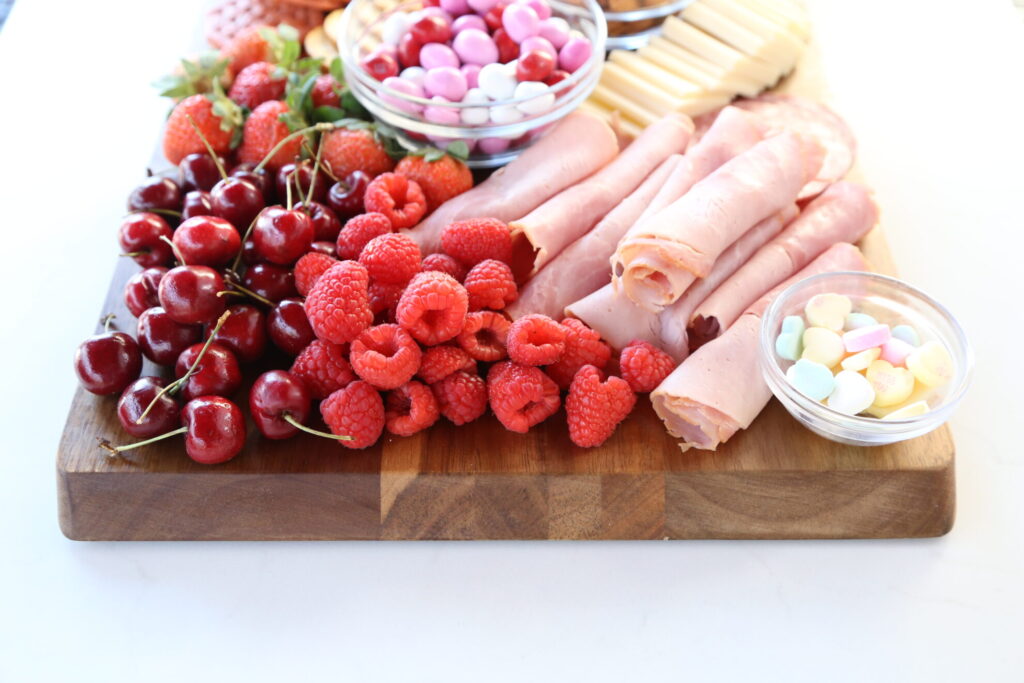 I placed all the fruits together…
And put the smaller items like the M&Ms, conversation hearts, goldfish and animal crackers into small bowls.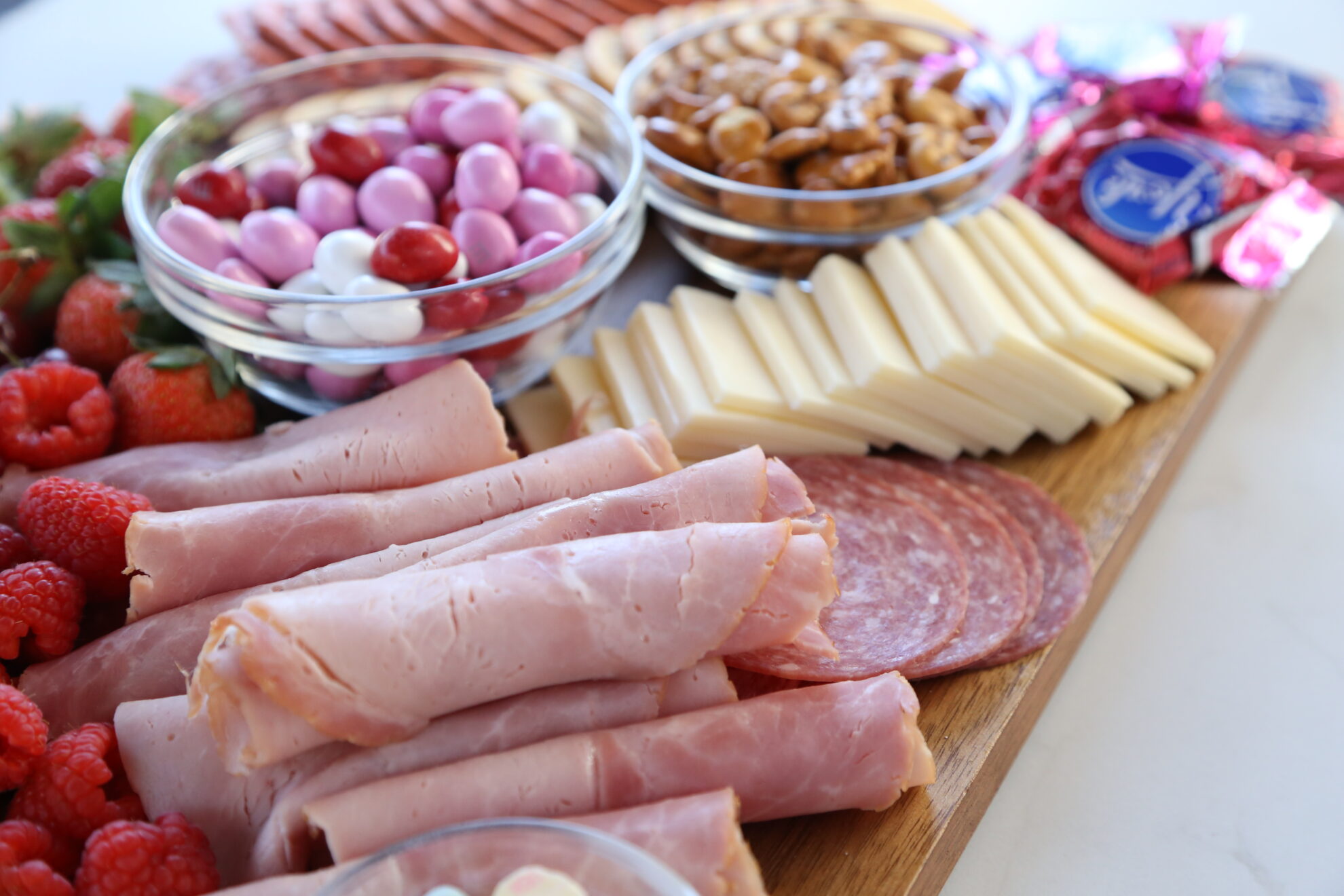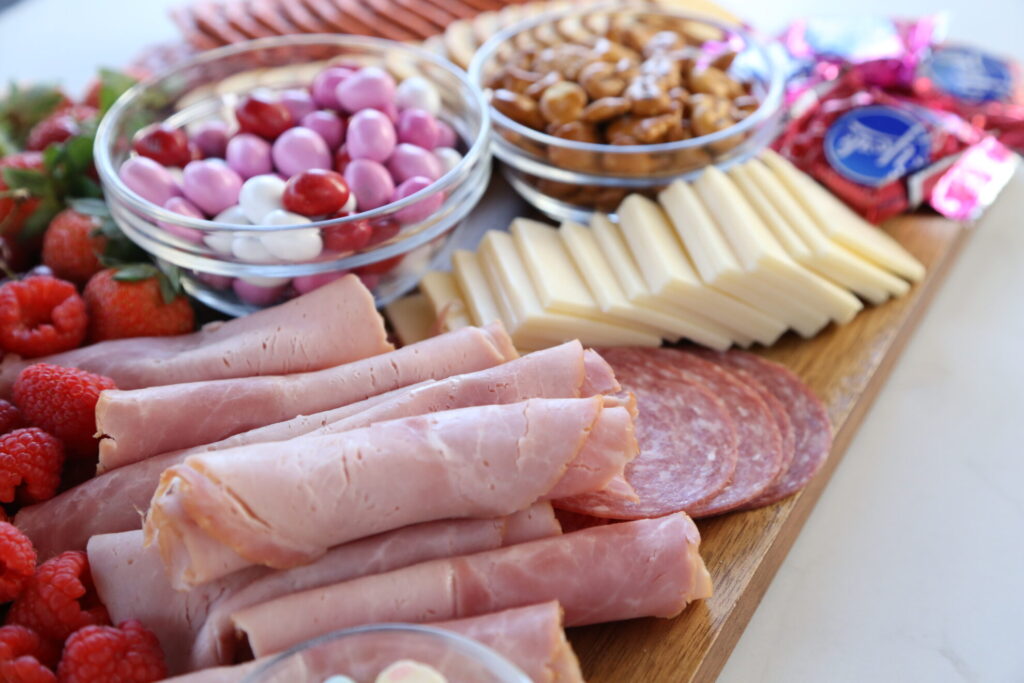 Then I lined up the delimeats and cheeses into rows.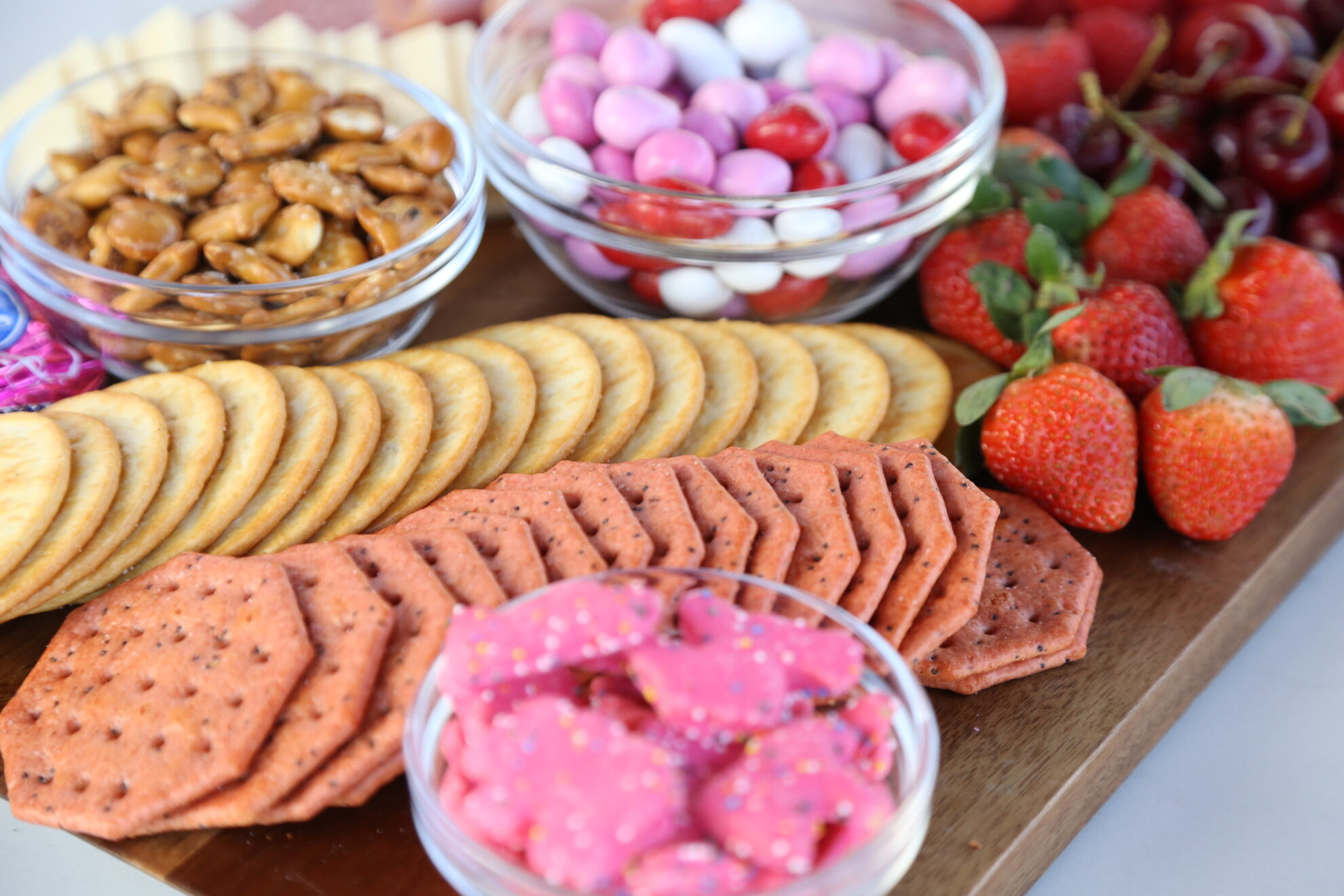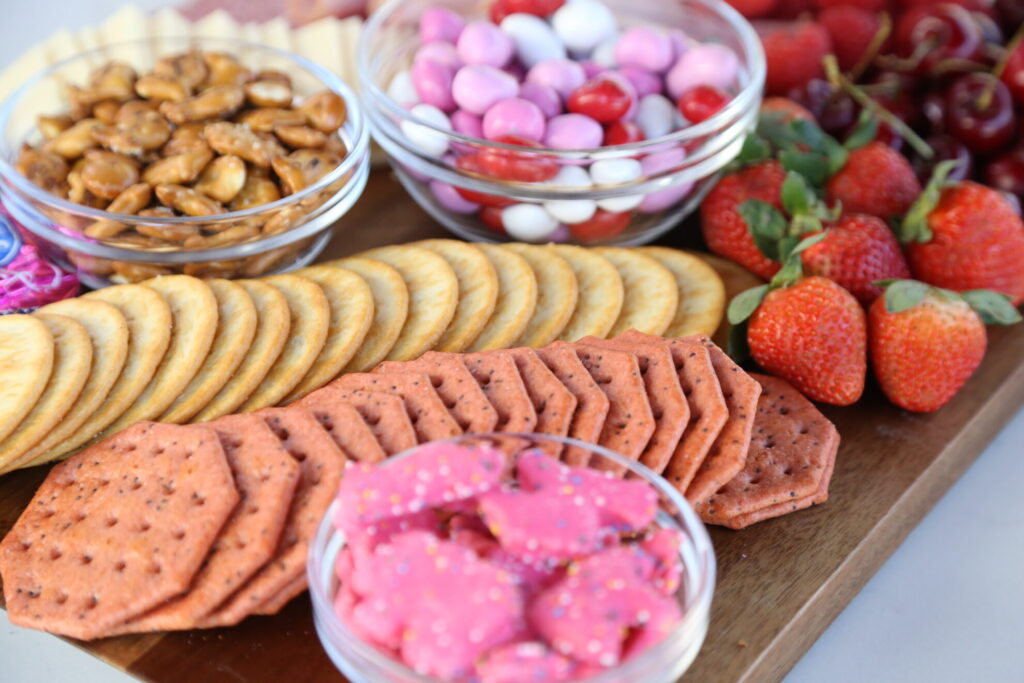 Then crackers into rows.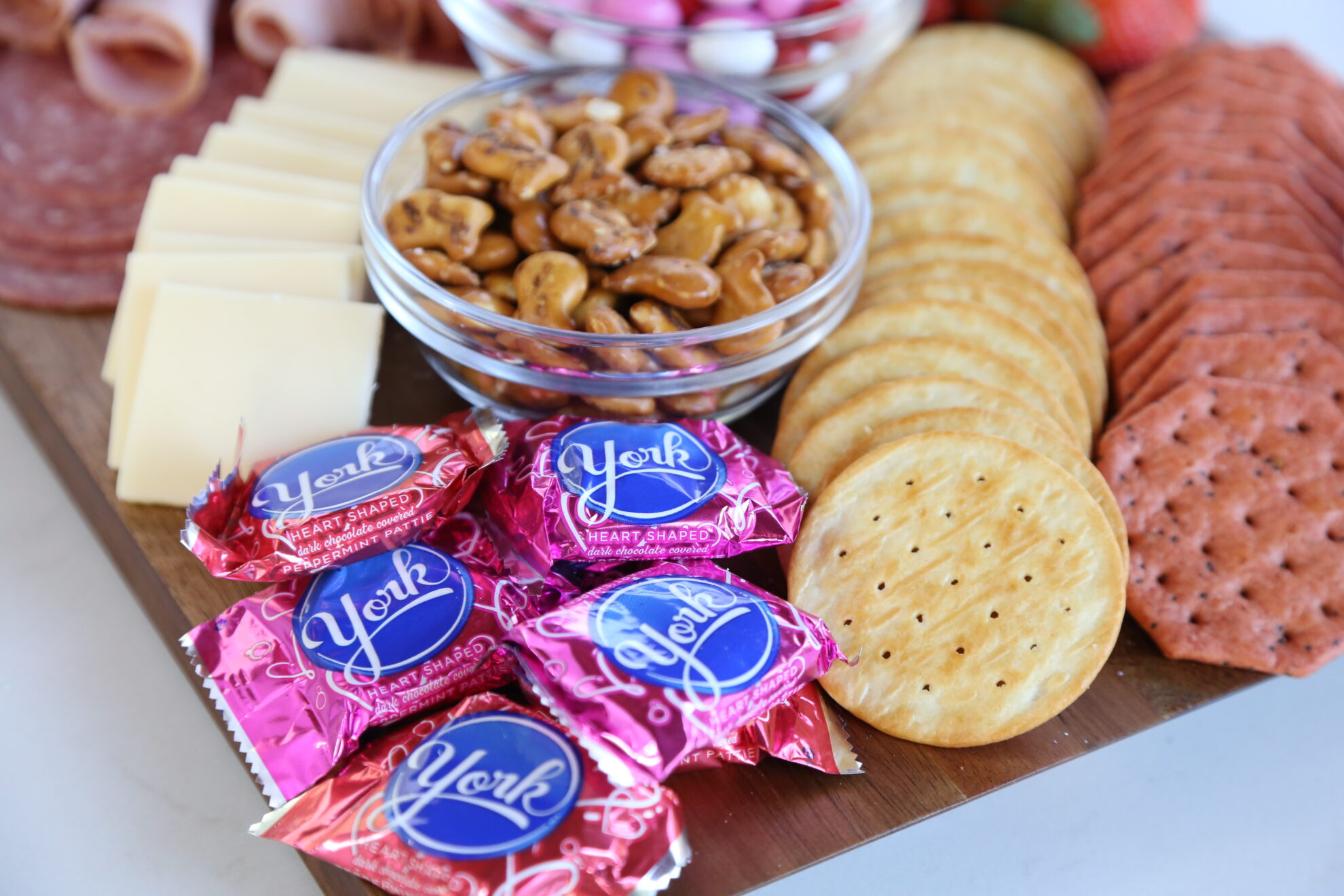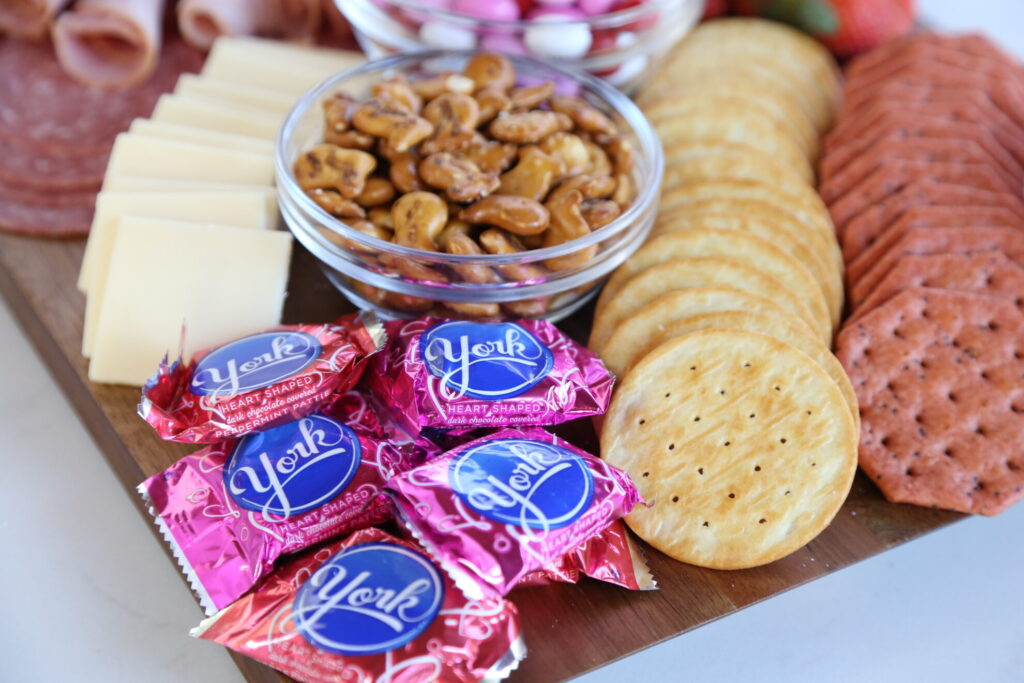 Finally, I snuck the peppermint patty hearts onto the corner.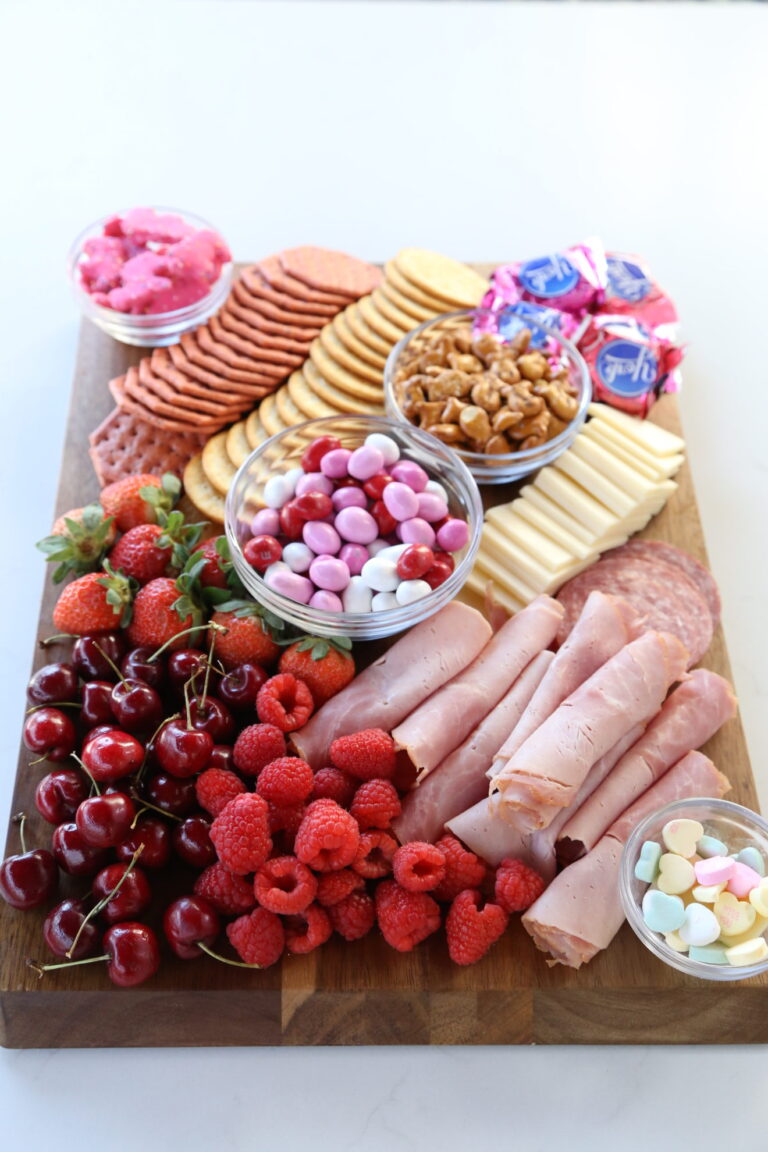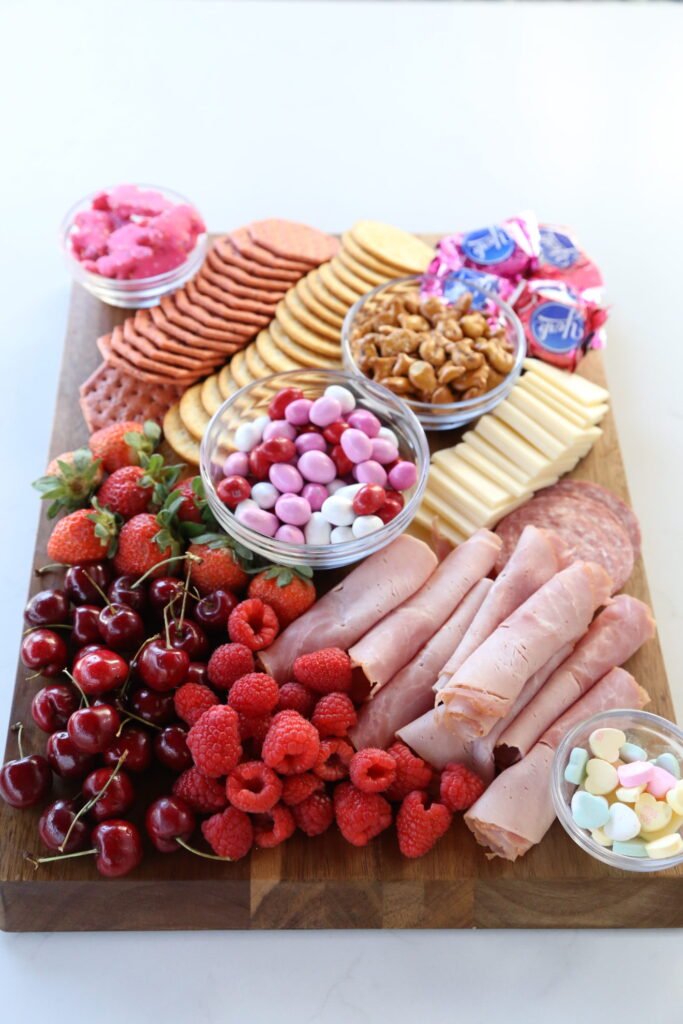 There's no right or wrong way to layout a charcuterie board!
In the end, everyone will love being able to pick and choose what goes on their plates!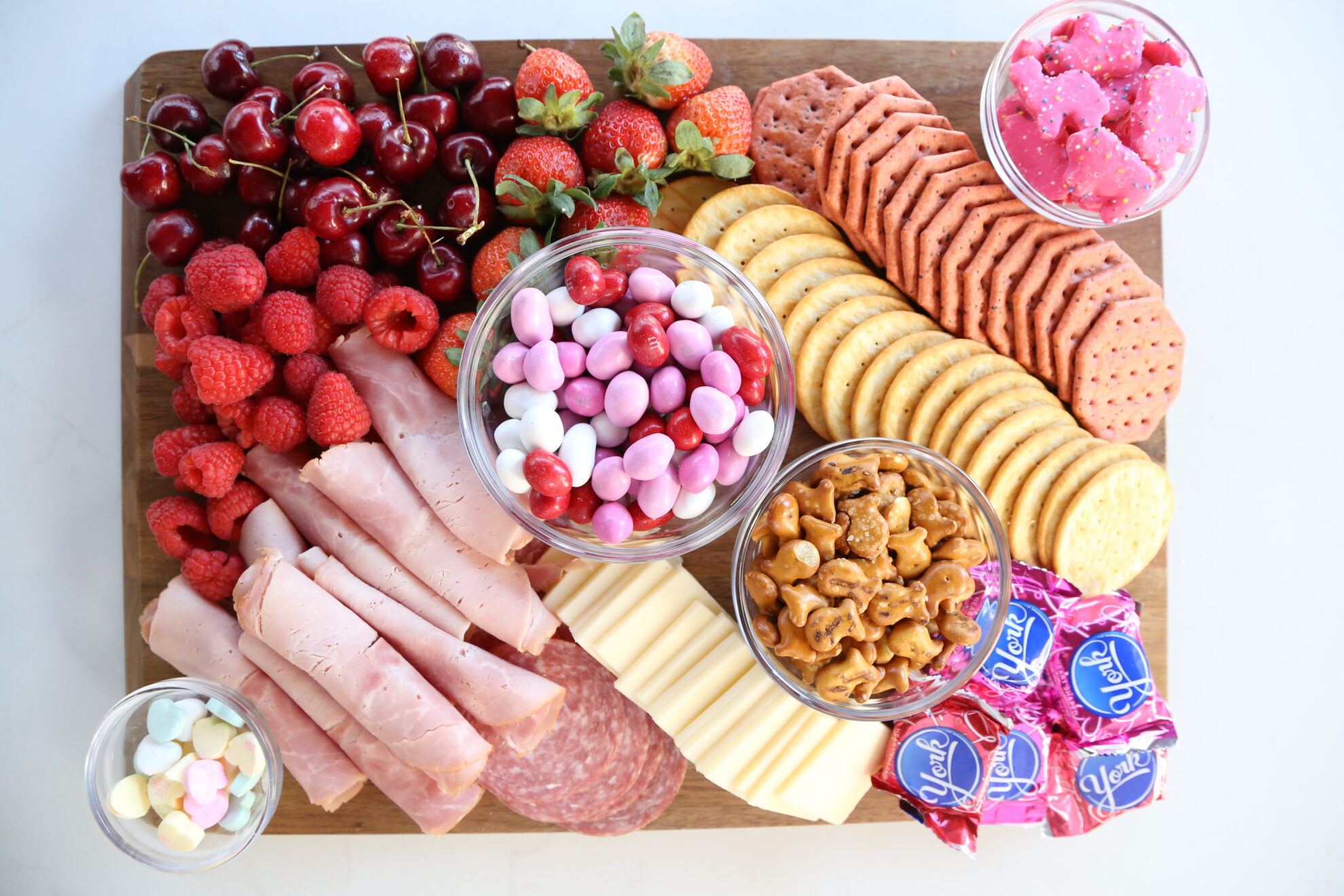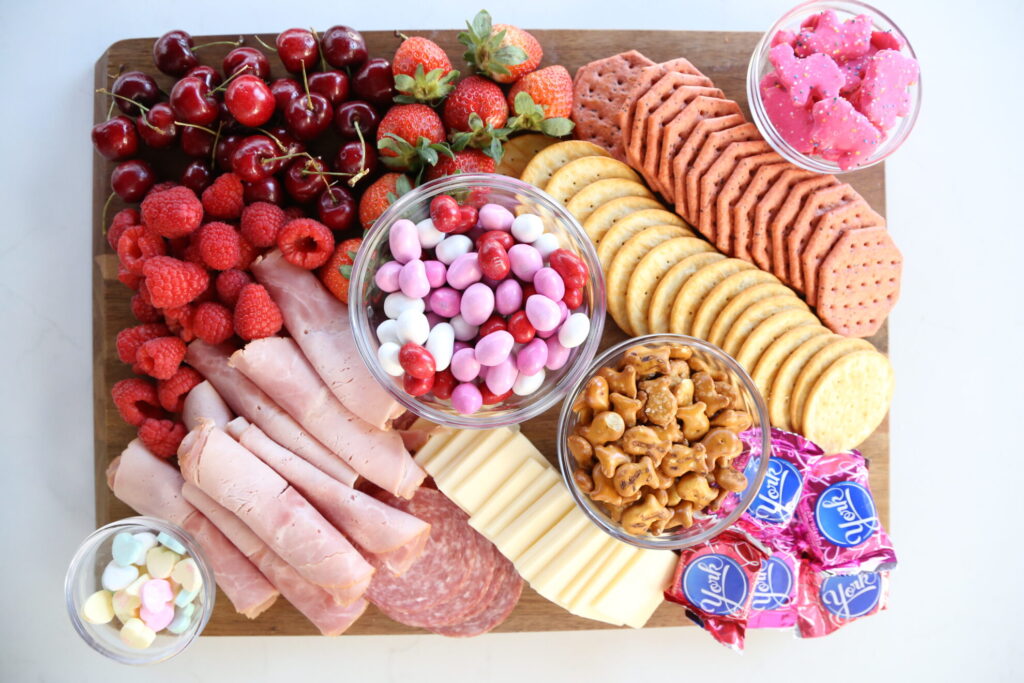 For younger kiddos, you might want to give them some direction on taking a little from each category vs. all sugary options!!! 😉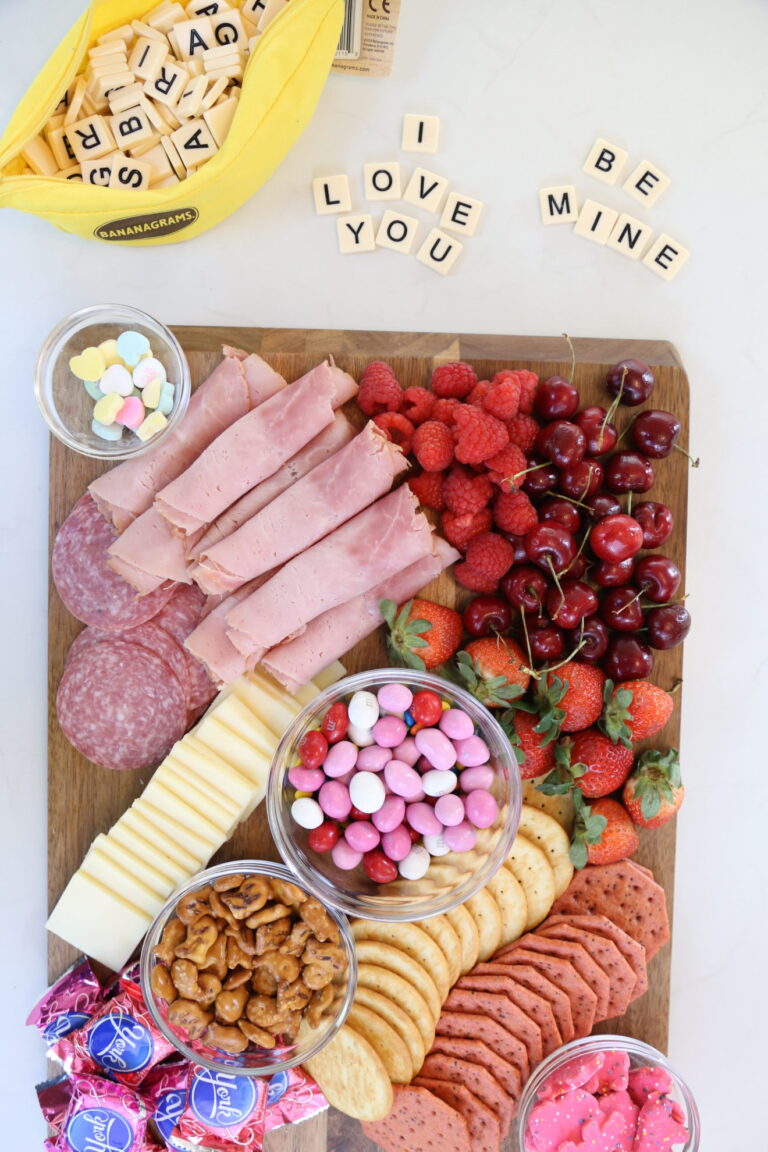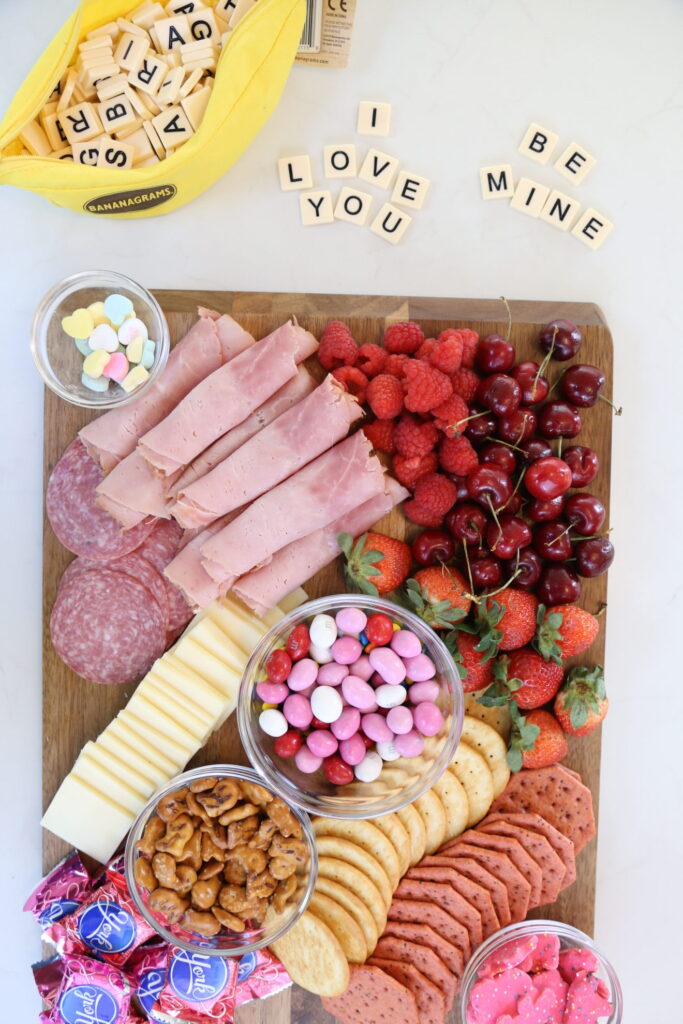 Erin's Favorite Family Friendly Games
A simplified & fast-paced way to play catan without a board
A simplified & fast-paced way to play catan without a board
Junior version of the popular Settlers of Catan game.
PLAY IT ANY TIME ANY PLACE- Convenient take anywhere size game.
SIMPLE AND HILARIOUS- Fast paced laugh out loud fun for any get together.
WILDLY POPULAR- Perfect for all-ages.
GET ROLLING IN SECONDS- Takes only a minute to learn and gameplay lasts for about 10 to 15 minutes.
Roll the dice, press your luck, and score!
LCR Left Center Right is a fun, fast-paced dice game that you won't be able to put down! Each game includes 3 specialty marked LCR dice, 24 playing chips and instructions. Players roll the dice to determine where they pass their chips. The last player with chips is the winner and wins the center pot.
Same as Basic UNO but features Minecraft characters and includes special Creeper rule card. Draw this card and the other players have to draw three more cards from the pile
​It's the classic card game you know, now with an enchanting Frozen II theme!
Fun, fast dealing…every card counts!
While this game is easy to play, Bananagrams is also educational. Teach your kids how to spell words and have fun at the same time.
This version of the award winning Bananagrams tile game features 6 WildTiles that can be played as any letter!
The perfect word game for the pre-reader and early learner, My First BANANAGRAMS utilizes lowercase letters that help children grow a love for word games and wordplay
Game for Kids Ages 8 & Up, 3-4 Players Strategy Game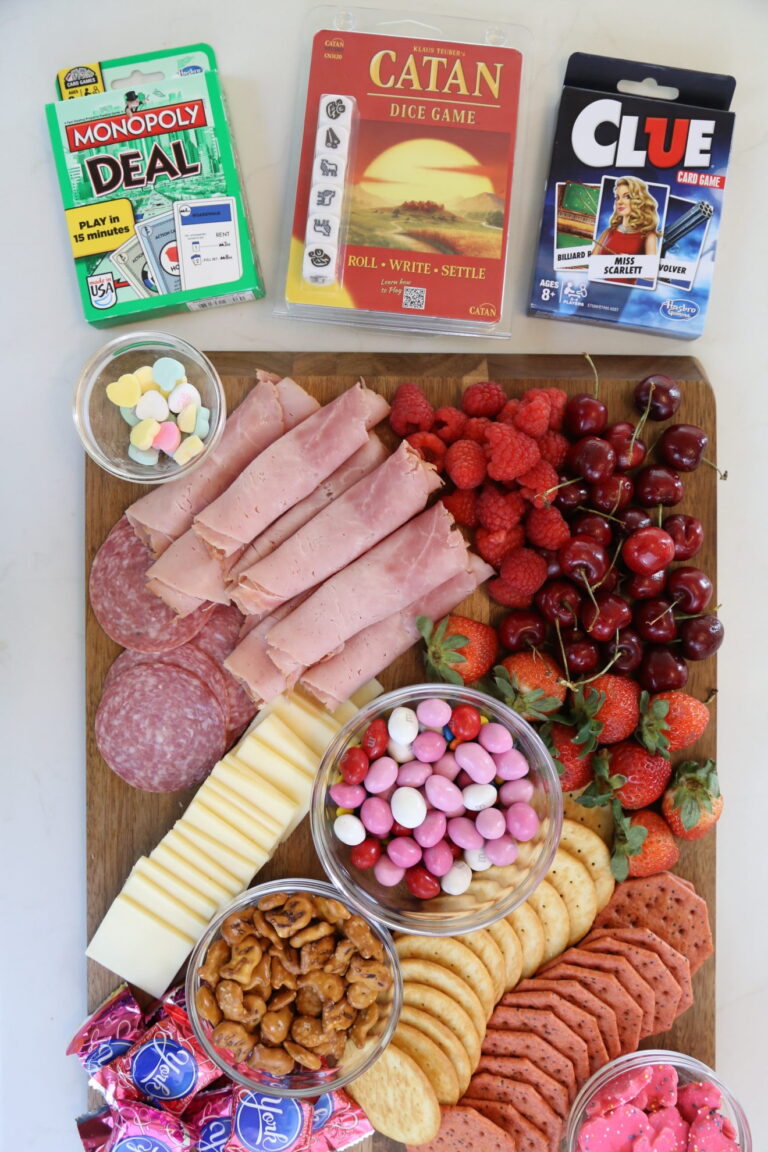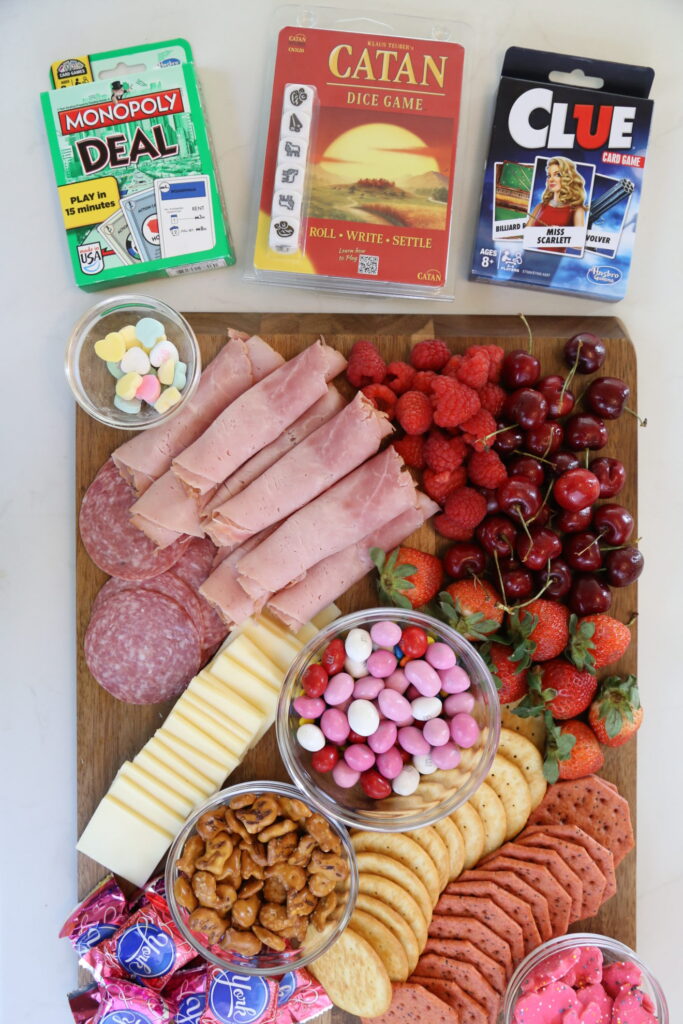 Disclaimer: As an Amazon Associate, I earn commissions on qualifying purchases. Reviews, opinions are my own.