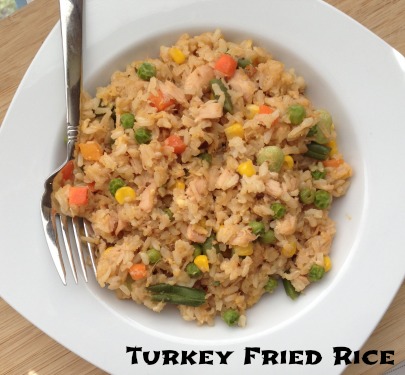 So we all know no how I feel about turkey. (In case you missed it.) Because of this, leftovers need to be carefully prepared…and full of powerful flavors, as to hide the turkey tastes. That's what I love about this turkey fried rice recipe…the bold flavors from the orange sauce really take the edge off the turkey and make it seem much more "chicken fried rice"-like.
If you have the cooked meat (which you would if using leftover turkey!) and some cooked rice, then this literally takes 8 minutes to make. If you don't have rice prepared, it will take 13 minutes if you have minute rice, or 28 minutes if you have white rice, or 58 minutes if you have brown rice.
Regardless of what rice you are using, it's quick and simple.
Fry the egg.
Fry the veggies with the meat and sauce.
Add in the rice and egg.
Serve.
Bon Appe-Leftovers friends!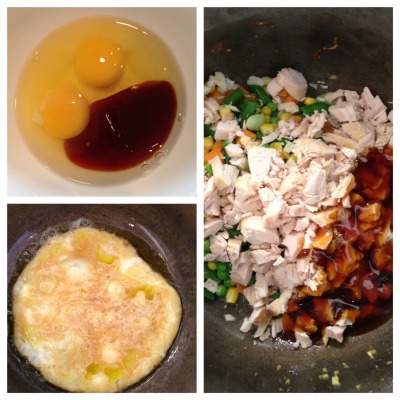 A fabulous way to repurpose leftovers!
Ingredients
2

eggs

2

Tbsp

orange ginger asian sauce or marinade

2

tsp

oil

2

cups

mixed veggies

2

cups

leftover cooked turkey, chopped

1/4

cup

orange sauce

3

cups

cooked rice
Instructions
In a small mixing bowl, whisk together the eggs and orange sauce.

In a medium saucepan, heat the oil and then add the eggs. Fry for about 1 minute, then flip and fry the other side. Once cooked through, remove from the saucepan onto a plate and chop up the egg.

To the same saucepan, add the mixed veggies, cooked turkey the orange sauce. Saute for 4 to 5 minutes, then stir in the rice and fry for another 1 minute. Stir in the chopped fried eggs.

Remove from the heat and let cool slightly before serving.

Orange sauce substitution: 4 tsp soy sauce, 4 Tbsp orange juice plus 1/2 tsp ground ginger, 1/2 tsp garlic salt

Serve Turkey Fried Rice.