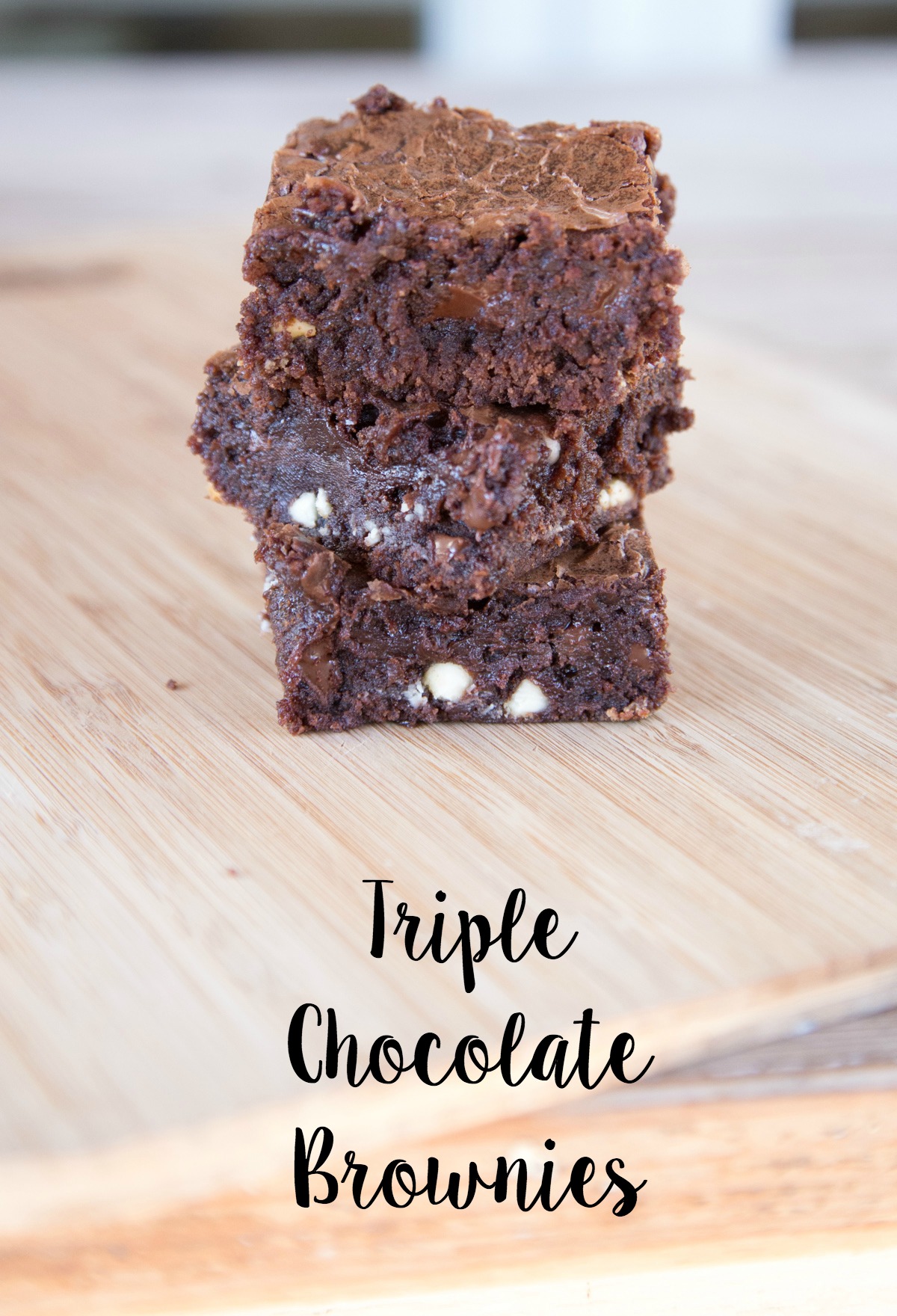 Calling my fellow chocolate lovers…I've got a treat for you today. These are my very favorite homemade brownies…hopped up on lots of chocolate. White chocolate, semi-sweet chocolate, and dark chocolate to be exact.
I'm gonna tell you the best part about this recipe…it doesn't use all of the chocolate chips from each bag…so you'll be left with lots of chocolate chips to snack on…after you devour the brownies, of course!
(Yes, it's okay to snack on chocolate chips. I do it all the time!)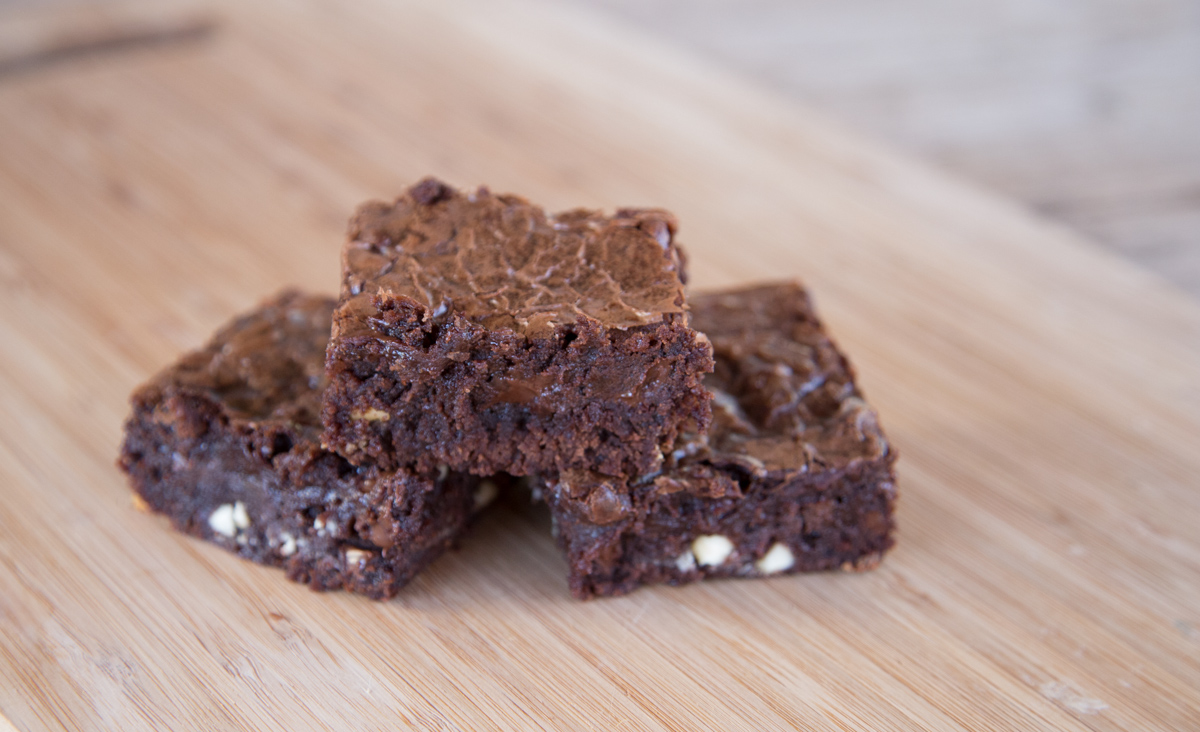 You could use a box brownie mix for these…or you could follow the homemade brownie recipe below. It's my all time favorite because it's easy, and you're left with perfect fudgy brownies. Read the directions closely, if you make the brownie batter from scratch and not a box mix.
If you're using a box mix, just add 1 cup each of the dark, white and semi-sweet chocolate chips.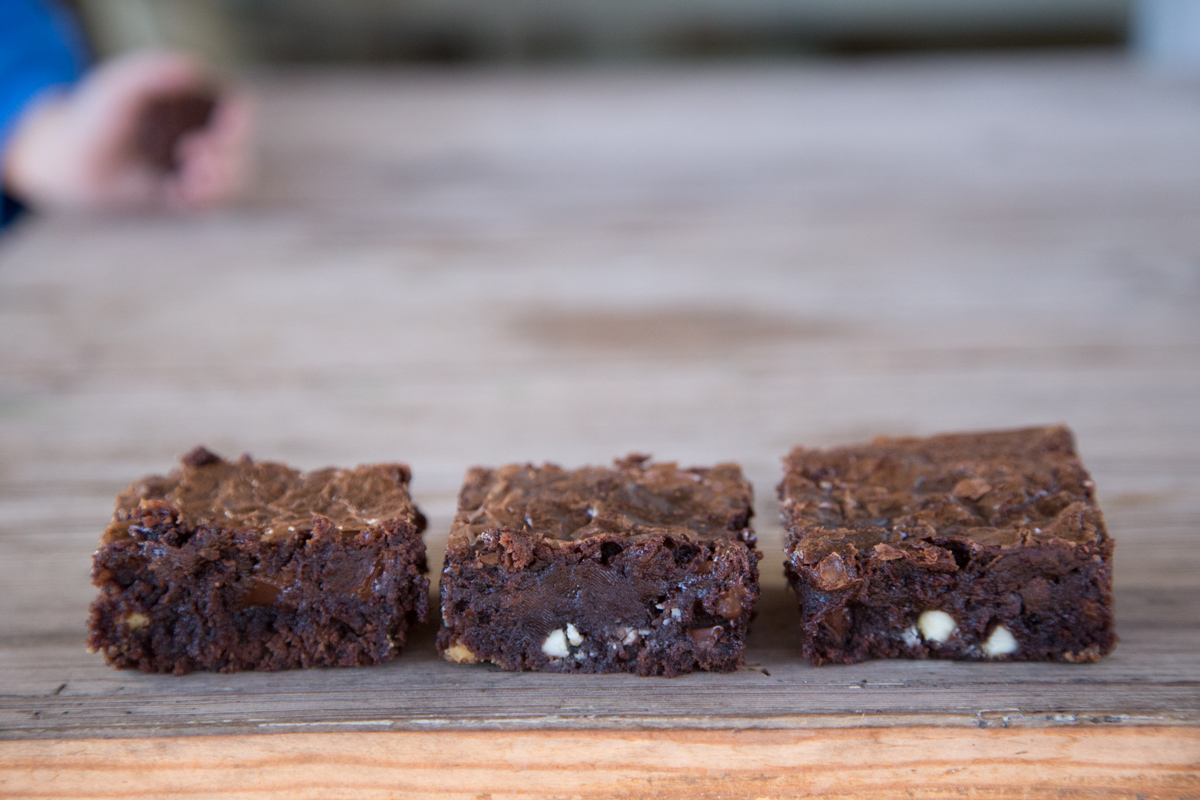 (Notice the tiny hand holding a brownie bite! He kept grabbing for these brownies on the table while I was taking photos, so I had to give him a little piece to keep his hand out of the middle of the photo frame!)
P.S. Remember, don't over-bake brownies…they will continue to cook for a few minutes after you take them out of the oven…so watch them closely at the end of the baking time!
Chocolate, chocolate, and more chocolate. Need I say more?!
Ingredients
2

oz

semisweet baking chocolate, chopped

1/2

cup

butter

2

cup

semi-sweet chocolate chips, divided

1

cup

sugar

1

tsp

vanilla

1/2

cup

all-purpose flour

2

Tbsp

cocoa powder

1/2

tsp

salt

2

eggs

1

cup

dark chocolate chips

1

cup

white chocolate chips
Instructions
Preheat the oven to 350 degrees. Grease an 88-inch glass baking dish with nonstick cooking spray.

In a large, microwave-safe mixing bowl, add the chopped baking chocolate, butter, and 1 cup of the semi-sweet chocolate chips. Microwave on high for 11/2minutes. Whisk the melted butter into the melted chocolate to make smooth chocolate 'batter'.

Whisk the sugar, vanilla, flour, cocoa powder, and salt into the butter-chocolate mixture.

Whisk the eggs into the batter. Whisk for about 1 minute, or until the batter is smooth. Fold in the remaining semi-sweet chocolate chips, the dark chocolate chips and the white chocolate chips.

Pour the batter into the greased baking dish. Bake in the preheated oven for 30 to 35 minutes until a toothpick inserted in the center comes out clean. Let cool slightly before cutting and serving.

Serve Triple Chocolate Brownies, warm for dessert.