Our feeding the larger family ways will help you feed a crowd and take a break during the holidays!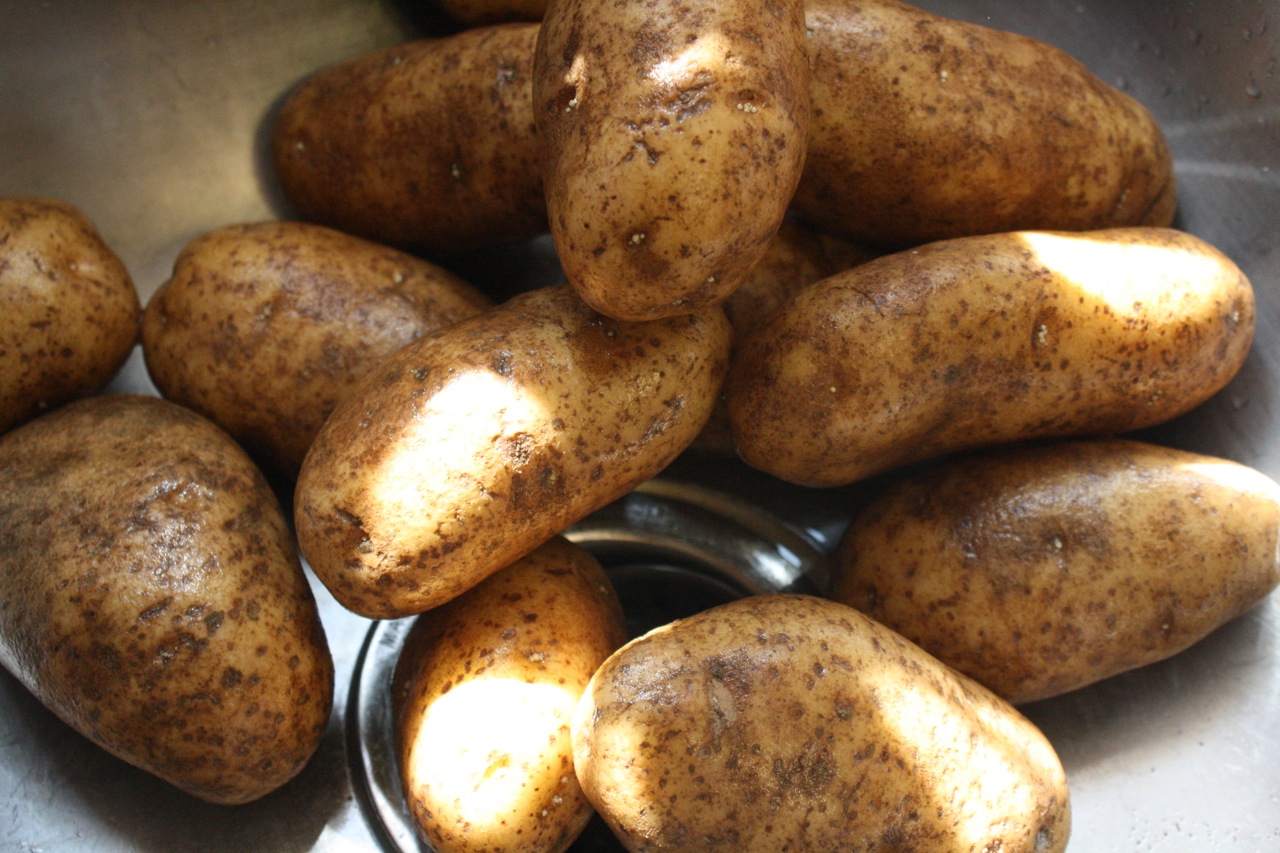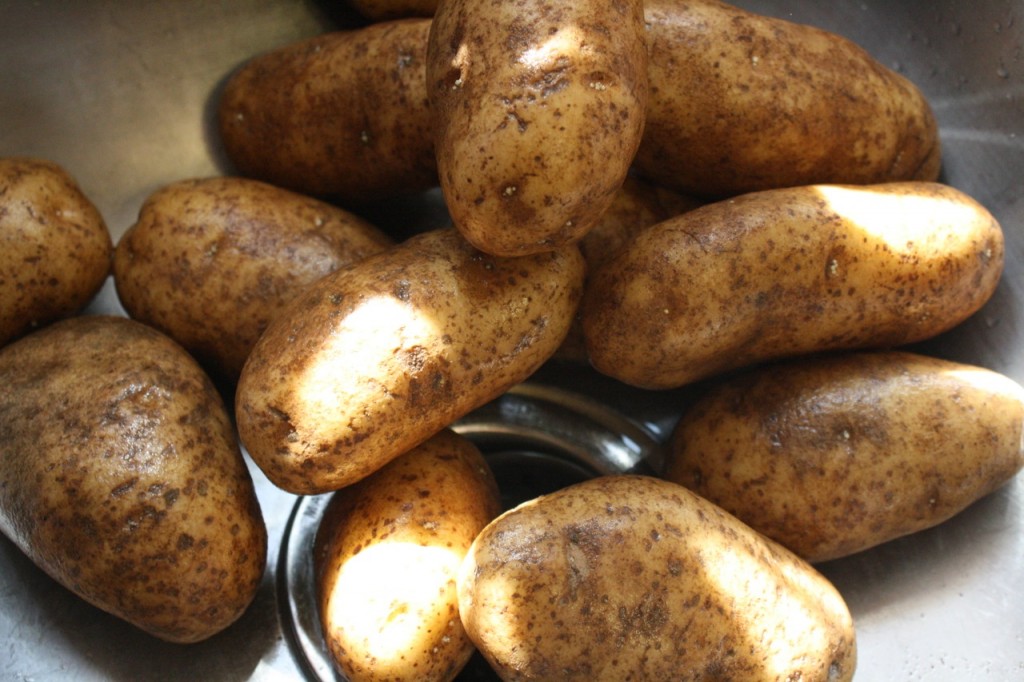 October is potato month for me for several reasons. Not only are potatoes frugal and can be served in a variety of ways, but October is right up next to November and December. October is the month I pile the potatoes in the freezer­ – freeing me up at holiday time. Potatoes feed a crowd and fill tummies for the holidays and every day.
I pick one Saturday for what I call a Big Cook. I cook potatoes and oversee the children packing Operation Christmas Child shoeboxes and making homemade wrapping paper (using designs cut into potatoes, of course!). Everyone is busy.
White potatoes:
It's a batch cooking session of great poundage. With 20 pounds of white potatoes I make freezer mashed potatoes with these in mind:
Thanksgiving
Christmas gatherings (in my experience the freezer potatoes are perfectly delicious having been saved in the deep freeze. Not grainy at all. Might also be the sour cream!)
Busy weeknights – take a pan to the holiday party
If I plan ahead I prewash all those potatoes on the rinse cycle like Happy Housewife does so I can avoid standing at the sink for so long. I use this recipe for freezer mashed potatoes, boiling the white potatoes on the stove because I'm using the slow cooker for supper. I quadruple the recipe for my 20 pounds, making (8) 8×8 pans or (4) 8×10 or combination thereof.
It's such a blessing to be able to just pull delicious, homemade mashed potatoes out of the freezer. Because that time of year I'd much rather be baking and enjoying than peeling potatoes and boiling.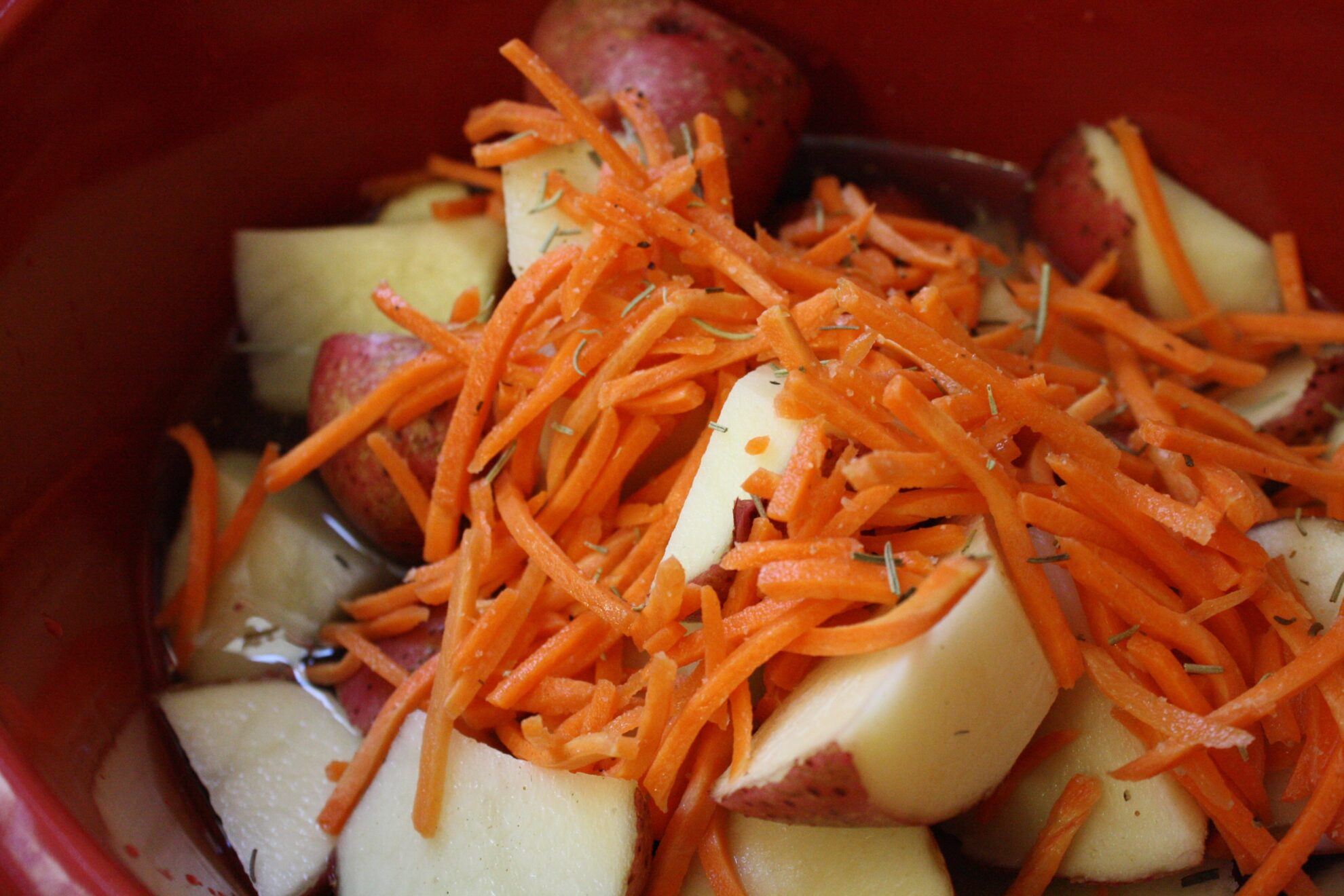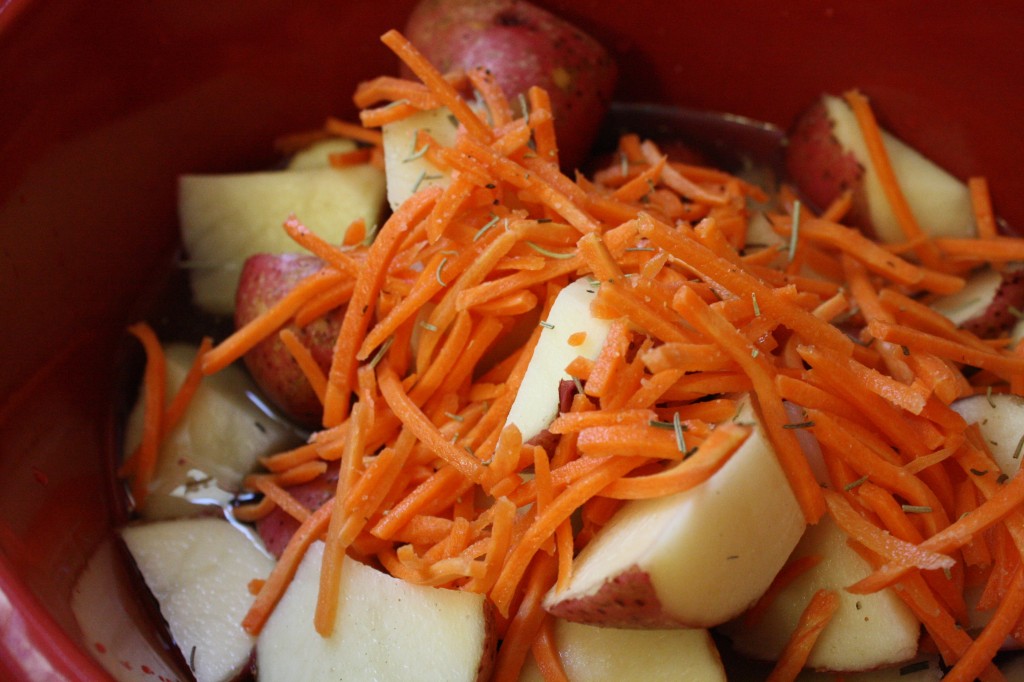 Red potatoes:
On the same Saturday I'm mashing, I'm also serving. Over in the slow cooker I put together our supper. Homemade potato soup for that night. Because after peeling 20 pounds of potatoes I'm not much going to relish fixing supper. So I leave the peels on these red potatoes. And I'll sure appreciate comfort food in savory potato soup for supper. Plus, I double this recipe so it makes enough for all of us and leftovers for another meal.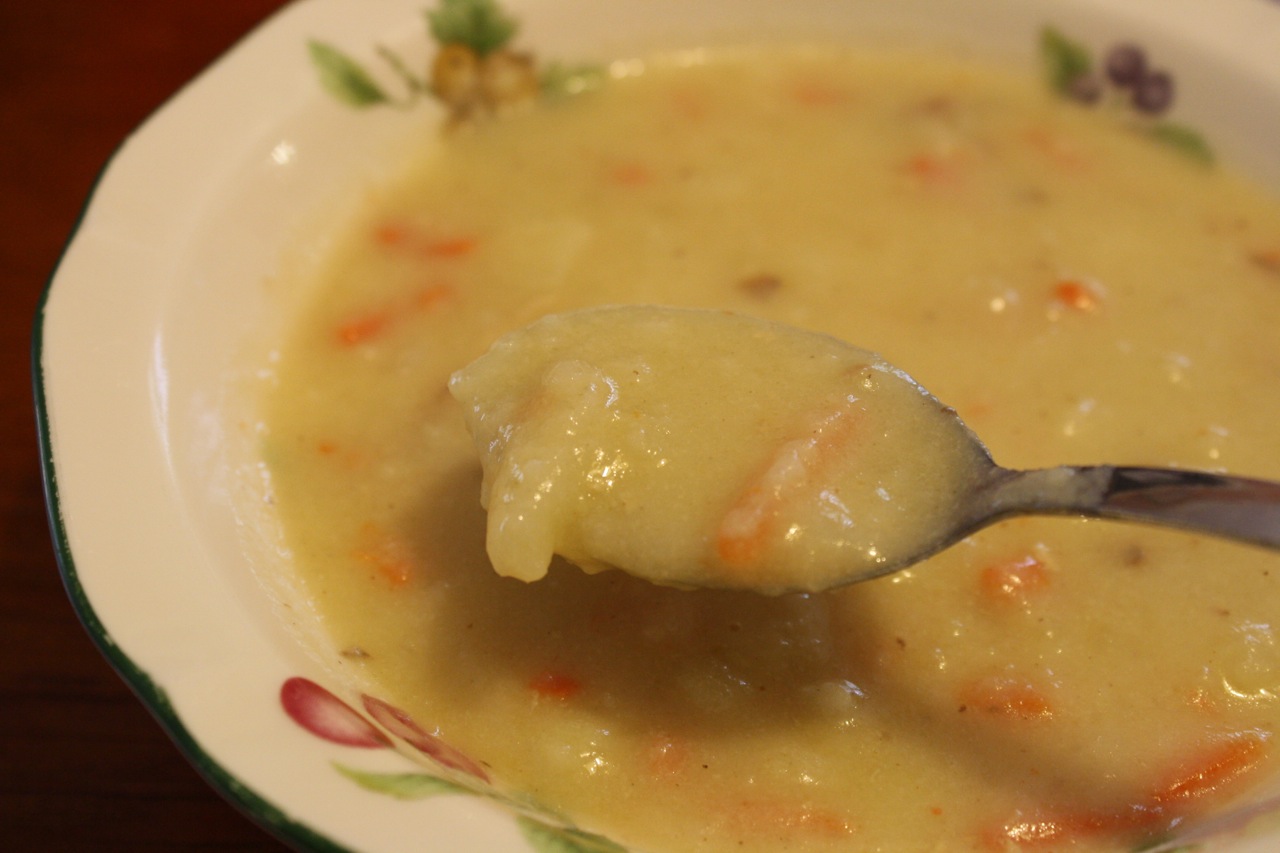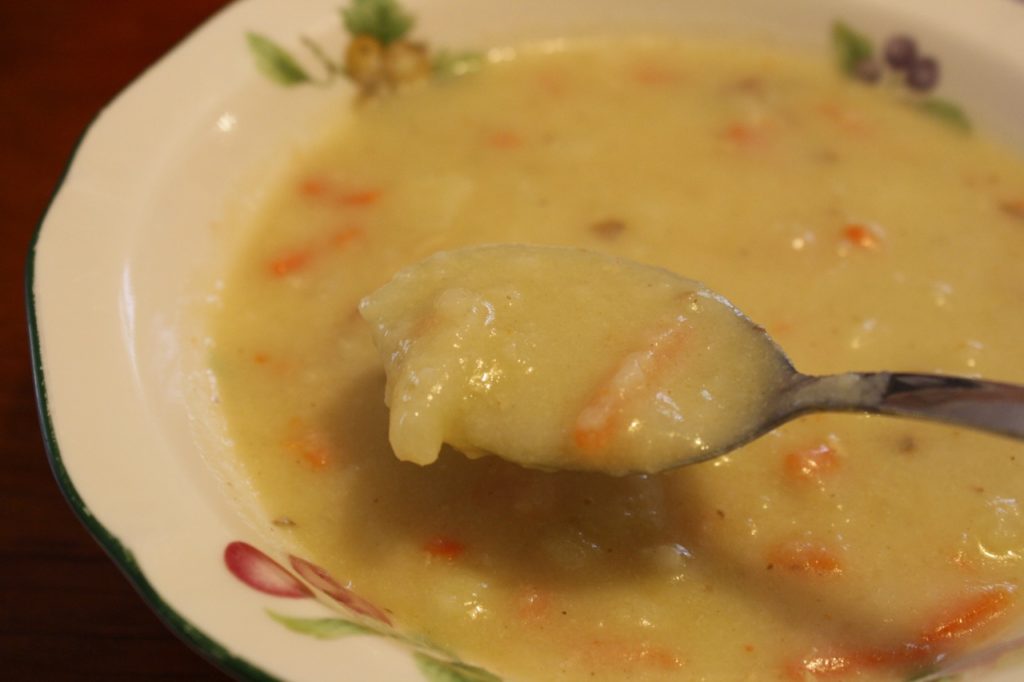 Potato Soup

Yield – 6-8 servings

Preparation Time – 15 minutes

Cooking Time – 20 minutes

Ingredients

2 stalks celery, sliced
1 med. onion, chopped (or equiv. frozen chopped onion)
2 T margarine, melted
6 med potatoes, peeled and cubed (1/2 a 5 lb bag = $1.98. For our family $3.97)
2 carrots, sliced
3 cups water
5 chicken bullion cubes or 1 – 14 oz can chicken broth (use vegetable broth for vegetarian)
3/4 tsp seasoned salt
1/2 tsp dried thyme
1/2 tsp rosemary
dash garlic, pepper
2 cups milk
1 cup shredded cheddar cheese

Directions

Slow cooker: can skip cooking the celery and onion in butter.
Put all but last two ingredients in slow cooker. Cook on low 5-7 hrs.
Mash vegetables until a smooth but a bit chunky texture.
Add last two ingredients before serving.
Stove top: Saute celery and onion in butter in large Dutch oven.
Add next 9 ingredients.
Cover and simmer about 20 minutes.
Remove from heat, mash vegetables with potato masher.
Add milk and cheese.
Cook, stirring, until cheese is melted.

Cost $2.50 – doubled for our family approximately $5.00
Frugal and celebratory. Cheap and filling.
Join me for an October Potatofest?