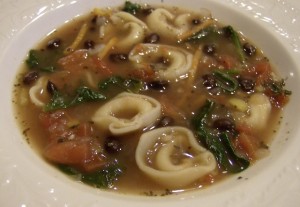 Last week I was craving minestrone soup, but many of the vegetables that I use in it are not in season. Buying imported, out of season veggies would have greatly increased the cost of the dish, so I decided to replace them with something that is always in season: tortellini!  🙂
I reduced the cost of this soup, by using homemade chicken broth. I also used dry beans that I cooked from scratch. When you use dry beans you save about 75% off the price of canned beans. It is more time consuming that opening a can, but with my pressure cooker method I can batch cook a large amount in less than 1 1/2 hours. I realize that making homemade tortellini would have reduced the cost even further, but I cheated and used frozen cheese tortellini.
Alea's Tortellini Soup

Ingredients

1 tablespoons olive oil
1/2 cup onion, minced
1 stalk celery, thinly sliced
2 cloves garlic, minced
1/2 cup carrots, julienned
4 cups vegetable or chicken broth
1 3/4 cups black beans or 1 can of black beans 

(Or learn how to cook your own beans here.)

1 14.5 oz. can diced tomatoes, undrained
1 1/2 teaspoons parsley
1 teaspoon basil
1/2 teaspoon fresh oregano
1/4 teaspoon ground black pepper
1/4 teaspoon dried sage
2 – 3 cups  cheese stuffed tortellini
3  cups  fresh spinach

Directions

1. Heat olive oil over medium heat in a large soup pot. Add onion, celery, garlic, and carrots.

2. Sauté veggies in the oil for 5 minutes.

3. Add broth, tomatoes, beans, and spices to the pot. Bring soup to a boil, then reduce heat to a simmer. Simmer for 5 minutes.

4.  Add spinach leaves and tortellini and cook for an additional 5 minutes or until pasta is al dente and spinach is wilted.

Serves 4 – 6.