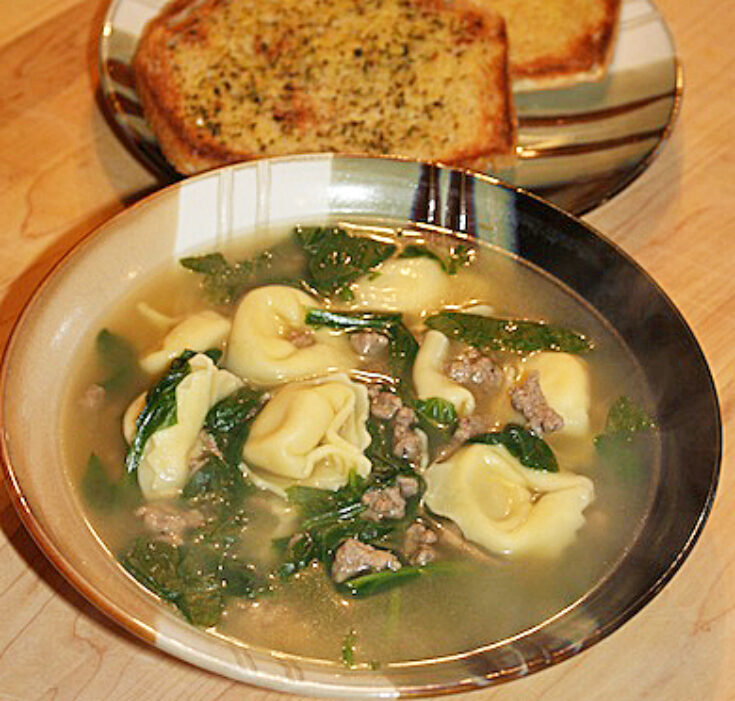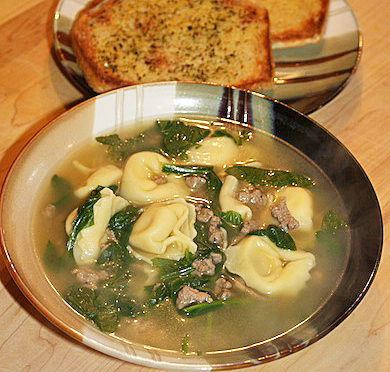 There's just something about tortellini – it may very well be the perfect pasta. It is the perfect shape for a fork or a spoon and they are the perfect size for one delicious bite. It freezes beautifully too, if for some reason you can't eat them all at once, or if you find them on special and buy a few extra packages.
Douse with marinara sauce and some Parmesan cheese for a simple (and inexpensive) lunch or supper. Drench them in a thin pesto sauce for a little more elegance, or drop them into your favorite minestrone style soup.
They cost a little more than other kinds of pasta noodles, but it is well worth the splurge every now and again. Your overall meal cost won't be terribly high when you pair it with inexpensive ingredients. Here's a soup recipe with this amazing pasta.
Douse Tortellini with marinara sauce and spinach, then sprinkle Parmesan cheese for a simple, inexpensive dinner - Spinach Tortellini Soup!
Ingredients
1

Tbsp

olive oil

1

small

white onion

chopped

2

tsp

minced garlic

2

cups

chopped carrots

4

cups

beef broth

10

oz.

box frozen spinach

15

oz.

can diced tomatoes

9

oz.

box cheese filled tortellini

Salt and pepper, to taste
Instructions
Add the olive oil to a large stockpot or Dutch oven. Saut the onion, garlic and carrots for two to three minutes. Then pour in the beef broth plus two cups of water.

Stir in the frozen spinach (no need to thaw), the diced tomatoes and bring to a boil.

Add the tortellini and let cook for seven to eight minutes. Remove from heat immediately to keep the tortellini from overcooking.

Season with salt and pepper to taste.

Serve tortellini soup with simple side salad or other vegetables.