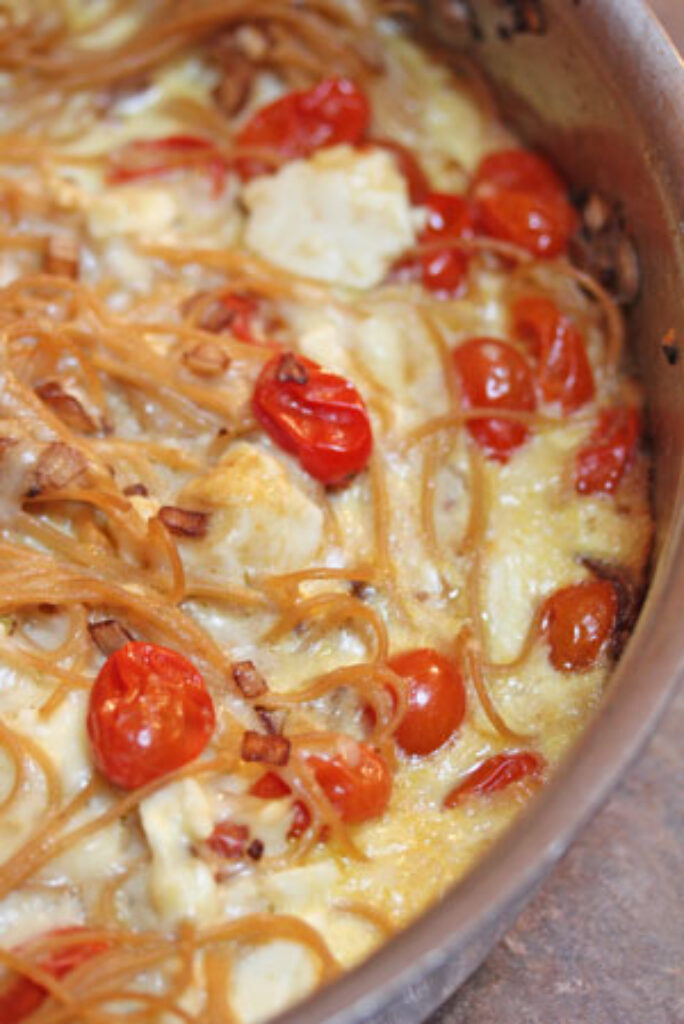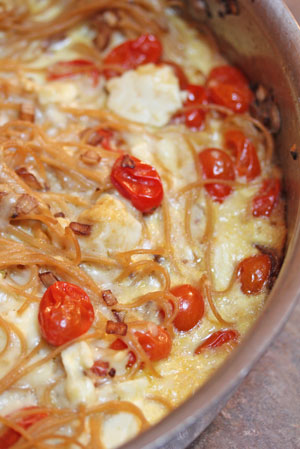 This is a classic example of being creative with ingredients you have on hand.
I made this for us early last week…using up the tomatoes from Aldi from the week before, and the feta cheese from Monday's shopping trip. Also, this is another example of a meal that uses an "expensive ingredient," that is paired with a few other inexpensive ingredients and pantry staples to keep the overall cost of the meal down.
(Feta = expensive…pasta/tomatoes/egg = inexpensive.)
This meal ended up being dinner for just Steve and I (the kids had leftovers since they can't have dairy) and after his first bite, Steve began staking claims on the leftovers. He took what was left for lunch to work the next day…and the "euchre lunch club" was insanely jealous of his "gourmet lunch." Amazing how a few simple ingredients can be cooked up in a way that is "gourmet" but still very inexpensive to put together!
Enjoy…
This is a classic example of being creative with ingredients you have on hand.
Ingredients
10

oz.

whole grain spaghetti noodles

1

Tbsp

olive oil

1

Tbsp

balsamic vinegar

1

pint

grape tomatoes

1

small

onion

chopped

6

oz.

package Feta cheese

1/2

cup

Parmesan cheese

1

cup

mozzarella cheese

1

cup

milk

2

large

eggs

Salt and pepper

to taste
Instructions
Preheat to 350.

Cook the pasta noodles as directed. Drain and rinse with cold water. (If you don't rinse, the heat from the pasta can cook the eggs in the cheese mixture...so get them nice and cool before combining.)

Meanwhile, in a large, ovenproof skillet, heat the olive oil and balsamic vinegar and saute the tomatoes and chopped onion, for 3 to 5 minutes, or until most of the tomatoes have "popped."

In a mixing bowl, combine the Feta, Parmesan, mozzarella, milk and eggs. Once the pasta is rinsed and cooled, fold it into the cheese mixture.

Then combine the cheese-pasta mixture with the sauteed onions and tomatoes. Spread flat in the skillet.

Transfer the skillet to the preheated oven and bake for 30 minutes, or until eggs have set in the middle. Let cool slightly before cutting and serving.

Serve Three Cheese Spaghetti Pie with side salad, fresh fruit or vegetables (whatever you have on hand!).