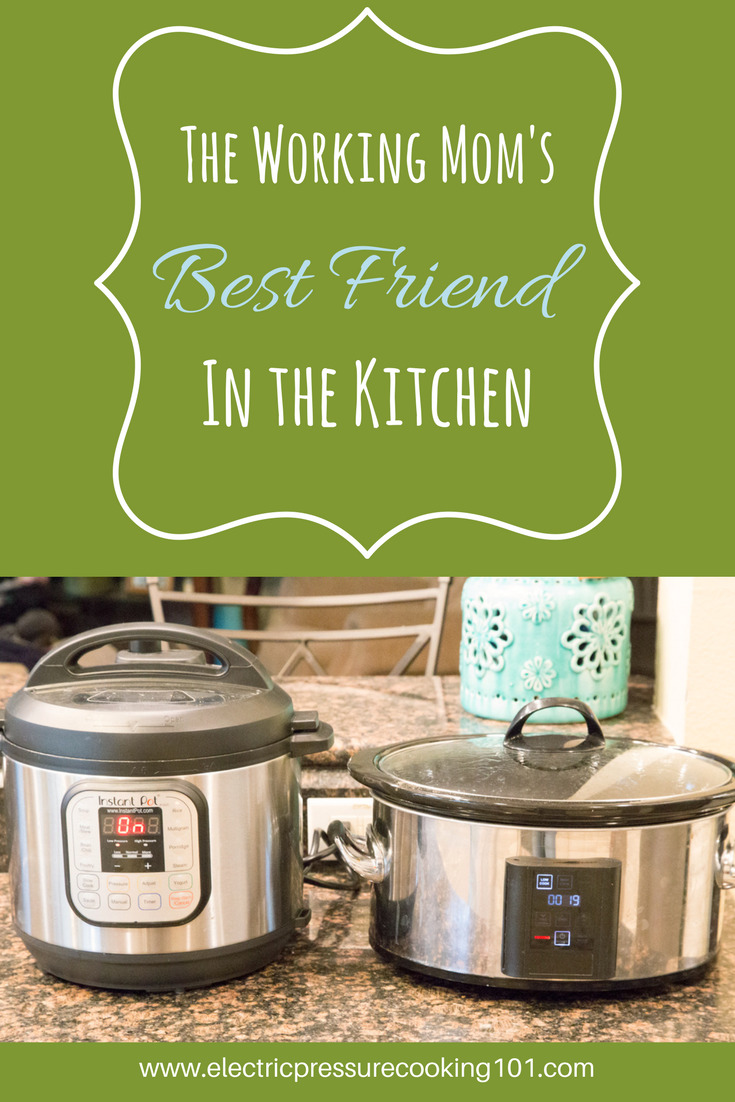 First, let's define working mom.
If you're a mom, you are working.
You are working with your children, on your job, in your house or on your house. If you're like me, you get up and you don't stop moving until your head hits the pillow in the evening. If I'm not packing lunches or starting the slow cooker in the morning, then I'm typing away at my computer at the office, or I'm chauffeuring kids here, there and everywhere after school, or I'm making dinner, or folding laundry, or dishing out chore instructions, or wiping tiny heineys. It never ends.
(I talk here, in this episode of Erin's Daily Dish, about how I keep up with the 'it never ends' tasks.)
This dinner thing…it never ends either.
You and your kiddos have to eat. Every. Single. Day. Multiply. Times. A. Day.
Take a moment to let that sink in.
I know, if you think about it for just long enough, you'll be engulfed by the overwhelm. It's this thought that also helped me develop "Kitchen Time Blocks" – check out the concept, it's a huge relief when you can figure out how to mentally and physically use these in your mind/day.
I'll take all the help I can get when it comes to dinner. From freezer to slow cooker meals (and more recently, freezer to instant pot meals!), to using both my instant pot and slow cooker for the same meal. These 2 appliances are such an amazing help in the kitchen.
They are such huge time and sanity savers.
Who do they save time and sanity…they are both 'hands off' and they both do a beautiful job of cooking certain types of meals/food.
Which Do You Prefer – Slow Cooker or Instant Pot?
The answer is both. I use them differently.
Some nights, I'm just using the Instant Pot. Sometimes to make 2 things in the same evening. Or to make a "second dinner" for after sports practice.
Other days, it's just the slow cooker.
And sometimes, it's both.
What are your favorite appliances?
I'm a huge fan of the following brands/models:
And here are my favorite Instant Pot Accessories.
So the answer to this question of what is the working mom's best friend in the kitchen?!?
BOTH the slow cooker and the electric pressure cooker (Instant Pot!)
What's the best way to learn about cooking with the Instant Pot?
Yes, I'm a bit biased. But my online class is the BEST resource out there to help you
My teaching philosophy is "teach a man to fish and you'll feed him for a lifetime." And that's woven throughout the course, as I teach you everything you need to know about using the Instant Pot – including a multitude of different cooking strategies and methods! I want you to fully understand how the Instant Pot can help you keep up with the never-ending need to feed your family! xo
You can learn more about the class and get registered at Electric Pressure Cooking 101!
Disclaimer: As an Amazon Associate, I earn commissions on qualifying purchases. Reviews, opinions are my own.