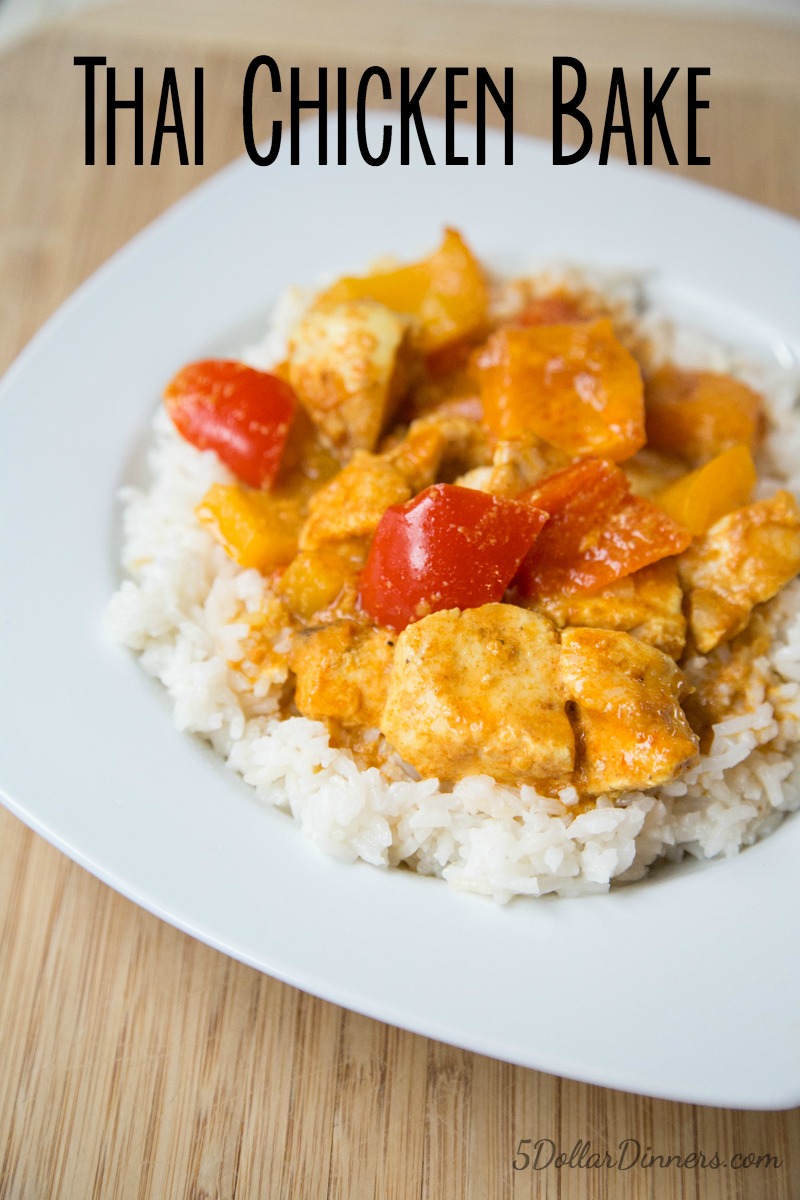 I recently shared how I wanted to rekindle my romance with Thai food after enjoying some Thai take-out when I was visiting my sister a few months back…except it is super expensive to go out for Thai food regularly, so instead I'm making it at home more. I put together a Chicken Pineapple Curry that you cook on the stovetop, and decided a similar baked version was in order.
See…super simple.
Chicken and bell peppers.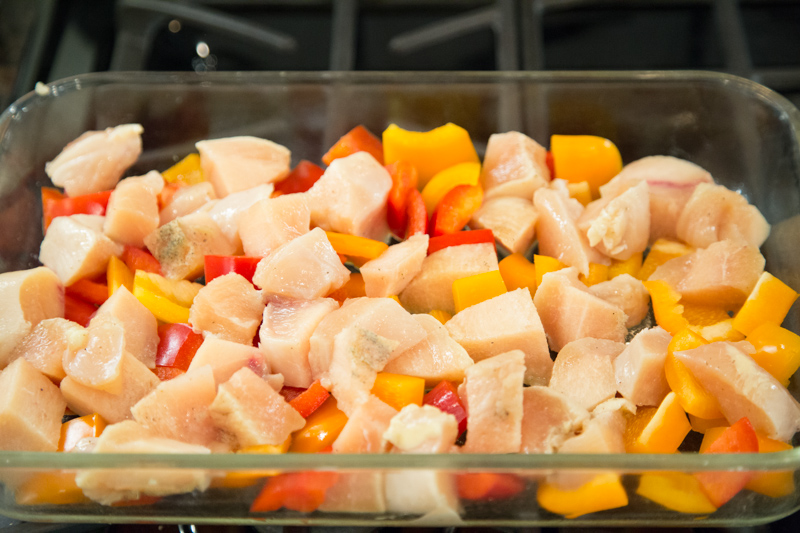 Pour a curried coconut milk over the top and bake.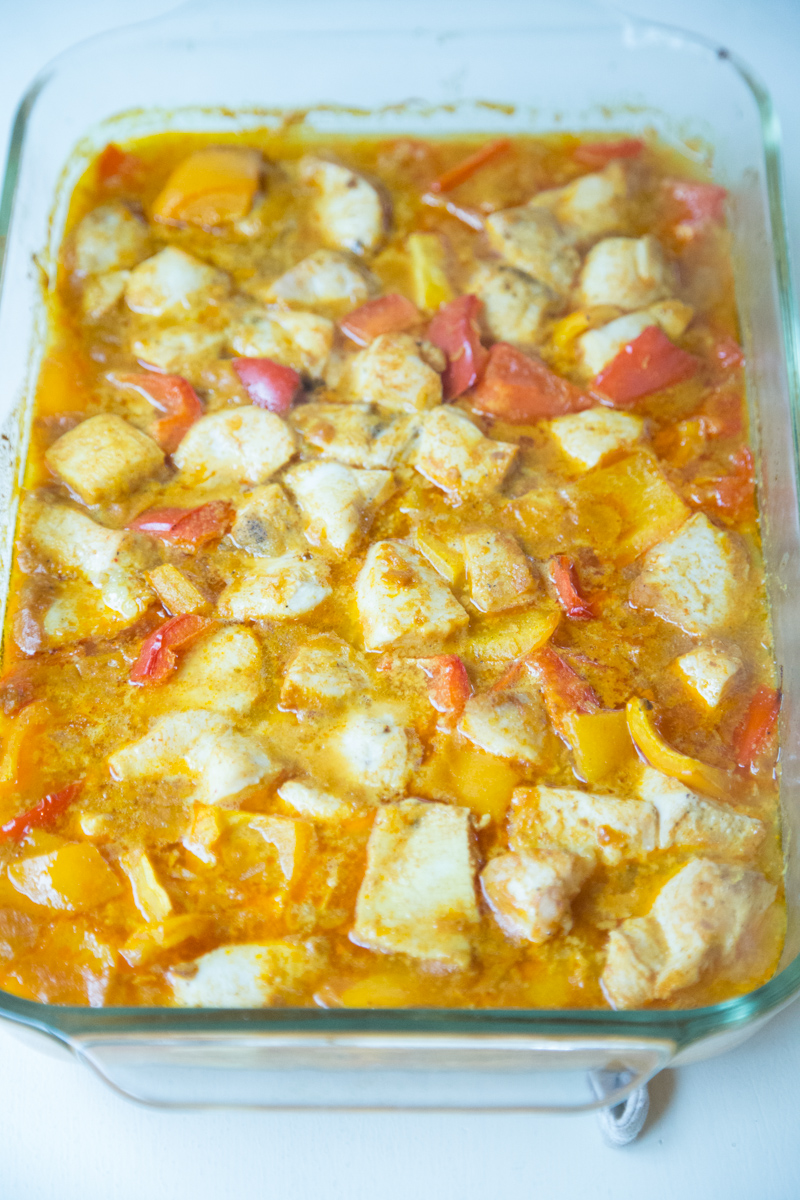 Serve it over rice.
Even the little people love it!
This is Cuatro enjoying his Thai Chicken Curry. Each of my kids' palates have been very different as they moved through the toddler years. Ryan wasn't too particular about anything, except he wouldn't eat beans. (Still doesn't love them.) Charlie always has eaten everything. Tyler would have eaten only beans through his toddlerhood, if I let him. And this one…he is my spicy foods guy. Cuatro loves food with a little kick to it. He'll eat just about any salsa, guacamole with jalapeno in it, and he loves the curry dishes I've been making lately.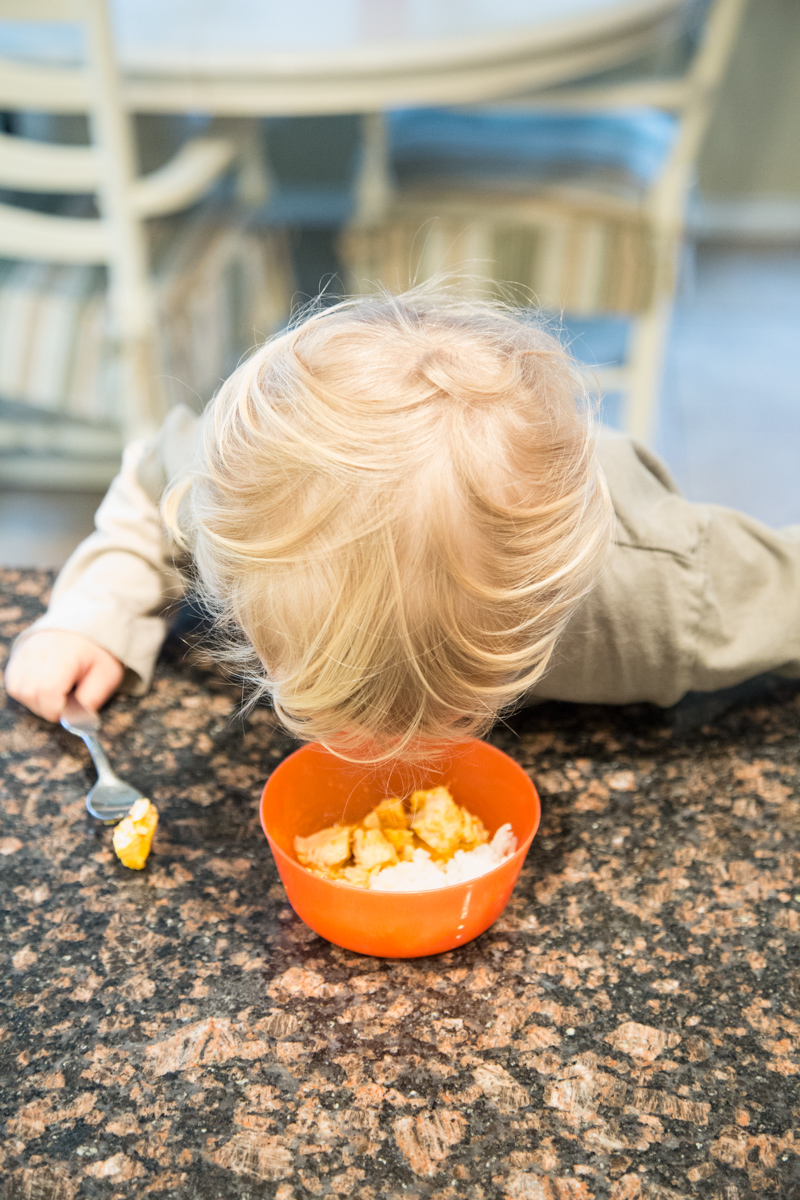 (I don't think he was really eating out of his bowl like a dog.)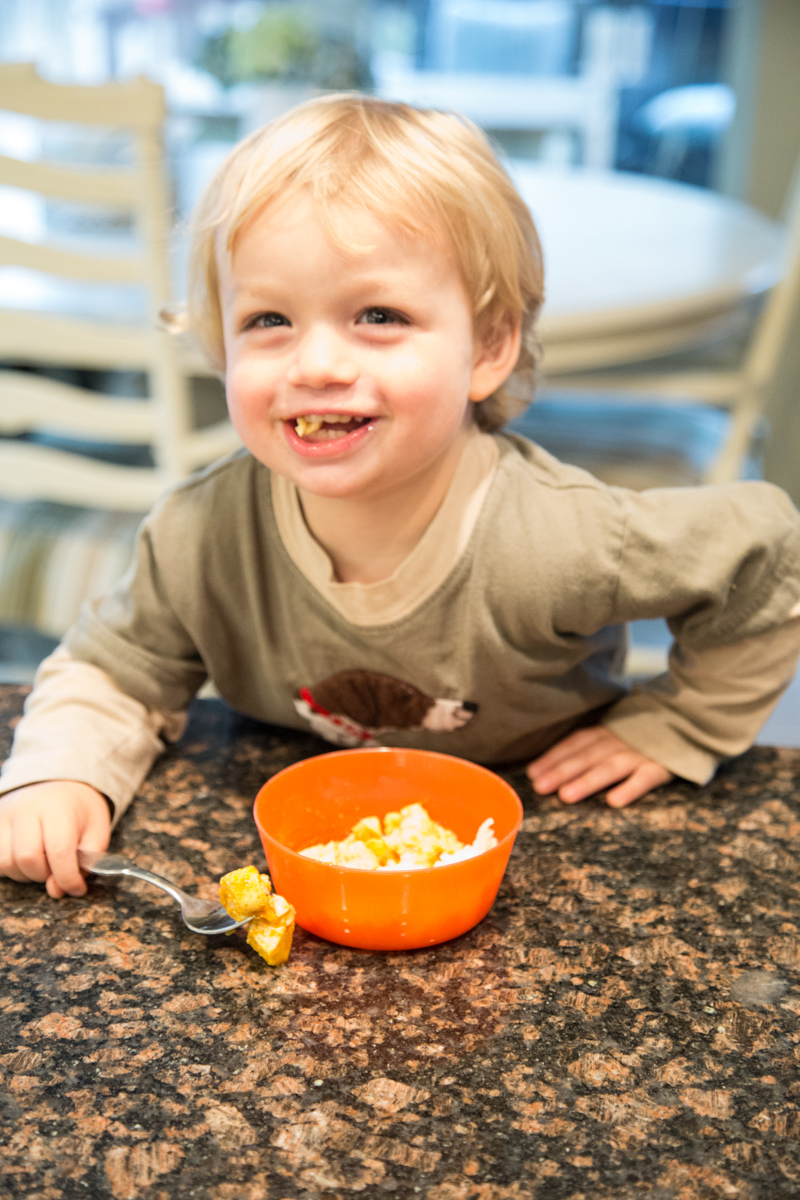 Cuatro-approved!
With any homemade curry, you can absolutely control the spice level by adding more or less curry paste/powder, and you can always add a little sugar to tone down the heat if you added too much.
Please…let Cuatro be proof that kids can like and enjoy spicy food!!! You won't know until you offer it to them. This is a great dish to start with!
And finally…my 'never pay more than' price for canned coconut milk is $1.50. I see this price as a sale price for the 'name brand' at my regular grocery store. And I also see the store brand at Sprouts for that price on occasion too. I've even found it marked down at that price at Target. So keep your eyes peeled!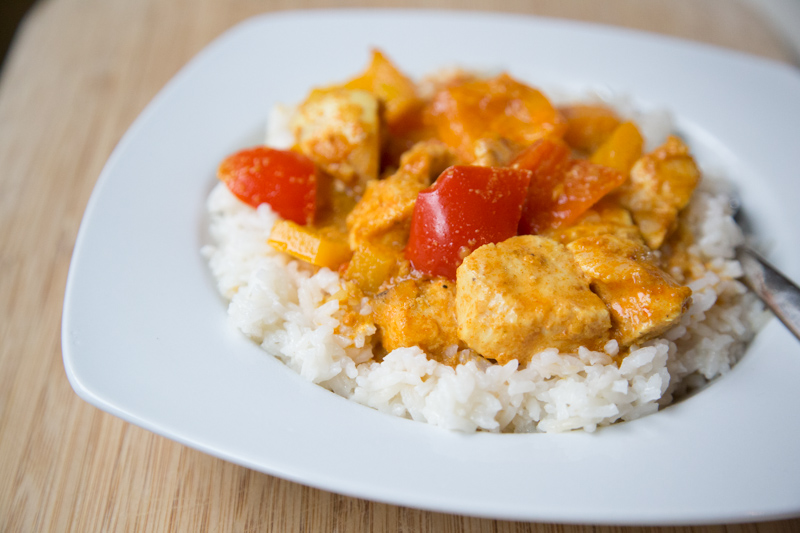 A quick and easy weeknight dinner that the whole family will love!
Ingredients
15

oz

can light coconut milk

2

Tbsp

red curry paste

1 1/2

tsp

curry powder

1

tsp

garlic powder

1

tsp

minced onion

1/2

tsp

ground ginger

Salt and pepper

2

bell peppers, seeded and diced

2

large

boneless skinless chicken breasts, cut into bite size pieces

1-2

cups

brown or white rice

Sliced green onion or chopped cilantro, as optional garnish
Instructions
Preheat oven to 350. Lightly grease a 9x13-inch glass baking dish with non-stick cooking spray.

In a small saucepan, whisk together the coconut milk, red curry paste, curry powder, garlic powder, minced onion, ground ginger and some salt and pepper. Bring to bubbling and remove from heat.

While the coconut milk is warming, add the chicken and bell pepper pieces to the baking dish. Then, pour the warmed curried coconut milk over top of the chicken and bell peppers. Season with a pinch more salt and pepper. Bake in the preheated oven for 30 to 35 minutes, or until all the chicken pieces have cooked through. Cooking time may vary depending on the thickness of the chicken.

Cook the rice, as directed. Note that brown rice will take 50 minutes to cook.

Serve Thai Chicken Bake over rice with green onion or cilantro garnish.