Teach your kids and teens how to clean and care for their clothing with these 5 phases of laundry!
You need to teach your kids and teens how to do the laundry because you…
just can't stand having to do the laundry day after day?!
have a teen graduating soon and moving out or off to college?!
just don't love the folding part? Or the transit of clothes, sheets and towels?!
Whatever the reason, it's important that we teach our kids how to do the laundry well.
I'm breaking down the 5 phases of laundry, and helping you see all the intuitive things that we need to teach them.
Like…adding detergent (ask me how I know!), and where to add fabric softener, and what needs to be dried on low temperature…
All of these nuances are best learned over time, and with experience.
Of course, I'm also teaching my boys how to properly use the different laundry products. Ensueño® is my favorite – because they have the same amazing scent across their detergent, fabric softener and scent booster drying sheets. (Read about the loads of long-lasting fresh scents here.)
The goal with teaching our kids to do the laundry is to send them off into the world knowing how to care for and clean their clothing.
We might have other ulterior motives, but ultimately it comes down to the respect and responsibility of our clothing.
A recent survey by AlEn USA found that while nearly 80% of people think it's appropriate for kids between 10-18 to learn how to do laundry, only 28% of parents actually have their kids help, which makes me think those who haven't taught their kids yet might need some structure and ideas for helping them learn.
If you don't take the time to teach them now, it might mean future laundry disaster as kids leave home and tackle this task on their own.
Creating good laundry habits now will help kids throughout life, and having them pitch in with laundry now will make mom and dad's lives easier too.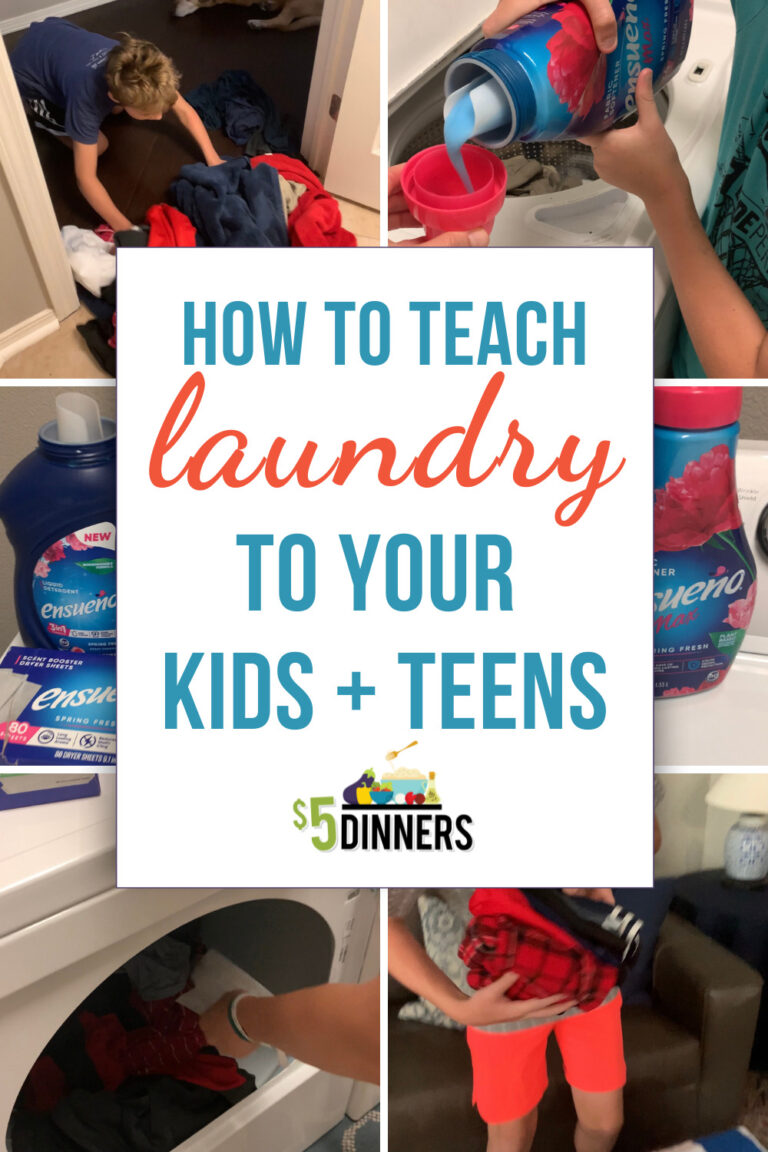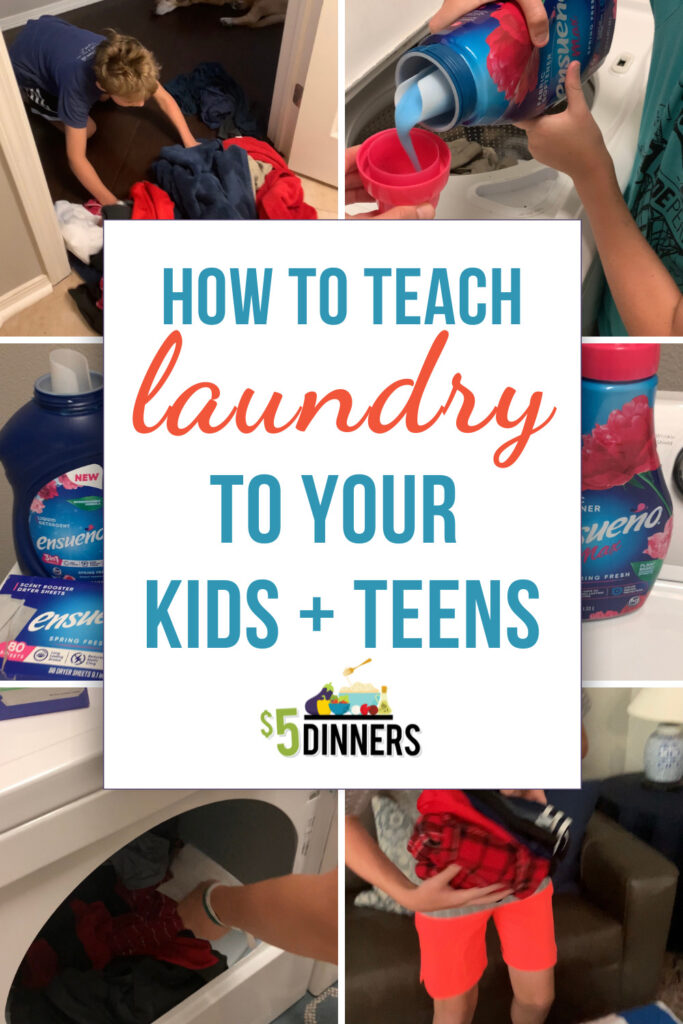 First let's answer this question – why can laundry be such a difficult chore to teach your kids about?
My friend Lisa recently told me, "This is such a great way to do this. I showed my kids once and they can never get it right. Clearly, I need to go one phase at a time."
There is a lot to learn about taking care of your clothes and keeping them clean.
That's why teaching with the phases approach will help them learn all they need to know. I recommend working with your kids/teens and teaching them one phase at a time. Once they've mastered that phase, move onto the next.
If you can put in the teaching time and effort now, you will both set themselves up for success and work yourself out of the day-to-day laundry grind.
(At present, we run 2 loads of laundry per day. I understand the grind.)
Taking a systematic approach to teaching laundry, as well as having the best products available to clean your clothes, will ensure successful passing of the laundry torch.
Before I breakdown the phases, I wanted to touch on the question – how old should kids be when they do ____?
The answer to that is…it depends. 😉
I start my younger kids off with phases 1 & 5, then move through 2, 3, and 4…in that order.
Austin has 1 & 5 down, and Tyler just started on 2. The older boys can handle all 5 phases now!
Now for the breakdown of the phases…
How to Teach Kids to Do Laundry: Phase 1 – Moving & Sorting
This is the fun phase – at least at our house!
The moving and sorting of clothes is whatever plan and process you want to have for holding dirty clothes (hampers and baskets) and moving and sorting those clothes into the "queue" in the laundry room.
Help your kids to see that the laundry cycles through your home – drawer to body, body to hamper, hamper to laundry room, laundry to folding table, folding table to drawer.
When they understand this cycle well, they will also understand when "Where is my baseball practice t-shirt?" comes up – they will know which places to look – it's somewhere in the cycle!
Moving & sorting is a great place to start when teaching your younger kiddos. Here are some things to teach:
Where to store: hampers/baskets
Where to sort
How to sort and line up the different loads
Sort by color: whites, lights, brights, darks
Sort by type: towels, bedding and clothing
We like to toss laundry over the 2nd floor balcony, then push or kick it to the laundry room. Once everything has arrived in the laundry room, we dance, sing and sort until the loads are all lined up.
We pretty much have 1-2 loads in the queue at all times!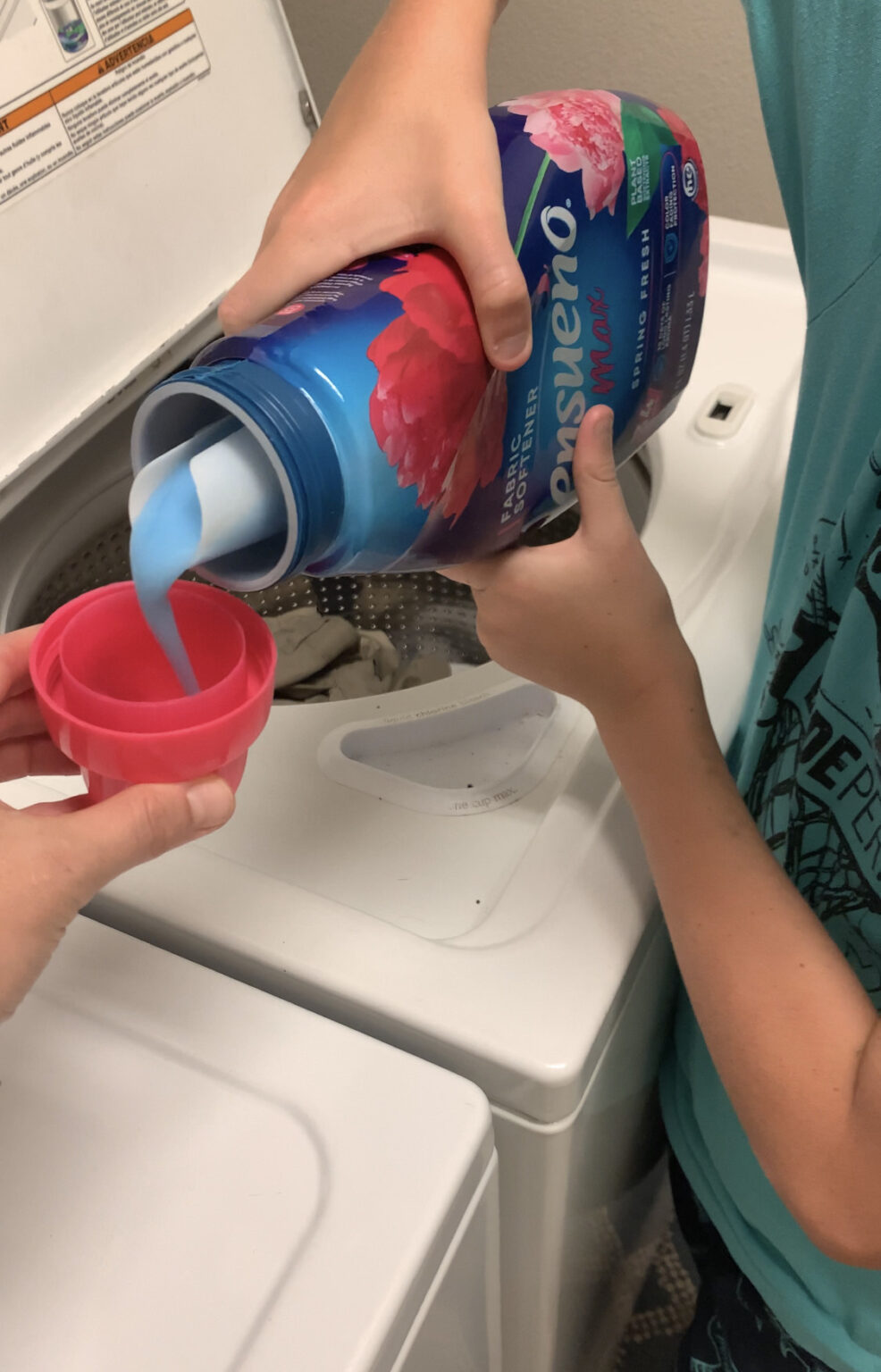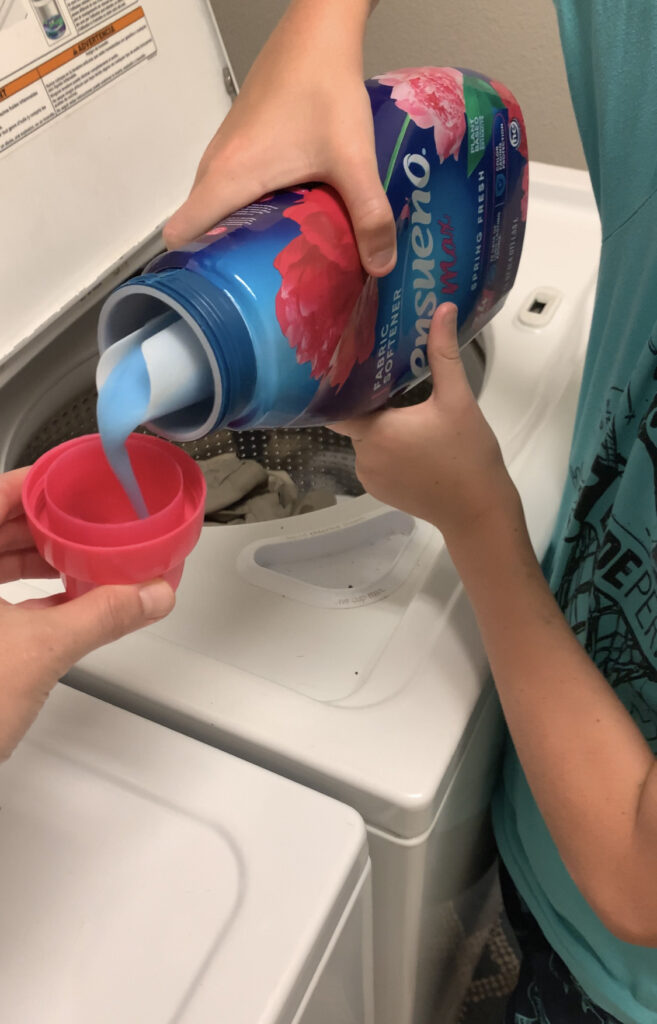 How to Teach Kids to Do Laundry: Phase 2 – Washing
Now to get these clothes clean! With the laundry sorted and lined up, it's now a matter of measuring detergent and selecting the right machine settings.
All laundry machines are different, so be sure to teach based on your current machine, but also teach general tips so that they can use other machines too.
Empty pockets – we don't want to accidentally wash crayons, pens or Airpods!!!
Measuring detergent

Fill Ensueño liquid detergent cap to match the load size. If the washing machine drum is halfway full, fill the detergent cap halfway full. 3/4 full = 3/4 cap. Very full = full cap.

Wash the cap with the load to prevent soapy mess on detergent bottle
Where to add fabric softener, if needed
Set washer settings for:

Load size
Water temperature
Ensueño fabric softener

Water temperature "spectrum": whites/hot to lights/warm to darks/cool to brights/cold
How to use the button to start, pause and cancel the wash

How to Teach Kids to Do Laundry: Phase 3 – Drying
Now that the clothes are clean, it's time to transfer them to the dryer.
While this task is usually quick and easy, there are a few things for kiddos to remember with each load:
Check the lint filter and clean if needed
Transfer clothing to dryer
Pull aside any clothing that needs to hang dry
Add Ensueño scent booster dryer sheet
Set dryer settings for:

Time to dry
Heat temperature
"Finished" buzzer (I usually keep this one so that I can get clothes out of dryer quickly before they wrinkle up!)

How to stop, reset, or add drying time
How to Teach Kids to Do Laundry: Phase 4 – Folding
The clothes are clean and dry, and now it's time to get them drawer/closet ready.
I have involved my younger boys with the folding process, starting with simple things to fold like kitchen towels or athletic shorts. They can also help add clothes to their stacks.
Hang vs. fold – which types of clothing
Folding towels, sheets, pillowcases
Folding fitted sheets (good luck with this one! lol)
Folding shirts, shorts
Hanging shirts and buttoning top button
Where do the "single" socks go
How to Teach Kids to Do Laundry: Phase 5 – Putting Away
Last but not least, the putting away. Teach kids to:
Put clothes neatly into drawers
Close the drawer when put away
Hang clothes in closet
And a reminder that we put clothes back into drawers and closets so that they know where they are, and they don't have to come barreling through the house with a "MOM, WHERE IS MY FAVORITE CHURCH SHIRT?!"
Because my response will be…"I don't know, did you hang it up where it is supposed to go?!"
How to Teach Kids to Do Laundry: Summary
Now that we've broken the entire process down, what's the next step for you?!
Plan which phase to work on first with your kids.
Next, walk them through ALL the things, even the intuitive things – like adding the soap! lol
Check on their progress after a few days/weeks. When they are ready to move onto the next phase, move onto the next phase.
Where to Find Ensueño Laundry Products
Now it's time to find Ensueño near you. No more scent cocktailing – it's high time we use a line of products with all the same scent.
Get the detergent, fabric softener, dryer sheets at a store near you.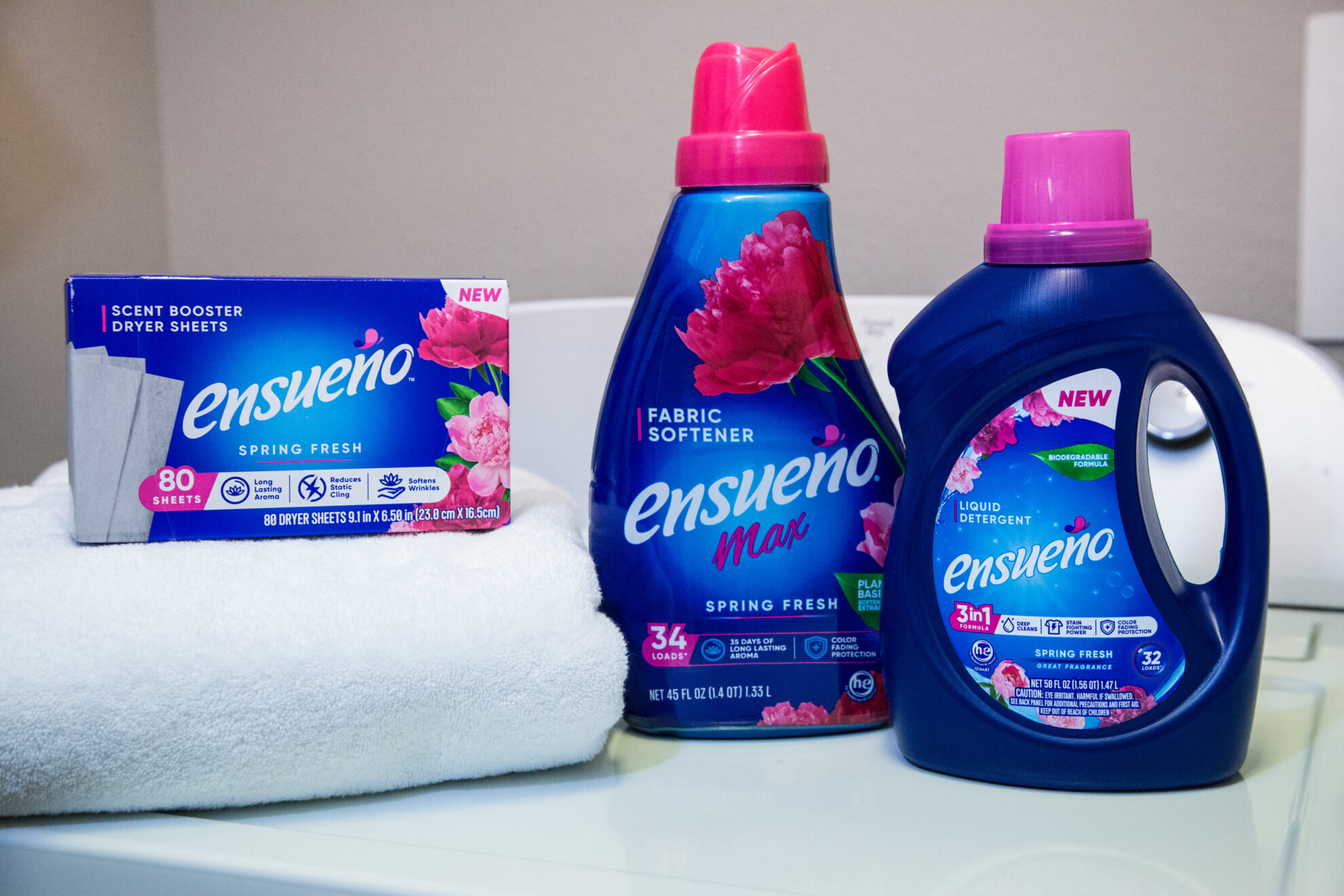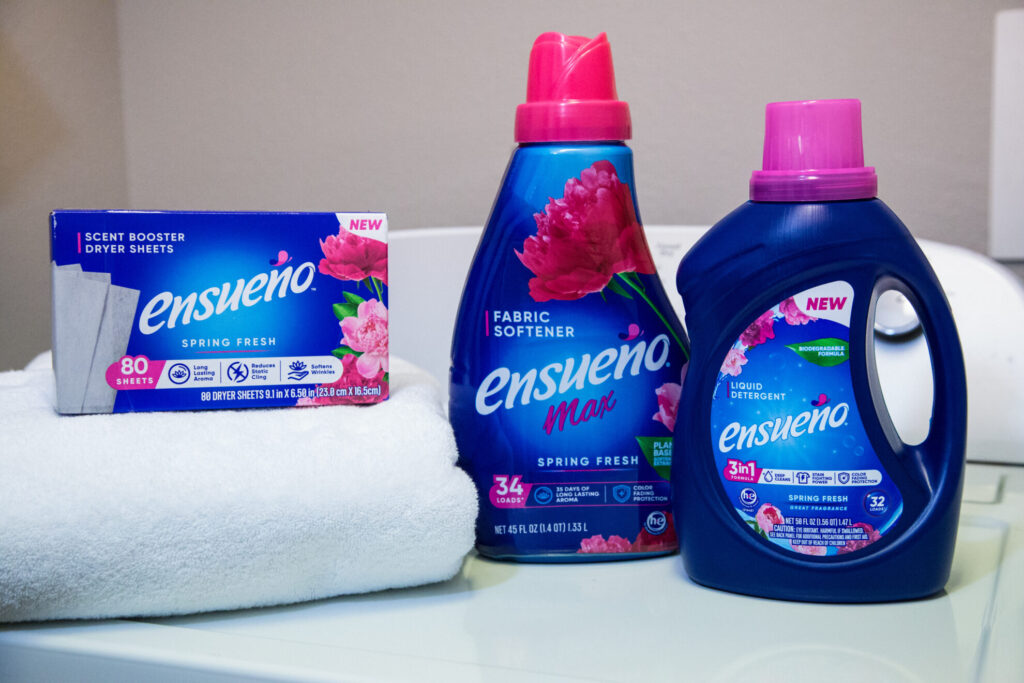 Disclaimer: This post is brought to you by AlEn USA and Ensueño. Opinions and thoughts are my own.