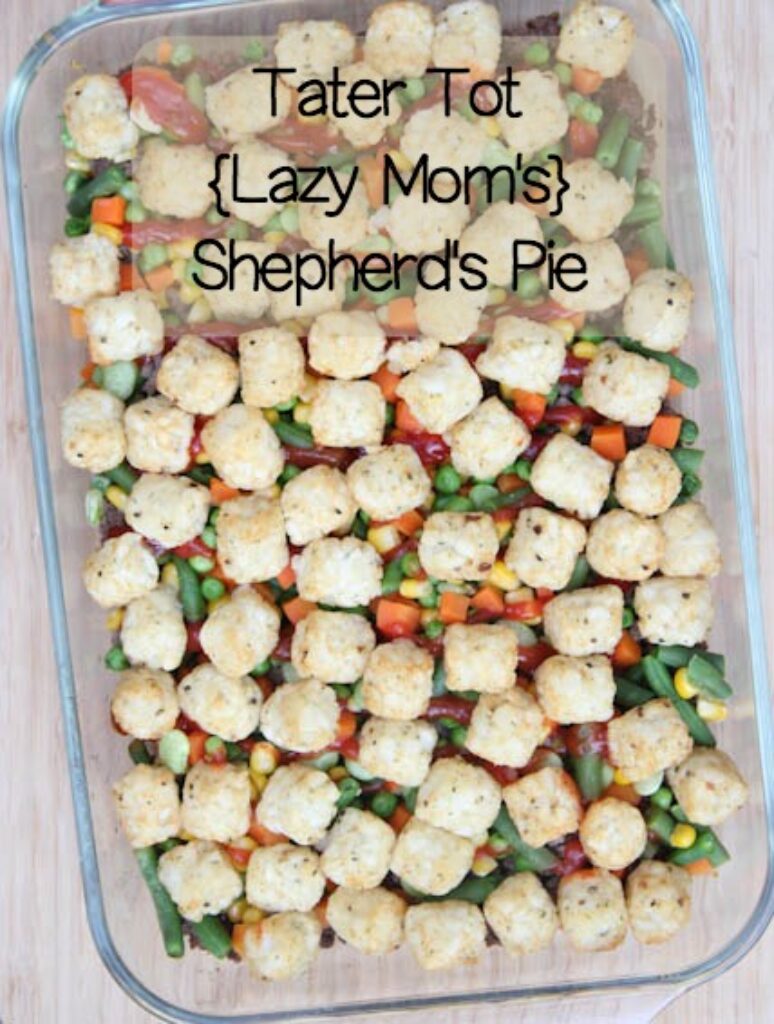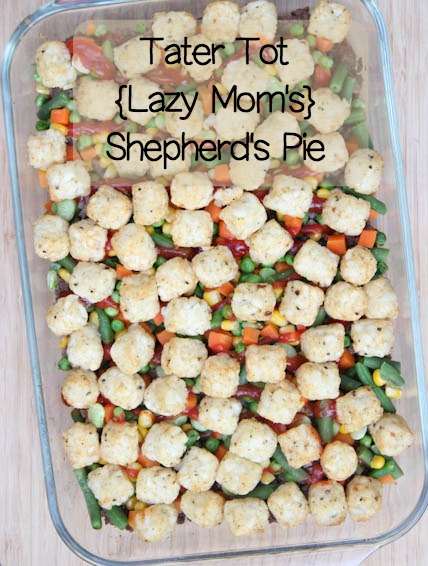 It's often joked in the mom circles that you lose brain cells with each kid you have. So I wonder if that means that I've have 4x less than I had before the little dudes showed up. And I wonder if I get an 'all-boy-handicap' of sorts. Because oh-my-holy-guacamole…they make me crazy sometimes.
For the most part I'm used to their level of busy-ness and movement, but sometimes I just want to push the pause button. Or scream at the top of my lungs FREEEEEEEEEEZE. Because oh-my-holy-guacamole. Just be still for one minute. Please.
It's this meal that makes me wonder if I really am losing my mind. A few weeks back, I hit up the local grocery store during their 'frozen sale' and stocked up on a number of different types and sizes of hash browns, sweet potato fries, waffle fries and tater tots. In my mind, the tater tots were in one of the larger bags that I had purchased. You know, the mind that's swirling and trying to keep tabs on the boys as they run around the backyard and ride their bikes and cars out in the cul de sac…often reminding, "remember…please don't do anything that might result in a trip to the ER." Seriously, I say that at least twice a week.
So back to this dinner we enjoyed.
I was browning the ground beef and getting the veggies ready, while rinsing out lunch boxes and mixing up batter for the next round of muffins, when I went to pull out the tater tots from the freezer. I grabbed the bag. And it was one of the smaller bag. NOT the larger bag that I remembered in my head. I let out an audible SIGH.
But had to run with it, we were going to have this Tater Tot Shepherd's Pie anyways!!!
(Why tater tots and not mashed potatoes?! Because I was too busy that afternoon swirling around the kitchen to whip up mashed potatoes!)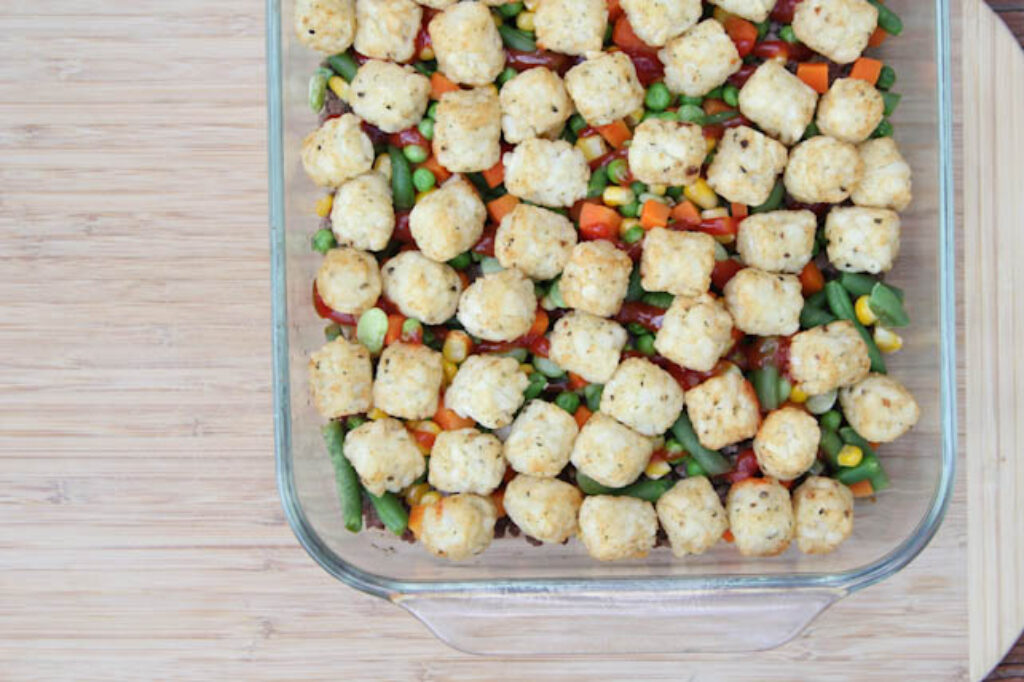 Hope you enjoy this slightly easier version of shepherd's pie! And, if you'd rather a traditional Shepherd's Pie recipe…well, we have that too!
A twist on shepherd's pie that will likely be your new favorite!
Ingredients
1

lb.

ground beef

1

Tbsp

minced onion

1

tsp

garlic powder

BBQ sauce or ketchup

3

cups

frozen mixed veggies

cooked and drained

18

oz

tater tots (or larger)

2

cups

shredded cheddar cheese
Instructions
Preheat oven to 400.

Brown the ground beef with the minced onion and garlic powder. Drain.

Add the browned ground beef to the bottom of a 9x13-inch baking dish. Add several lines of BBQ sauce or ketchup over the ground beef. Add the mixed veggies over the top and then spread the tater tots on top. Lastly, add the shredded cheddar cheese over the tater tots.

Bake in the preheated oven for 25 minutes, or until tater tots are warmed and cheese has melted.

Serve Tater Tot Shepherd's Pie.

To Freeze: Prepare the casserole as directed. After you sprinkle the cheese on top, you can cover the disposable baking tray or casserole dish with foil and freeze. To reheat: let thaw and bake as directed. If cooking from partially thawed or frozen, bake twice as long...half of the time covered with the foil and the other of half of the time uncovered.
Follow $5 Dinners' board 31 Days of Freezer Cooking Recipes on Pinterest.