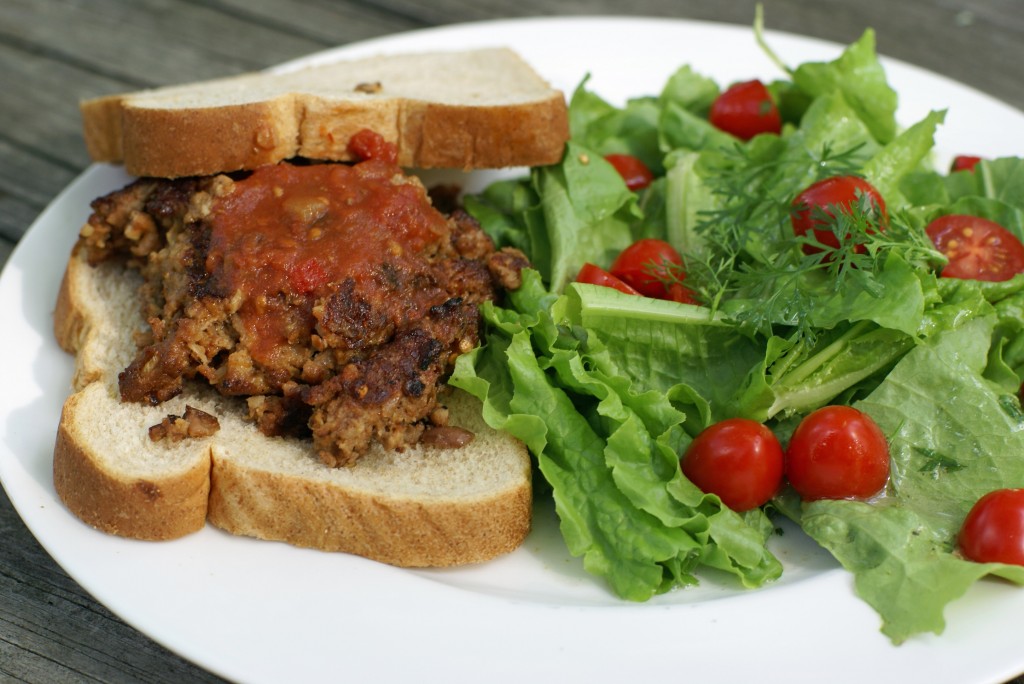 A few notes about this lovely meal.
These were SO GOOD, but they were super crumbly…from the beans…so I would add an egg to hold the burgers together.
The cilantro and lettuce are from the garden.
The bread…because I had no buns in the house. And ran out of time to make them from scratch.
The salsa is homemade from last year's garden. (Canned, of course.)
The salad dressing is homemade Cilantro Lime Dressing – 1/4 cup canola oil, 3 Tbsp lime juice, 1 Tbsp fresh chopped cilantro, 1/2 tsp ground cumin, salt and pepper to taste. Used a few spoonfuls.
The boys ate these with ketchup, not salsa. They eat ketchup with just about everything. If this continues on into adulthood, they might need to attend a Ketchups Anonymous meeting.
And now I leave you with the burger recipe. Including the egg that I did not use, but the recipe needs.
Beef plus beans plus taco seasoning --> delicious burger!
Ingredients
1/2

small

yellow onion

grated

2

garlic cloves

1 1/2

lb.

ground beef

2

cups

pinto beans

mashed

2

Tbsp

homemade taco seasoning

or 1 packet

2

Tbsp

salsa

6

hamburger buns

side salad
Instructions
Cut an onion in half and pull off 2 garlic cloves.

Peel back the flaky onion layer. I like to use the "root" end to hold onto while grating the onion. Chop the garlic clovers.

In a mixing bowl, combine the ground beef, grated onion, minced garlic, mashed pinto beans and taco seasoning. Combine and form into 6 patties.

Grill the patties, until cooked through. Serve on buns with a spoonful or two of salsa on top.

Prepare dressing and salad.

Serve Beef & Bean Burgers with side salad.