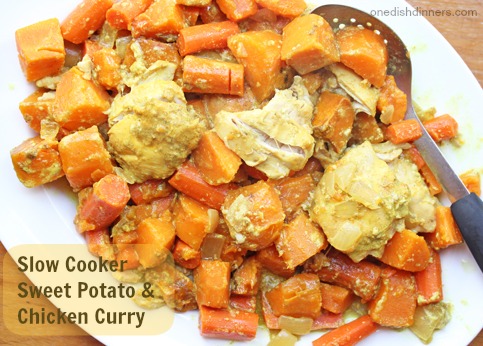 More chicken curry meals in the slow cooker. This meal is actually a regular part of our family rotation. The list of meals that we have repeatedly is very short, given that we are always trying new recipes for the website. But this one has been on the list for a few years and will remain. Mainly because everyone at the table polishes their plate. It's rare for that to happen in a family with 4 little people who have distinct preferences. Perhaps this will be your family's new regular meal?! Give it a try!
So I was chatting with my friend Christan about my Slow Cooker Maple Chicken recipe that I recently shared on $5 Dinners. She fixed it for her family and her girls (like my boys) couldn't get enough.
We got to talking about recipes and slow cookers at our last MOPS meeting and she told me about a very similar recipe that she makes, but it's curry and not maple. It's almost identical swapping out the maple for coconut milk and curry powder. The rest of the ingredients and the cooking method are the same!
Couple notes and tips for you:
My kids loved this just as much as they did the Maple Chicken. I just had to convince them that the yellow stuff (colored from the curry powder) was really chicken. They gobbled up their sweetened curried carrots and sweet potatoes without any prompting. (A mother's dream for her child to eat their vegetables without coersion being involved.)
If you open your coconut milk and it's hard and white on the top, don't fret. It's natural for coconut milk to separate. Just spoon it all into the slow cooker and whisk it up until it's creamy.
Your kids will gobble up their sweetened curried carrots and sweet potatoes without any prompting. At least mine did!
Ingredients
15

oz.

can light coconut milk

3

tsp

curry powder

4

small

boneless, skinless chicken thighs

Salt and pepper

to taste

3

medium

sweet potatoes

peeled and cubed

6

whole carrot sticks

peeled and cut into pieces

1

small

onion

chopped

Salt and pepper over the top
Instructions
Whisk together the coconut milk and curry powder in the base of the slow cooker.

Add the chicken thighs (or chicken breasts if you prefer), the sweet potatoes and carrots. Toss with the coconut milk.

Sprinkle a little salt and pepper over the top.

Set the slow cooker on low and cook for 8 hours.

Prepare fresh fruit for side dish.

Serve Slow Cooker Sweet Potato and Chicken Curry with carrots.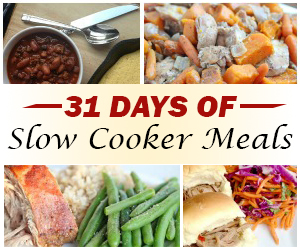 Welcome to our 31 Days of Slow Cooker Meals! July is a HOT month for most of us and one of my favorite ways to keep the kitchen cool in the summer is by using my slow cooker. Each day for the next 31 days, we'll be sharing tasty and easy slow cooker recipes with you. Be sure to bookmark this page as all of the recipes will be automatically added each day.
Enjoy and be sure to share all of our favorite Slow Cooker meals with your friends and family!