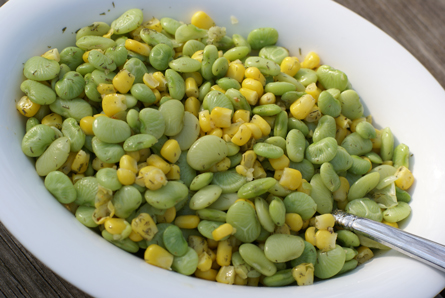 "Sufferin' succotash!" – Pop Quiz!  Do you remember which Warner Bros character said this as their catchphrase? 🙂
A little history about Succotash ~ Succotash is a food dish consisting primarily of corn and lima beans.  Due to it's inexpensive nature, it was very popular in the Depression era, and still makes for a healthy and low cost side dish!  It's also quite popular in the Northeast for a Thanksgiving dish.
Besides being cheap, this dish is also a healthy choice as lima beans are a good source of dietary fiber, and are a nearly fat-free source of high quality protein.  They'd be perfect as an addition to our Rice & Beans Budget recipes!
Ok, enough chatting!  On to the easy directions to make this tasty and healthy side dish…
Succotash with Butter and Dill

Yield – 4 servings

Preparation Time – 2 minutes

Cooking Time – 10 minutes

Ingredients

12 ounce bag frozen baby lima beans ($.80)
1 cup frozen corn ($.25)
1-2 Tbsp butter or margarine ($.10)
1/2 tsp dill ($.05)
Salt and pepper to taste

Directions

Cook baby lima beans and corn according to package instructions.
Once cooked, add butter and margarine, dill and salt and pepper to taste.
Stir together and serve.

Cost $1.20