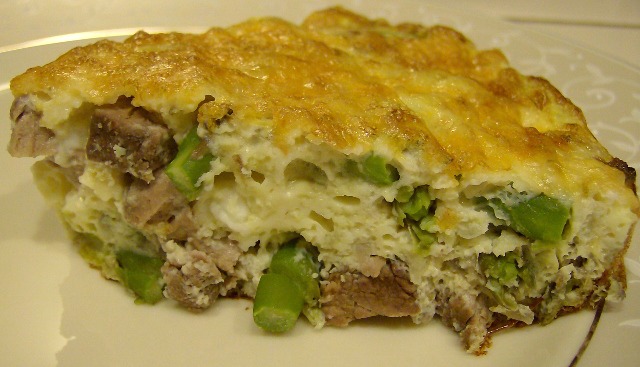 My children and I have established a ritual of having breakfast for dinner on the first night my husband is TDY. When he is deployed for any length of time, we have breakfast for dinner at least once a week. There is something so cozy and comforting about breakfast food and I appreciate how fast and easy breakfast recipes come together. Usually I make Scrambled Eggs or Oatmeal Pancakes. Occasionally I want to serve something just a little fancier, but that doesn't mean I want to work any harder. That is when I make a frittata. Frittatas are as tasty as a quiche, but are easier to make than an omelet.
My husband and I have a daily ritual that usually makes my dinner plans proceed more smoothly. He calls me as soon as he leaves the base, tells me about his day, and lets me know when he will be home. His schedule is erratic and I have learned the hard way that I can prep dinner, but that I should never turn on a flame until I get that call. Yesterday, when he called he started talking about his next deployment. Just the thought of him being gone again was enough to make me crave breakfast for dinner. Since I hadn't started cooking yet, it was easy to change my plans and make this Steak and Asparagus Frittata.
I used leftover steak in this recipe, but any leftover meat would work well. You could also leave the meat out to create a frugal, meatless dish.
Great for dinner, lunch, or brunch!
Ingredients
2

cups

asparagus, cut into 1 inch pieces

1

Tbsp

olive oil

1

cup

onion, diced

2

cloves garlic, minced

1

cup

cooked steak, cut into small pieces

8

eggs

2

Tbsp

Parmesan cheese

1

tsp

rosemary

1/4

tsp

pepper

pinch of salt

2

Tbsp

cheddar cheese

2

Tbsp

mozzarella cheese
Instructions
Preheat oven to broil.

Heat water to boiling in a double boiler. Add asparagus to basket and steam for 2 minutes.

Add olive oil to a 10 oven safe skillet. Add onions and garlic and saut until the onions are tender.

Place eggs, parmesan cheese, rosemary, pepper and salt in a small bowl. Use a whisk to thoroughly combine the ingredients.

Add asparagus and steak to the onions. Mix well. Pour egg mixture over asparagus.
When I make this frittata for dinner, I serve it with Strawberry Spinach Salad with Raspberry Vinaigrette. (Isn't it lovely that asparagus, strawberries, and spinach are all in season and on sale right now?)  When I make a frittata for breakfast, I serve it with a fresh fruit salad, using whatever fruit is in season and on sale.