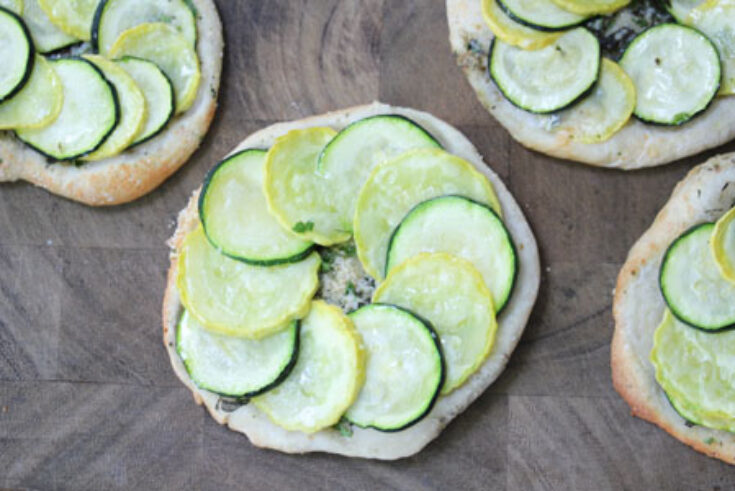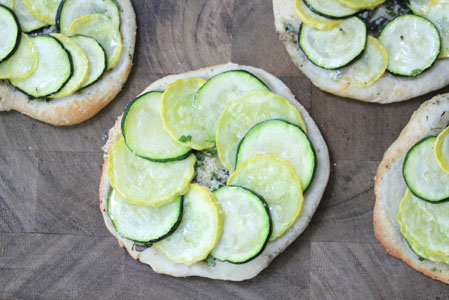 Mini.
Mini can be good.
Unless said "mini"-whatevers is so delicious that you eat so many that "mini" is no longer relevant. And you might as well have made mega bites.
Instead of mini bites.
Oops.
(Not that that happened to me. Or anything.)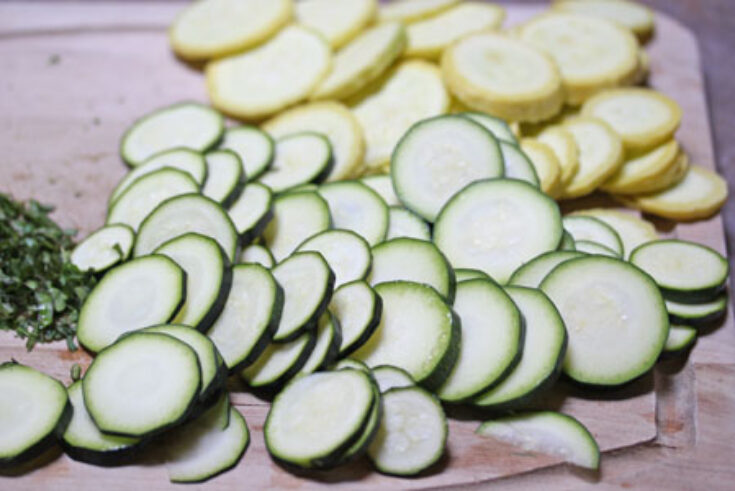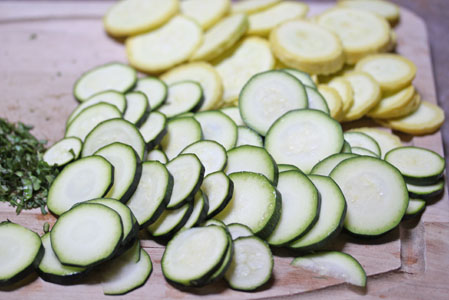 Slice up the zucchini and squash.
(I sliced up 2 of each, but didn't need them all…I ended up sauteeing the rest. You'll only need 1 of each for these bites.)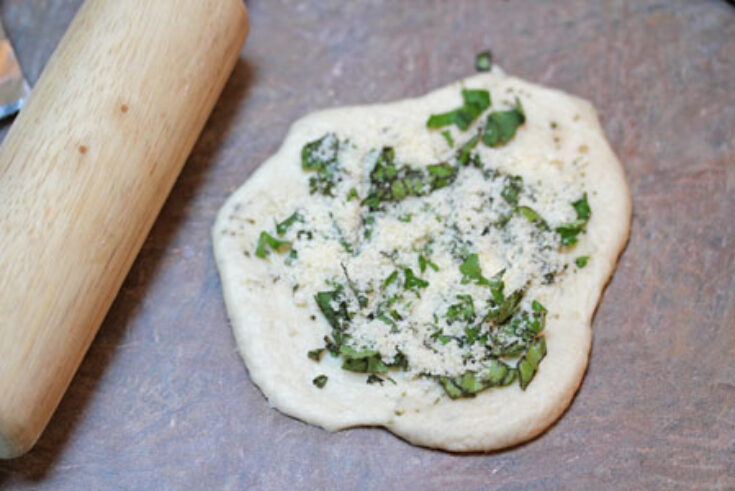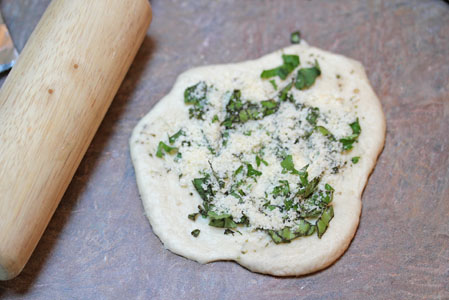 Roll out the little mini pizzas and top with fresh herbs and Parmesan.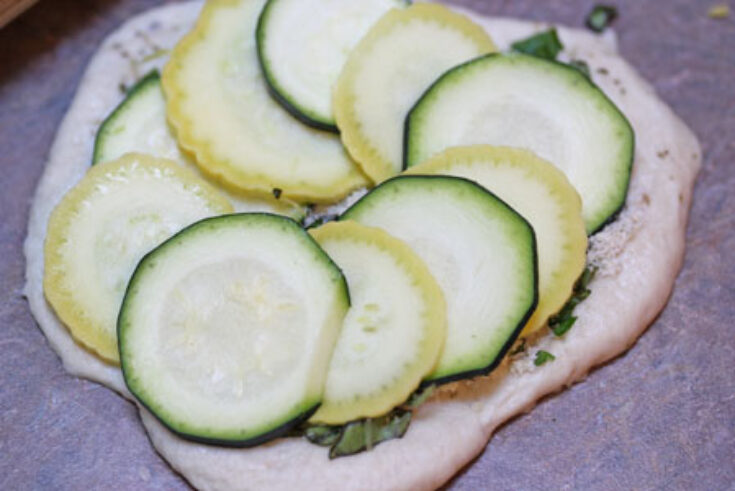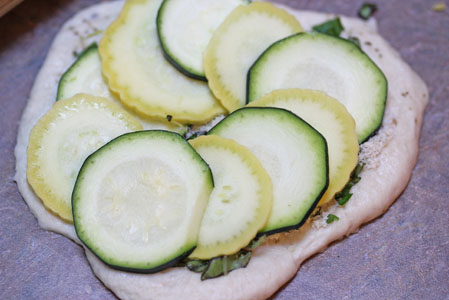 Arrange the squash and zucchini so they alternate and lay over each other in a nice circle.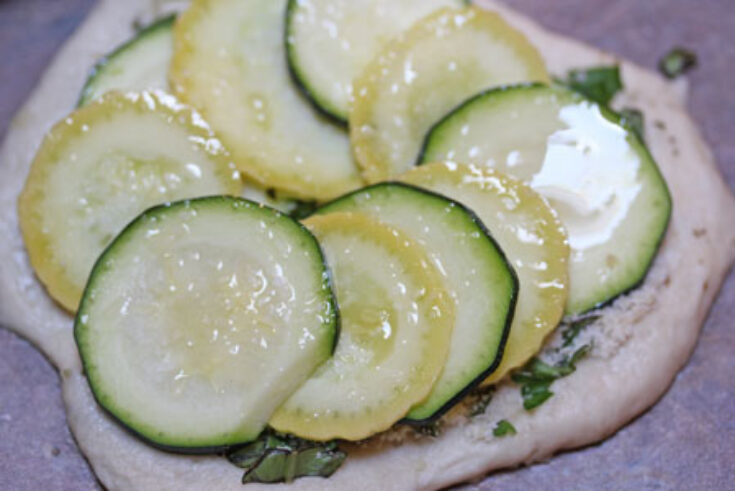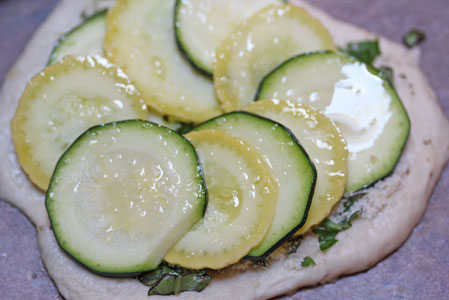 Brush with olive oil. Sprinkle with Kosher salt.
Sprinkle with pepper.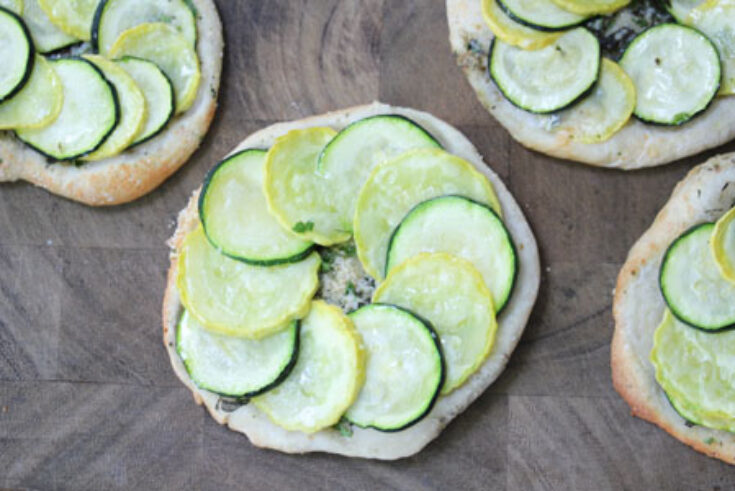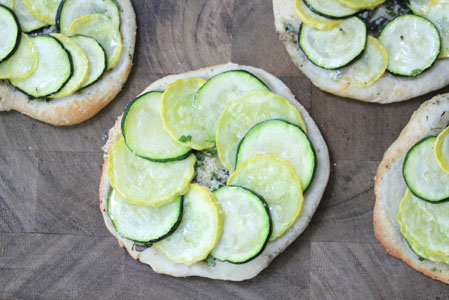 Bake.
I made mine in the smaller toaster oven. I didn't feel like heating up the kitchen. I was able to bake 2 at a time, and we had a leisurely dinner…enjoying them as they came out of the "mini-oven."
I hope you enjoy these as much as we did!
Ingredients
1 batch homemade crust or store bought crust ($1)

1/2

cup

Parmesan cheese ($.50)

3-4

Tbsp

fresh chopped herbs, such as parsley, basil, oregano, rosemary (from the garden)

1 zucchini, thinly sliced ($.75)

1 yellow summer squash, thinly sliced ($.75)

Olive oil, for brushing ($.10)

Kosher salt and pepper, for sprinkling

Side ideas: Grilled chicken, fresh fruit, garden salad ($2)
Instructions
Divide the pizza dough into 8 small balls. Roll out each ball into a round circle on a lightly floured surface.

Add a pinchful of Parmesan cheese and fresh chopped herbs to each circle.

Arrange the sliced zucchini and summer squash in a circle on top of the cheese and herbs. Brush with olive oil and sprinkle a bit of Kosher salt and pepper over top.

Bake at 350 for 12-15 minutes, or until the crust is cooked and the squash begin to turn wilt around the edges. Remove from oven and let cool slightly before serving. (If baking in a regular oven, place on a lightly greased baking sheet and bake as directed.)

Serve as is for a light summer lunch or dinner...or with grilled chicken, or fresh fruit, or garden salad for a larger meal.