I do believe I have DIED AND GONE TO SALAD HEAVEN! Seriously, it's divine!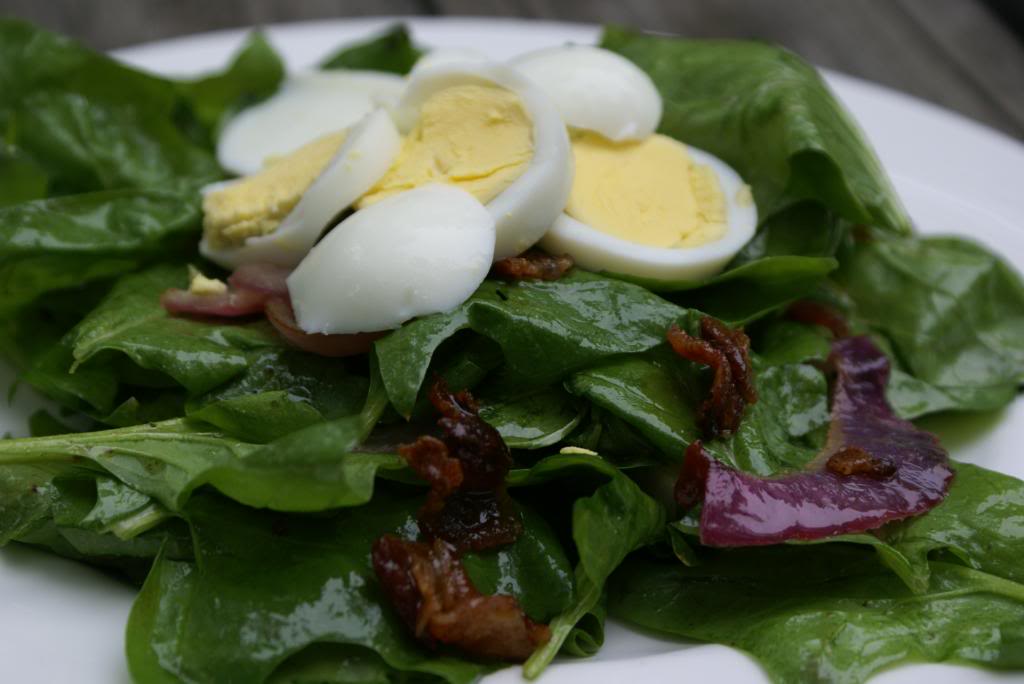 When I first saw this recipe last week, I wanted to reach through my computer screen for a taste.
Then I made a few small modifications to her recipe, like using spinach from the garden, omitting the mushrooms (I'm not the biggest mushroom fan!) and adding pepper to my bacon, instead of buying the more expensive and already peppered bacon that she recommends.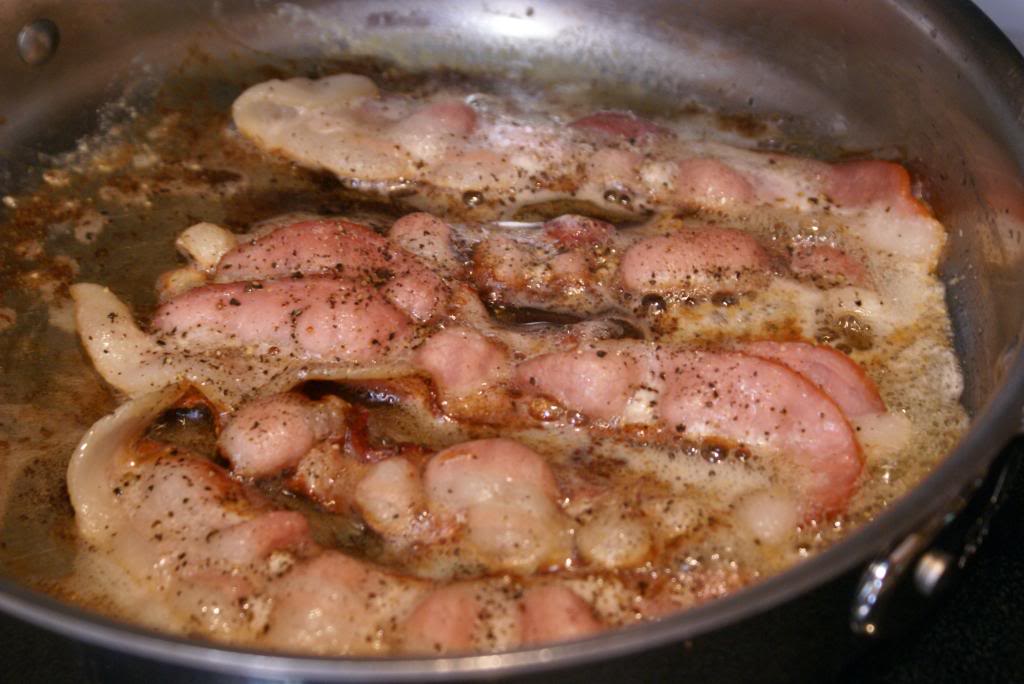 Adding pepper to the bacon.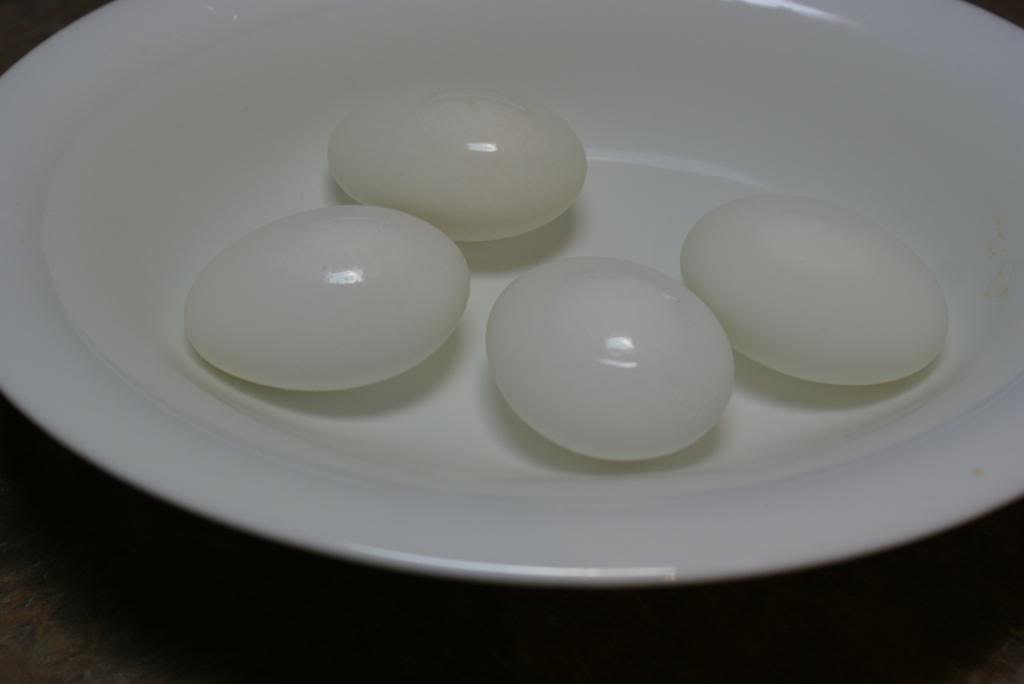 Cooling hard boiled eggs in water instead of with ice (as PW suggests)…we have no ice maker in our freezer! Cold water does the trick too!
NOTE: I got the bacon on sale for $2.50 and will use it in this meal, the spinach bacon frittata on Thursday and the Crockpot Beans this weekend. I also got a humongous red onion on sale for $.58 and will use half for this meal, and the other half in tomorrow night's BBQ Chicken Pizza.
Here is the cost breakdown of her original recipe, plus what else we had for dinner!
A simplified spinach salad, inspired by Pioneer Woman!
Ingredients
3

eggs

8

slices

thick cut, peppered bacon ($.83)

1

small

red onion

8

oz.

baby spinach leaves

3

Tbsp

red wine vinegar

2

tsp

sugar

1

tsp

Dijon mustard

Dash of salt
Instructions
Cook eggs: cover with water, bring to a boil, then turn off heat and allow to sit in water for 20 minutes. Drain off water and add ice on top of eggs.

Fry bacon until crispy/chewy. Remove to a paper towel. Remove 3 tablespoons grease and set aside. Add 2 addl tablespoons of grease to a separate skillet over medium heat.

Slice red onions very thinly, then add to skillet. Cook slowly until onions are caramelized and reduced. Remove to a plate and set aside.

Slice mushrooms and add them to the same skillet. Cook slowly until caramelized and brown. Remove to a plate and set aside.

Chop bacon.

Peel and slice eggs.

Make hot bacon dressing: Add 3 tablespoons bacon grease, vinegar, sugar, and Dijon to a small saucepan or skillet over medium-low heat. Whisk mixture together and heat thoroughly.

Add spinach to a large bowl. Arrange onions, mushrooms, and bacon on top. Pour hot dressing over the top; toss to combine.

Arrange eggs over the top and serve.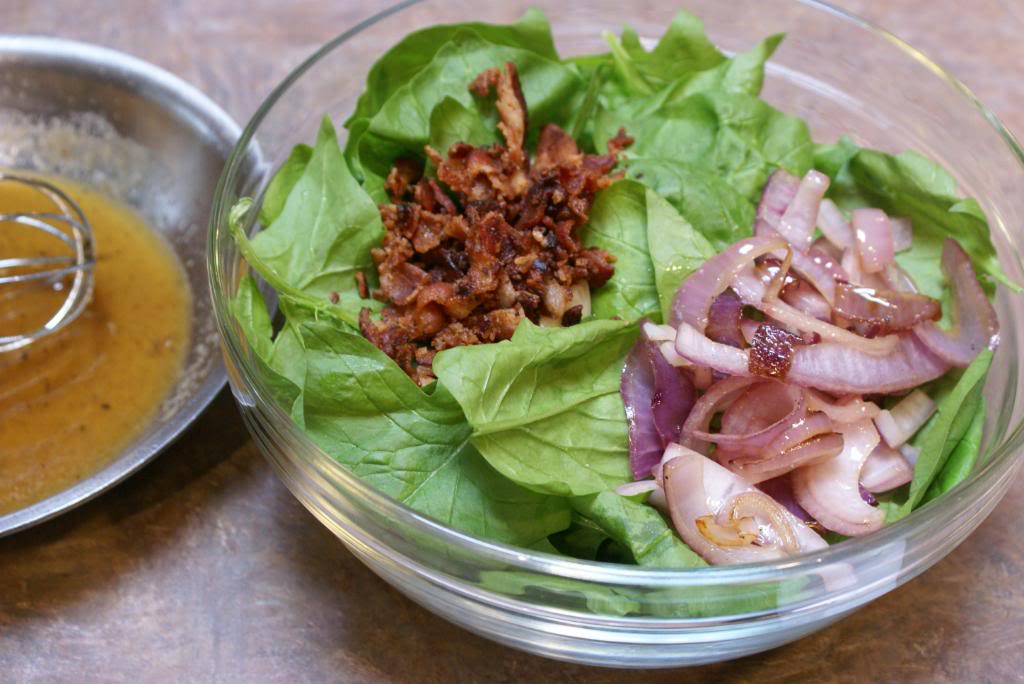 Total for the salad: $1.66 (Yeah for gardening!!!)
We also had 2 cups of frozen corn (on sale for $.68/bag this week!!!), leftover meatloaf ($1.50) to round out the meal. I didn't think the boys would go for the salad…they had a taste and moved on to the rest of their meal. They each had a hard-boiled egg as well the corn and meatloaf and a watermelon juice popsicle ($.25) for dessert.