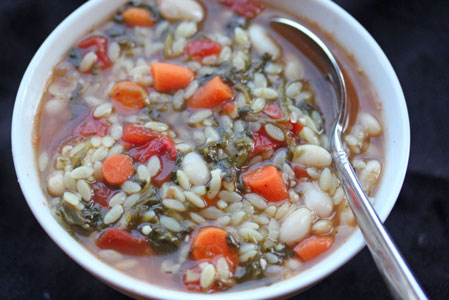 The pantry sweep out and the freezer sweep are almost complete. I've emptied the freezer and it will be making its way to its new home here in Dayton tomorrow. And I'm almost finished clearing out the "back shelves" where I store most of my stockpile items and non perishable pantry items. My goal is to have that cleared out by the end of February.
This moving thing is really forcing my to shift my shopping and cooking plans from more of a "meal plan from your stockpile" to "meal plan from the store circular" mentality. While I'll still take advantage of the great deals at the store, I won't be stocking up on things as I have in the past.
So last week, we had another of these "pantry/freezer" meals. There was a half used package of orzo in my pantry that needed to be used, some homemade chicken broth, spinach and baby carrots in the freezer. (Baby carrots can be frozen only if you plan to cook them after thawing.) Also, cooked up some navy beans and used up a can of diced tomatoes as well.
(Make this vegetarian by using water for all the liquid, or vegetable stock.)
Enjoy!!!
A hodgepodge of pantry staples and extra ingredients that made for a most delicious soup.
Ingredients
8

cups

liquid - chicken stock and/or water

2

cups

chopped carrots

15

oz.

can diced tomatoes

undrained

10

oz.

box frozen spinach

cooked and drained

15

oz.

can white beans

1

tsp

minced garlic

1

Tbsp

minced onion

1

tsp

1 tsp Italian seasoning ($.05)

1 1/4

cup

orzo pasta

salt and pepepr

to taste

Parmesan cheese

garnish
Instructions
(If needed, cook the dried navy beans. Drain.)

In a large Dutch oven or soup pot, add the liquid, then add the carrots, diced tomatoes, spinach, beans, garlic, onion and seasoning. Bring to a rolling boil.

Once boiling, add the orzo pasta and let cook for 7-8 minutes.

Ladle into serving bowls and add a little Parmesan cheese to each bowl.

Serve as is, or with a side salad or bread.