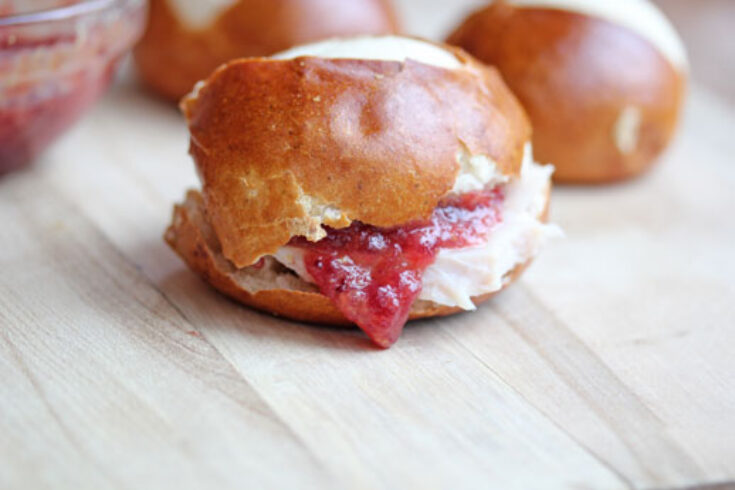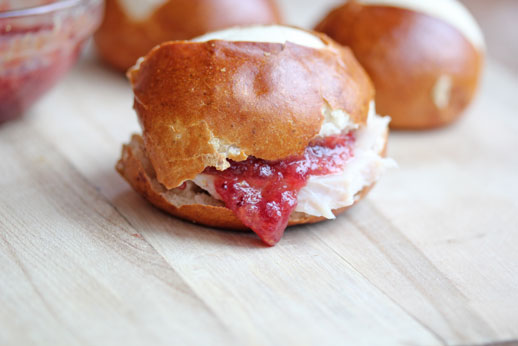 So I was kind a intimidated by these pretzel rolls…because why mess with perfect?!
And that's why I was intimidated…I didn't want to mess with the perfect.
So I didn't.
I just took some other ingredients and added to the perfection.
Pretzels are just such a simple food. With a little spicy mustard or cheese sauce. Snack time perfection….but I was hoping to come up with more of a quick fix meal…
Here's what I got…
The most perfect leftover turkey sandwich ever!
Ingredients
1

package Sister Schubert's Soft Pretzel Rolls

1/2

cup

cranberry sauce

3

Tbsp

spicy brown mustard

1/2

lb.

shredded or sliced turkey meat

leftovers

Fresh fruit, carrot sticks, or chips

side dish
Instructions
Warm the rolls as directed on the package. Remove from the oven, let cool for a minute, then break open in half.

While the rolls are in the oven, mix the cranberry sauce and spicy mustard in a small mixing bowl.

Add the turkey and spicy cranberry sauce to the warm rolls and enjoy with favorite simple side.
Now…go dig out the leftover or extra turkey you have from Thanksgiving and you've got supper on the table in 10 minutes or less!