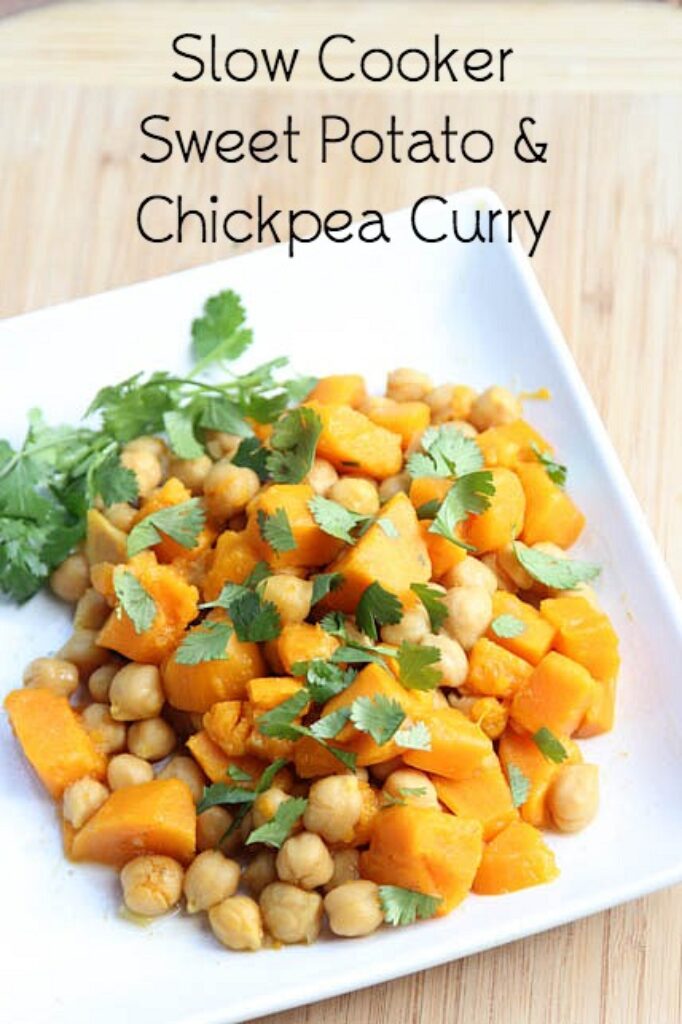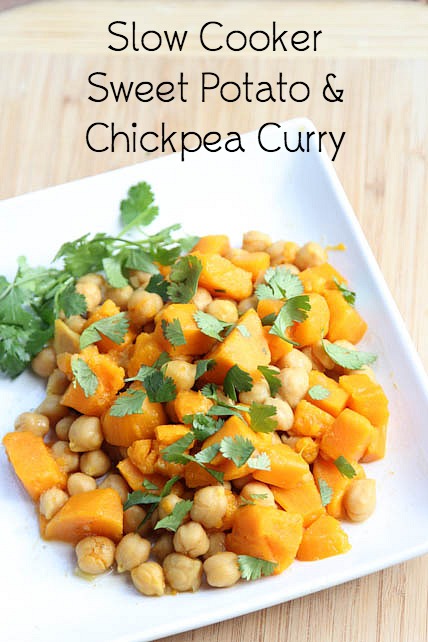 This right there y'all…is what you call a delicious, hearty, filling vegetarian dish that even meat lovers will love!
I prepped this in the slow cooker because I wanted the chickpeas and the sweet potatoes to soak for a long time in the curried broth. And boy, oh boy…my tastebuds are grateful that I slow cooked this one.
The chickpeas and sweet potatoes take on the curry and ginger flavors and it's downright delicious!
Another thing that I love about this is that the base of it is dried chickpeas…which are ridiculously inexpensive!
Please don't pass up the fresh ginger on this one. If you've never worked with fresh ginger before, here's what you need to know.
You won't need a large piece for this dish, so grab a really small piece.
Peel it like you would a carrot. Get into the nooks and crannies as best you can…if a little skin is still on there, that's ok.
Cut it into 1/8″ slices and drop about 8-10 slices into the curry.
Once it is finished cooking, remove the slices before serving. (Unless you are a huge fan of ginger, in which case, go ahead and bite into them!)
Boom…now you are an expert on fresh ginger and don't need to be afraid about tossing a small one into your grocery cart!
So this will come out sorta soup-like, from the broth that isn't soaked up by the chickpeas. Feel free to serve it like a soup, or strain it off and eat the chunks without the liquid. (That's what we did.)
Also, don't spare the fresh cilantro either. It's the perfect fresh complement to the curry and ginger flavors! MMMMMMmmmmmmmmmm……
Alright, one more tip…before we get to the recipe!
Freezer Friendly: Let the cooked curry cool completely before adding it to a freezer baggie or container. Freeze up to 6 months in fridge freezer or 12 months in deep freezer. To thaw, add to bowl of warm water for about 30 minutes. Then reheat in saucepan on the stovetop.
The chickpeas and sweet potatoes take on the curry and ginger flavors and it's downright delicious!
Ingredients
1

lb.

dried chickpeas

4

medium

sweet potatoes

peeled and diced

2

cups

vegetable or chicken broth (if not vegetarian!)

3

tsp

minced garlic

3

Tbsp

fresh ginger, sliced

2

Tbsp

curry powder

Salt and pepper to taste

Cilantro

optional garnish

Fresh veggies

side dish
Instructions
*Soak the chickpeas overnight or in a bowl of hot water for at least an hour. Drain and rinse.

Add all the ingredients except the garnish and fresh veggie side to the slow cooker and add 4 cups of water. Set the slow cooker on low and cook for 8 hours.

Serve Sweet Potato & Chickpea Curry with a side of fresh veggies.