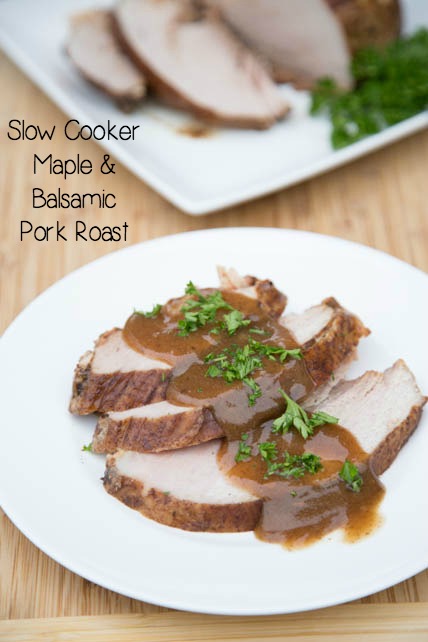 This recipe is part of our 6th Costco Meal Plan: 20 Slow Cooker Freezer Packs from Costco for $150!
Amazing…this one. The glaze as it cooks plus the gravy you make after it cooks…simply scrumptious! A flavor explosion!
This recipe does require you to cook the sauce/glaze for a few minutes before pouring it over the pork roast in the slow cooker, or in the freezer pack.
Here are a few ideas to modify and customize this recipe:
Toss in some baby carrots and potatoes/sweet potatoes to make this a one dish slow cooker dinner!
Gluten Free modifications: Use GF flour when making the gravy. Serve with mashed potatoes or mashed sweet potatoes instead of dinner rolls.
Whole 30 or Paleo modifications: Serve with mashed sweet potatoes, in place of the dinner roll. Omit maple syrup if Whole 30 and just pour the balsamic with some olive oil over the roast.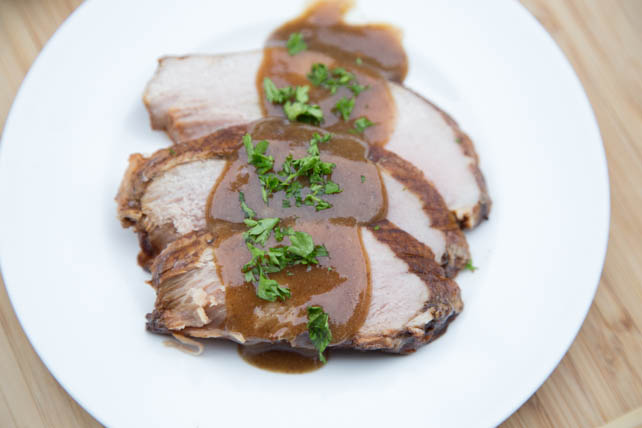 Note: I've written the recipe below to be based on the shopping list for the 6th plan in the 20 Meals from Costco for $150 series.
Ingredients
1/2

cup

balsamic vinegar

1/3

cup

maple syrup

2 tsp cornstarch

1/2 tsp onion powder

1/2 tsp garlic powder

1 1/2 to 2 lb. pork roast

Salt and pepper

Teaspoon or two of flour to make a gravy

Side: Dinner roll and frozen veggies
Instructions
In a small saucepan, whisk together the balsamic vinegar, maple syrup, cornstarch, onion powder and garlic powder. Let simmer over medium low heat for about 8-10 minutes, or until sauce thickens.

Add the pork roast to the slow cooker and season with salt and pepper. Then pour the glaze over the top, coating the roast with the glaze.

Set slow cooker on low and cook for 8 hours, or high for 6 hours. If cooking from partially frozen, you'll need to cook on low for 8 to 10 hours, depending on how frozen the pack is when you start cooking it.

Gravy: Strain about 1 cup of the juices in the base of the slow cooker and heat over low heat in a small saucepan. Whisk in a teaspoon or two of flour and let thicken. Serve over the sliced pork roast.

To pack into gallon size freezer baggie: Label. Then, follow the same directions in the first 2 bullets. Let the glaze cool for about 10 minutes, before pouring into the bag. Remove as much air as you can and seal. Place in the fridge to let the glaze cool completely before adding to the freezer.(This will help prevent freezer burn.) Freeze up to 6 months in your fridge freezer or 12 months in a deep freezer.

Tothaw, place the bags in the fridge overnight. Or quick thaw in a bowl of warm water.
This recipe is featured on SouthernPlate.com's Meal Plan Monday #54.