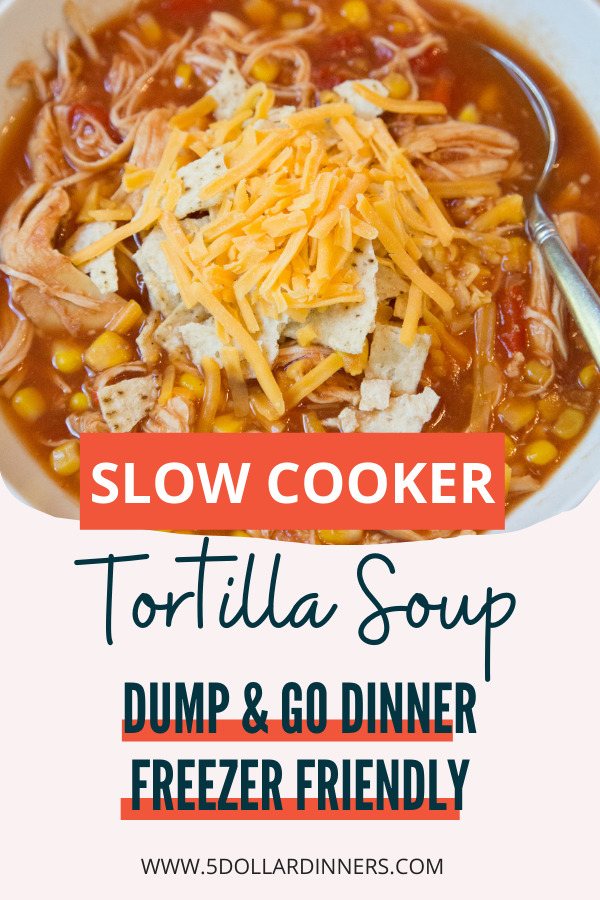 I heart soups. I heart slow cooker soups. And even in the heat of the summer, I'll eat a soup…but only if I made it in the slow cooker!
This recipe uses my ranchero chicken as a base. When making 'ranchero chicken,' I prefer to make it with 1 lb. of chicken breast and 1 lb. of chicken thighs. I like the flavors that the thighs add to sauce, and I like the way that the two types of chicken meat work together and shred together. I also love how the acidity from the tomatoes helps break down the chicken into perfectly tender shreds. Also, using 2 lbs. of chicken gives me 2 meals worth to use!
For the Gluten Free Costco Plan, here is how you can make this slow cooker chicken tortilla soup and the enchilada casserole, almost at once. Note that this fills my 6 quart slow cooker almost to the top, so if you have a smaller one, you might have to do in two batches.
1. Slow Cook the following for 8 hours.
2 lbs. chicken breast
2 lbs. chicken thighs
3 cans tomato sauce (or diced tomatoes)
Couple tablespoons homemade taco seasoning, or favorite tex-mex spices
Salt and pepper
This will give you 4 meals worth of chicken-tomato mixture.
(You can add more spices once it has cooked and you taste it.)
2. Shred the chicken in the sauce.
3. Divide in half and lightly drain the portion that you will use for the chicken enchilada casserole.
4. Make a double batch of the Chicken Enchilada Casserole using the lightly drained chicken-tomato mixture. Eat one, freeze the other.
5. Make a double batch of this Slow Cooker Chicken Tortilla Soup using half of the chicken-tomatoes mixture and drained juices. Let cool completely and then freeze in 2 large containers or plastic freezer baggies. Note: This recipe is written for a double batch, in the event that you make it on its own, apart from the chicken casserole. If you wish to make both at once, use the recipe/ingredients listed above.
The easiest soup ever! Kid friendly, budget friendly - add to your meal plan today!
Ingredients
1

lb.

boneless, skinless chicken breasts

1

lb.

boneless, skinless chicken thighs

2

15 oz. cans tomato sauce

2

packetes

taco seasoning

4

cups

frozen corn

2

red bell peppers

seeded and diced

2

quarts

chicken stock

12

corn tortillas, cut into strips

Couple pinchfuls of shredded cheese for garnish
Instructions
Add all the ingredients, except the tortillas and cheese, to the slow cooker and cook on low for 8 hours. Gently shred the chicken pieces once cooked.

Before serving, add the tortilla strips and a pinchful of cheese to each bowl.
Freezer Meal Instructions
Do not add the tortillas and the cheese to what you freeze. Let the main soup cool completely before adding to container or plastic freezer baggie.

Thaw in a bowl of warm water and reheat in a saucepan. Add tortillas strips and cheese to each bowl before serving.
This recipe is included in the Deck the Freezer Party!