The Perfect Way to Use Up Leftover Sloppy Joes –> Sloppy Dogs!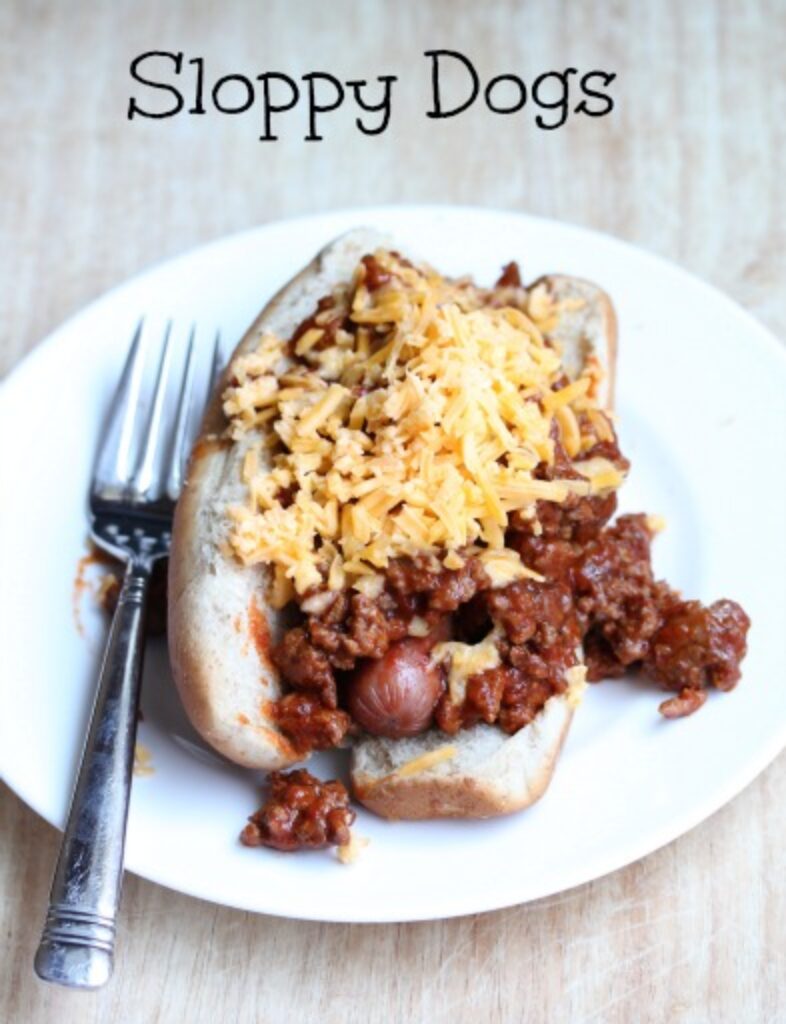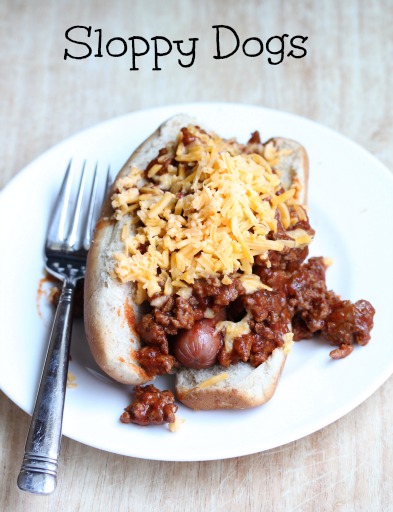 A few weeks ago, I mentioned that I was going to be taking a vacation "sorta." Well, I hope you don't mind that I didn't tell the full truth (for security reasons!), but I really did take a vacation. I really was in Cincinnati by myself with the baby…but my husband and children were home. But the week after I was in Cincinnati, we took a family vacation to northern Minnesota. This vacation also doubled as a family reunion…getting together with all 7 of my cousins and all their little people…plus the grandparents. It was an amazing week!
In 5 years of blogging and being super-connected online, I took a much needed social media sabbatical. Furlough is probably a better word. Really short furlough. But it was just what I needed. I didn't post anything about our vacation online until after the fact…for 2 reasons…1. security. 2. peace of mind.
For 7 days, I didn't check my email, didn't tweet, didn't post on FB, instagram, pinterest, etc. (Note: there may have been some automated tweets, or posts from my team.)
Anywho…it was a lovely week of connecting in real life with my husband and kids, my family and my extended family.
We were up on Grace Lake. Also known as my happy place. (Yes, I totally waterskied behind a jet ski…both to prove to myself that I was still young, and to show my kids that their mom is super cool!!!)
On Friday for lunch, my aunt prepared sloppy joes for everyone, but she had also set out some ham for sandwiches too. My older cousin Mark shows up at the picnic table with (what I think was his third plate of food) a "ham-sloppy-pickle" sandwich. At least, that's what I think was on it. Maybe some cheese in there too. We got to talking about sloppy joe combinations and he mentioned one of his favorite is "sloppy dogs." While I had a tough time swallowing his sloppy-ham-cheese-pickle sandwich choice, I knew sloppy dogs would be a big hit with all of our boys. (What mom doesn't love a meal that all her kids will enjoy!)
So in Mark's creative sandwich honor, and in honor of my family, and my long overdue vacation…here they are…
(Note #1: plan to make extra sloppy joe meat and use leftovers later that week…or freeze it flat in a plastic freezer bag. Frozen sloppy joe meat thaws quickly in bowl of warm water for a quick weeknight dinner!)
(Note #2: The photo has a fork…because you might need a fork 🙂 )
Take your leftover sloppy joes and add them onto hot dogs for a fun and simple dinner - sloppy dogs. Add a pinch of cheese and other fave hot dog toppings!
Ingredients
1

lb.

ground beef

15

oz.

can sloppy joes sauce

4

hot dogs

4

hot dog buns

1/4

cup

shredded cheddar cheese

relish, chopped pickles, chopped onions, mustard, ketchup

other toppings

carrot sticks, fresh peach slices, chips

side dish ideas
Instructions
Brown the ground beef, drain and mix in the sloppy joe sauce. (Or reheat leftover sloppy joe meat.)

Cook the hot dogs as directed. Top the cooked sloppy joe meat over the hot dog and add a few pinchfuls of cheese quickly. (The heat from the warm meat should melt the cheese.)

Add any other toppings or condiments.

Serve Sloppy Dogs with sides of fresh fruit, veggies, salad, chips...whatever you have on hand!
Notes
Click on the images below for the BEST EVER Homemade Sloppy Joe Mix!