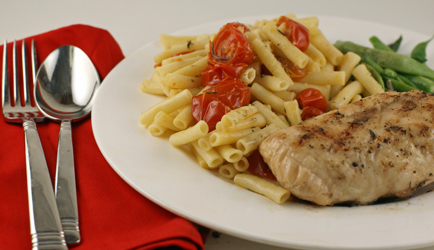 Last week the boys were attacked by the 4 hour stomach bug. It was probably really a 24 hour stomach bug…but the kids only acted like it was a 4 hour bug. Ryan called my mom, as he is quite handy with my iPhone…and he informed her in a bold, confident and cheerful voice that he was sick. She didn't believe him. It was almost a fluke of a stomach bug.
In an effort to ease back into regular eating, I made this partly bland-partly not-so-bland dinner for us. The boys had just the noodles, chicken and a few bites of green beans, while Steve and I had the tomato-y pasta plus the rest. Given the situation, it worked nicely.
(Sorry about the stomach bug thing…just needed to share the back story. Let's forget about that now. And focus on the tomatoes.)
The sauteed tomatoes are the star of this meal! And they were perfect with the pasta!
Ingredients
1

lb.

pasta noodles, variety doesn't matter ($.50)

2

Tbsp

olive oil ($.20)

4 garlic cloves, crushed ($.20)

1/2 onion, finely chopped ($.15)

2

cups

cherry or grape tomatoes, halved (from the garden)

(Fresh basil, chopped, would have been a lovely addition...I'm all out!)

3 chicken breasts ($2.32)

Garlic salt and Italian seasonings ($.05)

Green beans (from the garden)
Instructions
Cook pasta according to box instructions. Before draining, reserve 1/3 cup cooking liquid.