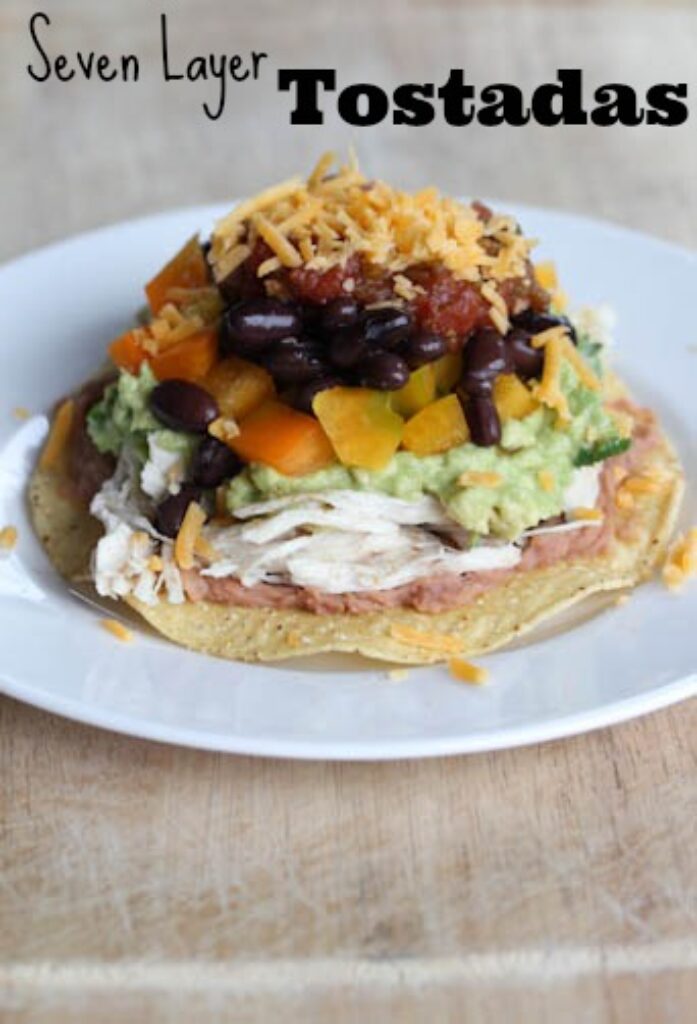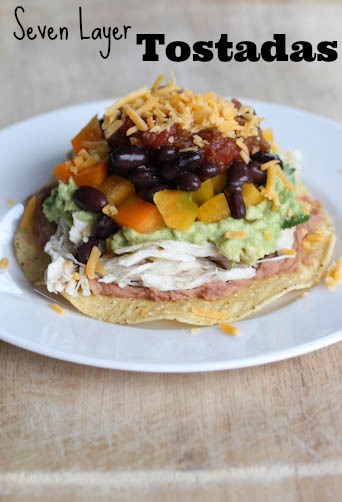 This is one of those "it just came together" meals…
A few weeks back, we took the kids downtown during Fiesta week to go to the River Parade. They were serving some delicious tex-mex options in the section where our seats were located. They had fajitas, as well as bean and cheese tostadas. The kids had never had a tostada before, as I rarely made them in Ohio because the tostadas were quite expensive. Now that we are here in south Texas, there are tostadas practically on every corner, and they are cheap.cheap.cheap.
(Did I mention they were cheap?)
So I've added them to the "regulars" section of my grocery list. My grocery list consists of "regulars," or items that I buy every week, along with deep discount and sale items like produce and BOGO offers, and lastly the "stockpile" section for products that I can get free or nearly free by matching sales with coupons or other store offers.
Two of the 3 older boys love refried beans on the tostadas…just like that. The other turns his nose up at beans, so he likes the other toppings. And while I rarely "short-order cook," this meal is great…as the kids got to pick what they wanted on top!
We recently had Mexican Haystacks, and this is super similar…just seven layers, on top of a tostada. My tostada is pictured above…
Refried beans

Homemade Guacamole
Chopped orange pepper
Black Beans
Salsa
Shredded cheese
Other topping ideas include: sour cream, black olives, shredded lettuce, chopped tomatoes, red beans, avocado chunks.
This meal really just came together…I had all the right fixings and ingredients in the pantry to make a well, rounded and delicious dinner that we all enjoyed!
What would you put on your Seven Layer Tostada?!?
(Also, you might need a fork!)
Ingredients
8 tostada shells

1 can refried beans (or 2 cups homemade refried beans)

1 chicken breast, shredded, or about 2 cups

2 avocados, mashed

1/2 tsp ground cumin

2

Tbsp

lime or lemon juice

Salt and pepper

Chopped peppers

Canned, or cooked black beans, about 1 cup

About 1/2 cup salsa

8 pinchfuls of shredded cheese
Instructions
Prepare the chicken if need be. Or pull it from the freezer.

Spread the refried beans on the tostada shells.

Prepare guacamole by mashing avocado with the ground cumin and lime juice, season to taste with salt and pepper.

Continue to add toppings, as you wish.

Serve Seven Layer Tostadas. With a fork. 🙂