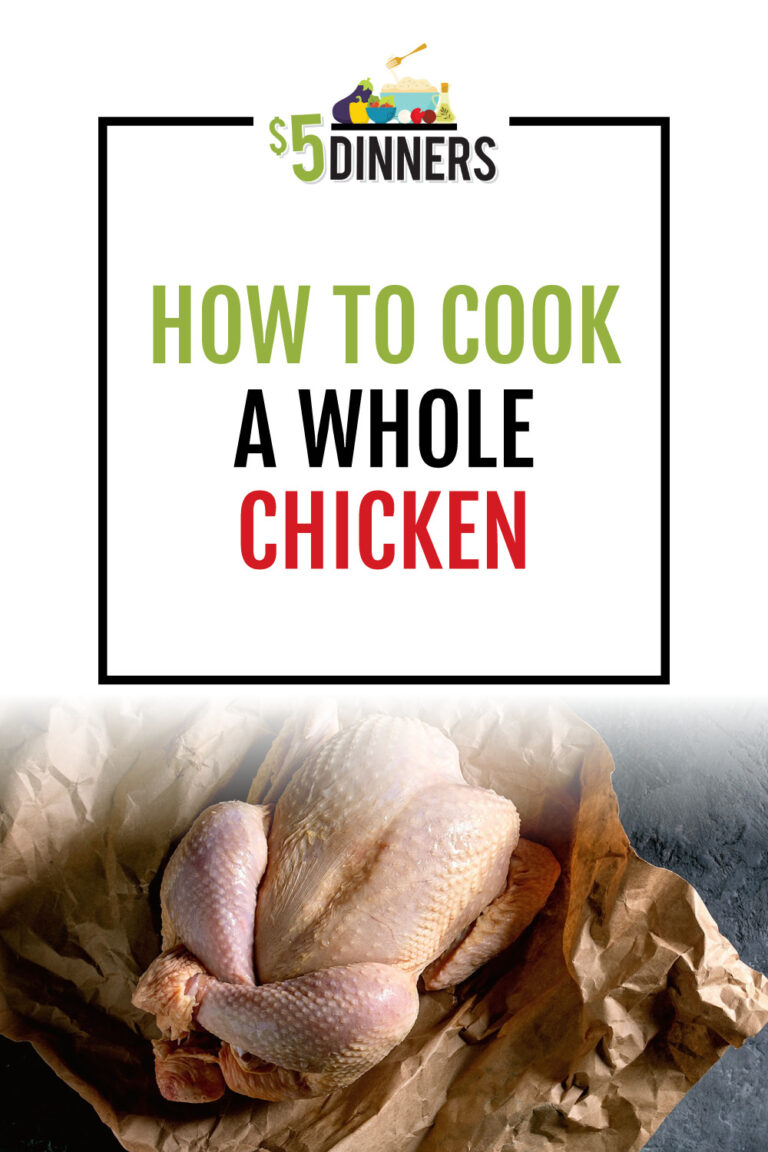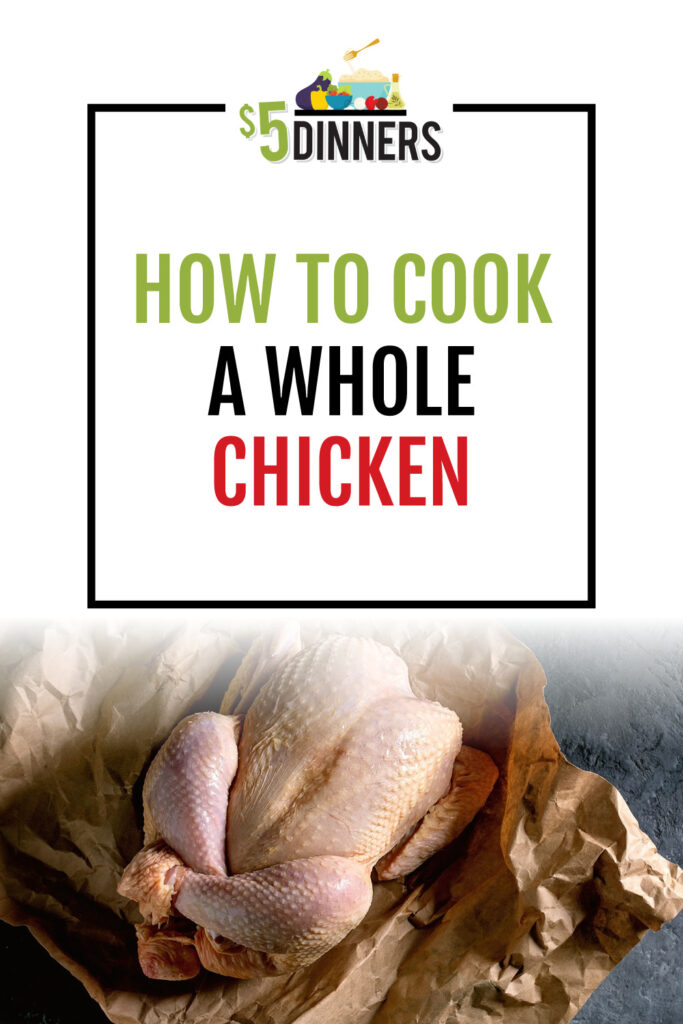 Recently there have been quite a few Tyson fresh chicken coupons out there! I have used some when boneless skinless chicken breasts were on sale. And I have used others for the much cheaper whole "cut up" chicken….which is what I used below.
I have seen whole chickens for as low as $.88/lb!
So here's what you do…
1. Buy a whole chicken when it's on sale…it's MUCH cheaper than the slimmer, boneless skinless breasts. And you can do more with a whole chicken…get more meat…both white and dark…and make homemade stock, too!
2. Unwrap it and remove bag from the inside the chest cavity (I don't use these parts…except if I wish to make gravy!).
3. Place your whole chicken into the crockpot with 1 cup of water. I add water so that I can strain the juices after it has finished cooking and freeze them for use in soups (homemade chicken stock!). Season chicken with salt, pepper, and other favorite spices…perhaps sage, poultry seasoning. Toss in a some onions, garlic, carrots. Whatever you like.
4. Set slow cooker to low and cook for 8-10 hours.
5. Once the slow cooker has finished cooking your chicken, carefully remove the chicken and place onto a large platter or cutting board.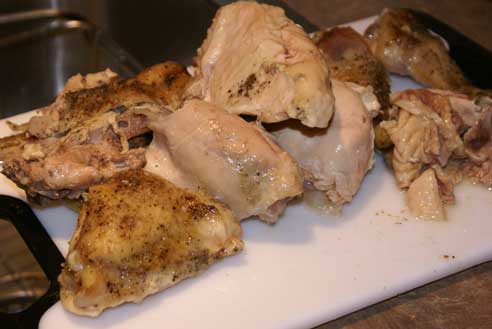 6. Let it cool for a bit, until you can comfortably handle it…cause your fingers will get messy! Remove the bones, and set aside for making stock. Shred all the chicken meat. I find it's easier to use my hands, but a knife will do the trick too.
7. Place the leftover bones/carcass into a pot and cover with water plus 2 inches. Add a splash of vinegar (this pulls calcium from the bones). Bring to a boil, then reduce heat and let simmer for 1-2 hours. Strain and then let cool in the refrigerator. Once cooled, skim off the layer of fat and pour the remaining stock into freezer baggies and freeze.
Homemade Chicken Stock. Preservative and Additive Free! Plus about 6 cups of shredded chicken!
Not bad for $.88/lb, or usually less than $5!
Recipes that call for Shredded Chicken
I turned mine into Chicken Taco Bakes for the Freezer. Although these were not originally on my "Stock the Freezer" list, they are now!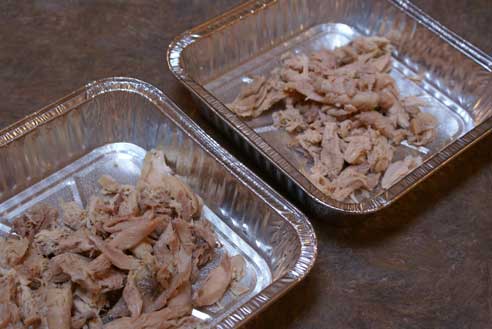 Place shredded chicken into disposable serving trays.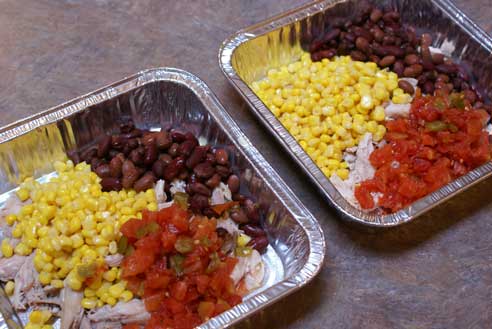 Add 1/2 can corn to each, 1/2 can Rotel to each, 1/2 can red kidney beans to each plus Salt and Pepper and some ground cumin.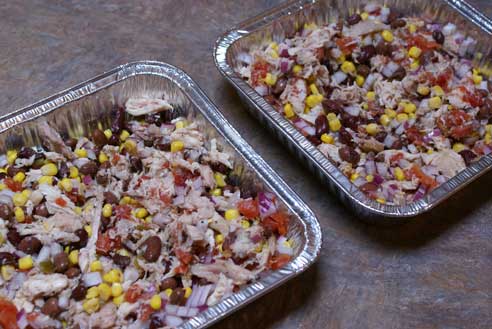 Mix.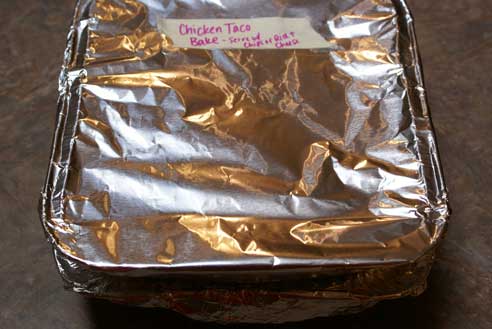 Cover and freeze. Serve with rice and/or chips.
When ready to bake, let thaw in the refrigerator, then bake covered at 350 for 30 minutes. Top with shredded cheese (if desired) before baking!