How Freezer Meals Can Help You Save Money on Groceries in 2022
I have to share this with you! Because if I'm feeling it, you're feeling it…
the more than slight rise in grocery and food prices. (Here in the US the inflation is creeping in quickly!)
I've been sharing ideas and ways to navigate this for the past few months on our podcast, in our weekly email newsletter… and as we turn the corner into 2022, I've decided to double down on MyFreezEasy freezer meals.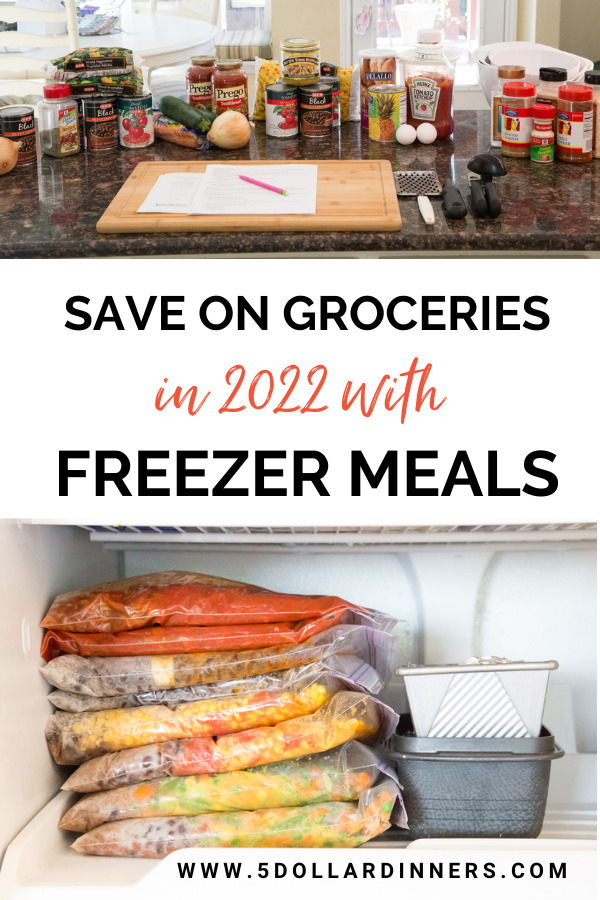 I've always made freezer meals – I cook 2-3 a week depending on our schedule, and I make 10-12 a month…like…every month. They not only help me stay organized and ahead of my hungry family, they help me save a TOOOOON on groceries.
And because of that, I'm doubling down…might bump up to 3-4 times a week, depending on the meat sales and cycles at my grocery stores.
The goal: never pay full price for meat by getting meat cuts when on sale and turning them into freezer meals to eat later.
Did you know that MyFreezEasy was actually first developed as a save on groceries method…that I quickly learned was also a save on sanity method.
The first MyFreezEasy freezer meal plans ever shared were based on "meat type" – so if chicken is on sale at your store, use the chicken meal plan. If ground beef is on sale, use the ground beef plan.
WAIT – WHAT?!
Yes, those were the first and those plans and categories still exist today.
You can use MyFreezEasy to find meals based on:
GROCERY SAVINGS – as explained above
Dietary Preferences – gluten free, dairy free, top 8 free, whole30/paleo, diabetic/clean eats, keto
Cooking Method – slow cooker, instant pot, grill, skillet, baked.
There is so much freedom and flexibility with MyFreezEasy and I want to invite you to join, so that you can…
Spend less on groceries (and fight against rising food prices!)
Make 2-3 freezer meals a week, to help you easily and efficiently feed your family well on busy weeknights
Get organized with your meal planning
Want to have a little more freedom in your schedule and bandwidth with your brainspace.
If you are ready to join in the freezer cooking fun…
xo
Erin "save money on groceries with MyFreezEasy" Chase