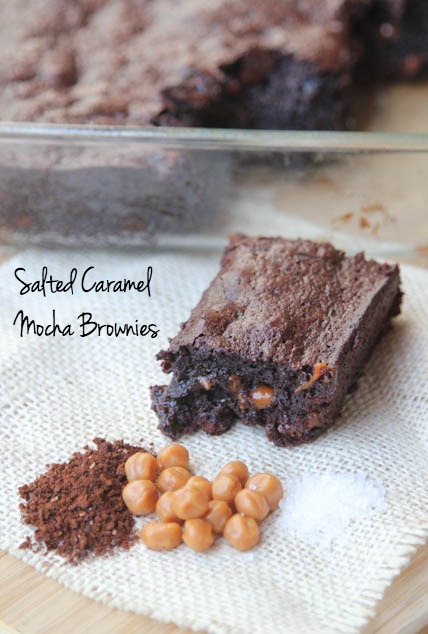 Yesterday it was the homemade PCL. Today it's the SCM in brownie form.
Because I love ya.
And firmly believe in these drinks and the flavor combinations…just homemade or disguised in a brownie. Because I don't like spending $5 on a latte…especially when I can make dinner for my family for that much.
So these are to.die.for. You will eat the entire pan in one shot…I promise not to judge. Because we (and I mean, I) might have eaten the entire pan…maybe with a little help from a few little boys. Gluttony doesn't exist when it comes to these brownies 😉
Coffee grounds.
Caramel drops. (These things are called Caramel Bits. I mentioned them here.)
Sea salt, big ole chunks.
And ooey-gooey, fudgey brownie.
Put it all into one pan….Dessert heaven.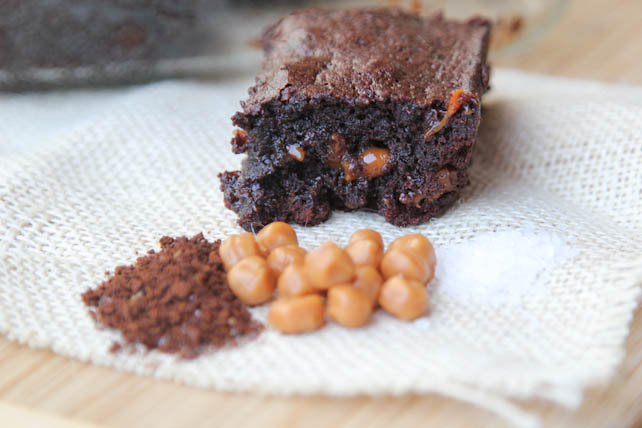 I dare ya to eat just one!!!
Your favorite fall beverage from Starbucks...in brownie form.
Ingredients
2

oz.

semisweet baking chocolate

chopped or shaved

1/2

cup

butter

2

cups

chocolate chips

divided

1

cup

sugar

1

tsp

vanilla

1/2

cup

all-purpose flour

2

Tbsp

cocoa powder

1/2

tsp

salt

2

eggs

1

packet

instant coffee granules

about 2 Tbsp

1/2

cup

caramel bits

about 1 tsp sea salt

sprinkling
Instructions
Preheat the oven to 350 degrees F. Grease an 8x8-inch glass baking dish with nonstick cooking spray.

In a large, microwave-safe mixing bowl, add the chopped baking chocolate, butter, and 1 cup of the chocolate chips. Microwave on high for 112 minutes. Whisk the melted butter into the melted chocolate.

Whisk the sugar, vanilla, flour, cocoa powder, and salt into the butter-chocolate mixture. Whisk the eggs and instant coffee granules into the batter. Whisk for about 1 minute, or until the batter is smooth. Fold in the remaining 1 cup chocolate chips and then stir in the caramel bits. Drop the sea salt all over the top of the batter, pinchful at a time.

Pour the batter into the greased baking dish. Bake in the preheated oven for 30 to 35 minutes until a toothpick inserted in the center comes out clean. Let cool slightly before cutting and serving.