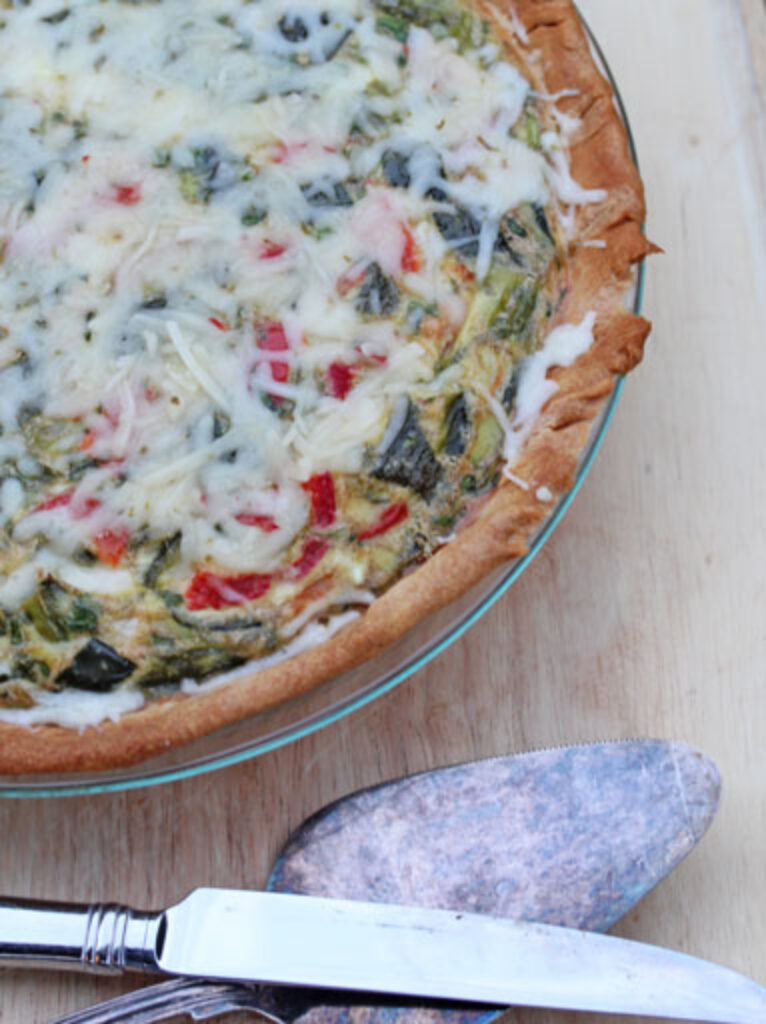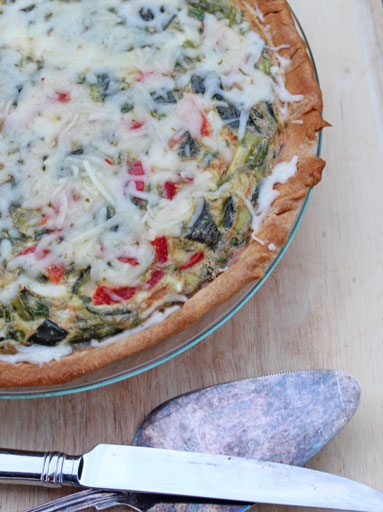 Egg pie. That's what my about to be 4 year old called this quiche.
He has become quite the sous chef in the past few weeks…always coming into the kitchen and helping me cook. I've started to let him help me crack the eggs (highly supervised still!) and taught him it's better to crack on the counter than the edge of the bowl, and how to keep the yolk from running all over the counter.
He said, "Mom, I don't think I like 'egg pie.'" I responded with the typical you-won't-know-til-you-try-it montage that every parent with a toddler or picky eater preaches on a daily basis.
I carefully cut a bite that would please his picky taste buds and he tried. And then this…
"Mom, I love this 'egg pie.'"
It was tough, but I resisted the second half of that "see, you never know what you might be missing out on" speech and instead let him keep enjoying his egg pie.
Love the flavors that filled this quiche, and I hope you will too!
An "egg pie" breakfast for dinner meal! Also known as a quiche - and this one is delicious!
Ingredients
2

poblano peppers

1

red bell pepper

6

eggs

3/4

cup

milk

1

small

onion, chopped

1

tsp

chopped cilantro

1

tsp

ground cumin

1

tsp

garlic salt

Pepper

1

pie crust

homemade or store bought

1

cup

shredded pepper jack cheese

Fresh fruit

side dish
Instructions
Preheat oven to 400 F. Place the 3 peppers on a baking sheet.

Roast the peppers in the preheated oven for 20-25 minutes, or until skin begins to shrivel. Remove from the oven and let cool. Reduce the oven temperature to 350.

Meanwhile, in a mixing bowl, whisk the eggs, milk, chopped onion and cilantro. Whisk in the cumin, garlic salt and pepper.

Add the pie crust to a lightly greased 9" pie plate.

Once the peppers have cooled, cut the core and seeds out of the roasted peppers. Peel any skin off that will come off easily. Then chop the peppers into small pieces. Stir them into the egg mixture and then pour into the pie plate.

Bake in the oven for 40-45 minutes, or until egg bounces back in the middle of the dish. Remove from the oven and sprinkle a thin layer of shredded cheese on top. The heat from the quiche will melt it quickly.

Serve the Roasted Poblano Pepper Quiche with fresh fruit.