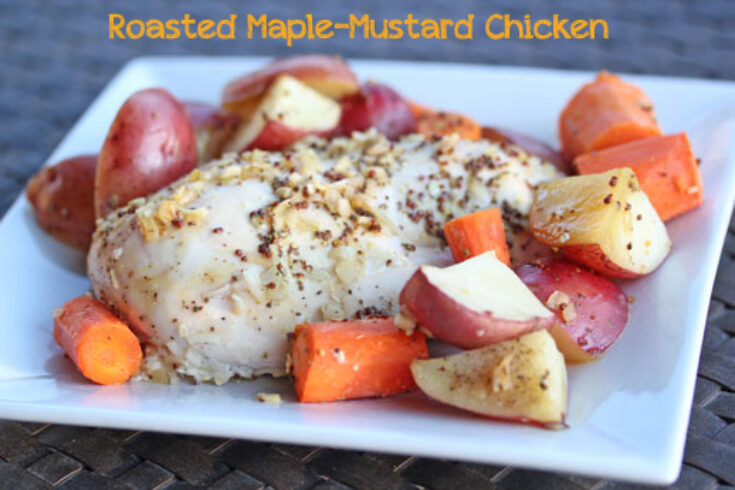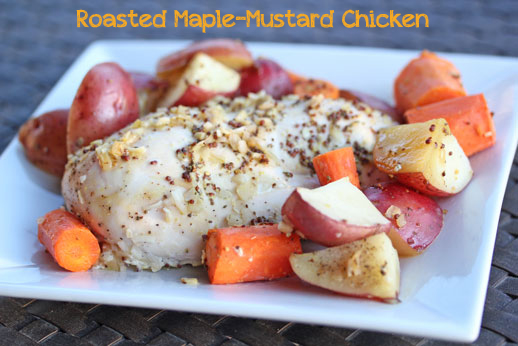 {Repin It!}
So here's the conundrum that I face with chicken breasts. 2 isn't enough for our growing brood (it used to be plenty!)…but 3 is too many. (Unless all 3 boys are in a growth spurt at the same time, and that doesn't happen often.) So 2 and 1/2 is perfect for our family right now, but they don't come in packed as 2.5 breasts in a package. (If I was really smart, I'd take the $1.99/lb value packs and split them up with 2 1/2 breasts in a bag and freeze them…now I'm talking to myself…)
I found a package in the freezer that had 3 breasts that I'd recently purchased from Sprouts at $1.99/lb! I dropped the breasts into the bottom of a roasting pan, sprinkled with salt and pepper and minced onion. (I wanted to use a real onion, but didn't see one where I usually keep them. I hadn't looked hard enough, as a few days later I found them behind the stack of bowls in that cabinet. Oh well.) I scattered pieces of carrot sticks and quartered potatoes all around the chicken in the roasting pan.
Then I whisked up an equal parts maple-Dijon sauce and poured it over the top (click to watch the Vine video). Into a 400 oven for 30 minutes it all goes…dinner's ready for the table shortly thereafter.
Here's what I love about this meal…it's a bit on the sweet side with the honey and carrots, but savory enough to work. The other thing I love…I knew even before I put it on the table that each boys would eat everything on their plate without comment, and that they would likely ask for seconds.
How did I know this?
My boys are "meat/chicken-potatoes" boys…they love any meal with meat and potatoes…and carrots too. Cooked carrots, to be specific. We are huge fans of the Slow Cooker Chicken and Sweet Potato Curry meal…and I can now add this one to the list of favorites. (And lest we not forget about the Slow Cooker Maple Chicken…there's just something about chicken, potatoes that are lightly sweetened!)
And no growth spurt…we had some leftover chicken…which Steve and I fought over who got to have for lunch the next day! 🙂
And…this is a perfectly delicious and inexpensive one dish dinner.
Ingredients
3 boneless skinless chicken breasts, about 1.5 lbs ($2.53)

1-2

Tbsp

minced onion ($.10)

Salt and pepper

About 2 lbs. red potatoes, quartered ($.99)

4 carrot sticks, peeled and cut into chunks ($.40)

1/4

cup

maple syrup ($1)

1/4

cup

Dijon mustard ($.35) Look for coupons in recent newspaper insert!
Instructions
Preheat oven to 400.

To a large roasting pan, or glass baking dish, add the chicken breasts in the middle and season with minced onion, salt and pepper.

Add the quartered red potatoes and carrot sticks around the chicken.

In a small bowl, whisk together the maple syrup and Dijon mustard. Pour over the top of the chicken and veggies.

Roast in the preheated oven for about 30-40 minutes, or until chicken is cooked through and potatoes are soft. Cooking time may vary depending on thickness of the chicken and size of the potatoes.

Serve Roasted Maple-Mustard Chicken with potatoes and carrots.