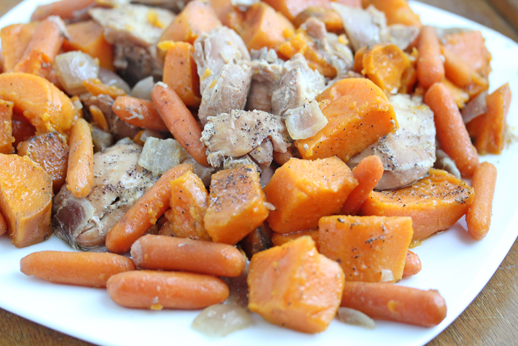 This recipe is part of our 6th Costco Meal Plan: 20 Slow Cooker Freezer Packs from Costco for $150!
Dear Chairman of the Kid Food Hall of Fame Committee,

I'd like to nominate this recipe to be inducted in the class of 2011 for Best Kid Friendly recipe for the following reasons.

1. All 3 children finished their entire plates in record time.

2. All 3 children asked for seconds and ate them all.

3. And we didn't have to rush home from swim practice to get dinner ready…it was ready when we got home!

Thanks for the consideration-

A Happy Mom of Kids with Full Bellies
Seriously…we'll be making this again before the winter hits! The sweet potatoes were perfectly delicious…almost like they were "maple steamed"…the chicken was perfect (we prefer chicken thighs in the slow cooker over chicken breasts, but if you don't like chicken thighs, this will totally work with chicken breasts.) The carrots also had a sweeter flavor…and all 3 kids ate them willingly without being prodded. (Carrots are not their favorite veggie…but they really liked these.)
Couple of notes about this recipe that's included in the 6th meal plan in the 20 Meals from Costco for $150 series.
This recipe is easy to add more chicken or sweet potatoes, to accommodate how many mouths you have to feed!
Gluten Free modifications: none.
Whole30 or Paleo modifications: none if Paleo. Try balsamic vinegar with some oil in place of the maple syrup if Whole30.
Note: I've written the recipe below to be based on the shopping list for the 6th plan in the 20 Meals from Costco for $150 series.
The sweet potatoes were perfectly delicious, the chicken was perfect, the carrots also had a sweeter flavor...and all 3 kids enjoyed!
Ingredients
2

large

boneless, skinless chicken breasts

Salt and pepper

3

Tbsp

maple syrup

drizzled over chicken

3

medium

sweet potatoes

peeled and cubed

1

lb.

bag baby carrots

1

small

onion
Instructions
Place the chicken the base of the slow cooker. Season with salt and pepper. Drizzle the maple syrup all over the chicken.

Place the cubed sweet potatoes, baby carrots or carrot sticks and chopped red onion over the top. Sprinkle a little more salt and pepper over it all.

Set the slow cooker on low and let cook for 8 hours.

Serve Slow Cooker Chicken with Sweet Potatoes and Baby Carrots.

To pack into gallon size freezer baggie: Labelandfollow the same order and directions in the first 2 bullets to fill the bags. Remove as much air as you can and seal. Freeze up to 6 months in your fridge freezer or 12 months in a deep freezer.

Tothaw, place the bags in the fridge overnight. Or quick thaw in a bowl of warm water.