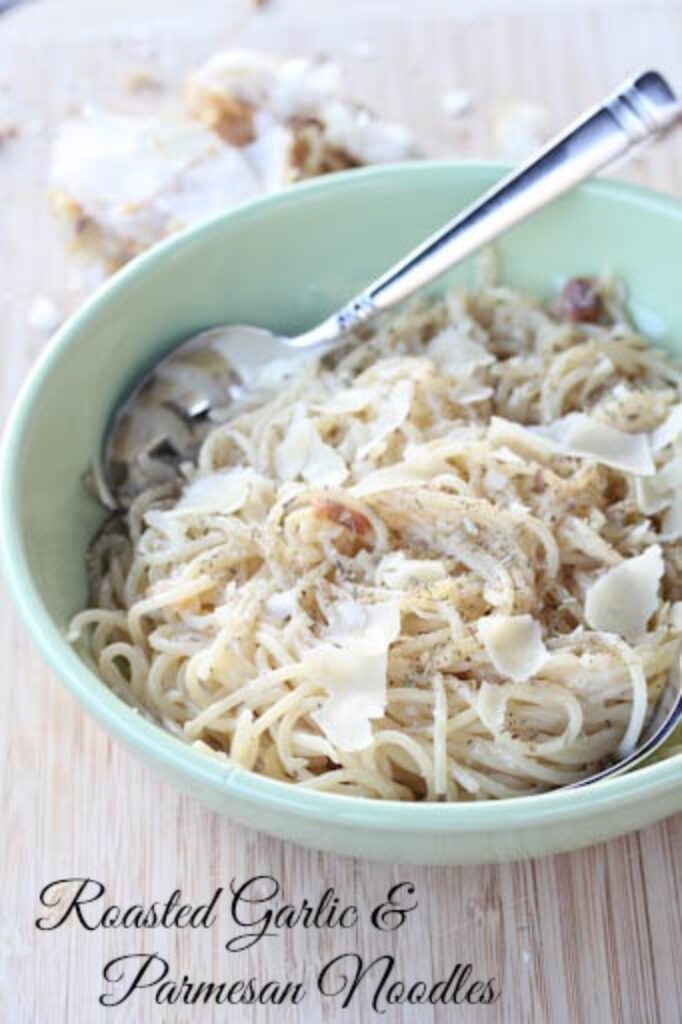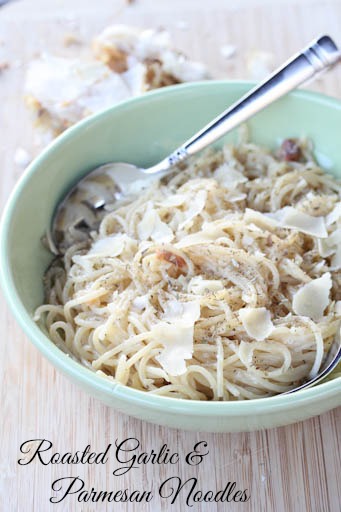 Because sometimes spaghetti with meat sauce just gets old.
Y'all. I love garlic. I love cooking with it and add it to anything that it makes sense to add to. Last year, when I was super-preggers with Cuatro, the entire family got the flu. I had had my flu shot so figured it wouldn't get it. After all 4 of my guys started to feel better, I was hit with it. I knew right away that I'd have to go in for tamiflu, to help take the edge off and keep the coughing to a minimum. I was terrified that the forceful coughing might send me into labor. The night before I went to the urgent care, where my OB sent me, I ate 2 heads of garlic…raw cloves, to help fend off the infection while I slept. Ate them willingly. And it wasn't terrible.
So not only do I not mind having garlic in all (most of) our food…I don't mind eating them raw in dire situations 🙂
(Apologies for bringing up the flu on a food blog. It was the respiratory flu. If that helps!)
My husband, however, isn't the biggest fan of garlic…he doesn't mind, but he's not a fanatic like I am. I was really worried that he wouldn't like these noodles…but alas, he did!
Here's why…they don't have a strong garlic flavor. Roasting them really changes up the flavor, plus combining them with Parmesan cheese and some spices really brought out a different taste.
Verdict: Loved these. Great alternative to spaghetti with red meat sauce or marinara.
AND…your house will smell amazing, and might attract neighbors to your meal.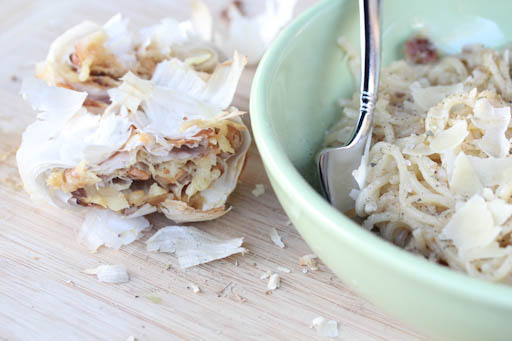 See how to Roast Whole Garlic here and then proceed with the rest of this recipe!
(For this recipe, I added the roasted garlic cloves to my chopper, so I could mix in the parmesan cheese and spices.)
Once the roasted garlic and parmesan "paste" was mixed together, I tossed lightly with the cooked noodles.
Divine y'all. Loved these noodles!
Once the roasted garlic and parmesan "paste" was mixed together, I tossed lightly with the cooked noodles. Divine y'all. Loved these noodles!
Ingredients
1

lb.

spaghetti or other favorite noodles

4

heads

garlic

olive oil

drizzles

2

Tbsp

grated or shaved Parmesan cheese

Pinchful of oregano leaves

garnish

Salt and pepper
Instructions
Cook the pasta noodles as directed on the package.

Preheat oven to 400.

Cut off the tops of the garlic heads and place them in a small baking dish. Drizzle with olive oil, and place a small piece of foil over the top, so the tops don't burn.

Roast for 20-25 minutes, and enjoy the aroma.

Remove from oven and let cool until you can handle them, about 5 minutes.

Squeeze the roasted garlic into a small bowl or chopper/food processor. Add another drizzle of olive oil, the parmesan cheese, oregano leaves, salt and pepper. Mash well, or chop until "paste" forms.

Once the noodles are cooked and drained, add the paste and toss together.

Serve Roasted Garlic & Parmesan Noodles, as a side dish with baked chicken, beef roast, or other favorite Italian dish.