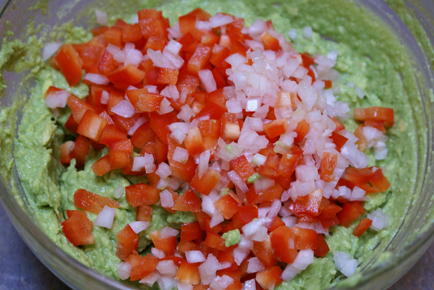 This makes me want to move to Spain. Or Mexico.
Anywhere Spanish speaking would work! (I miss saying Hola and Buen Dia all the time.) Ever since playing "Twitter translator" (where I would send Twitter DMs with common Dominican phrases to my friends who were in the Dominican Republic), I've been itching to speak Spanish. I find myself talking to the boys in Spanish and teaching them new words and phrases.
I used to speak about 75% of the time in Spanish with Ryan when we lived there, but I stopped when we learned he had apraxia of speech. I figured it was going to be difficult for him to speak in English, it might not be the best thing to be throwing 2 languages at him. But now that most of his speech issues have resolved, I've been speaking more and more with them in Spanish.
I digress.
Please…please…please…the next time you make guacamole, do yourself a favor and add some diced red peppers. I usually add diced tomatoes or salsa, but not this time. I had red peppers on hand, so I added those and what a fabulous flavor combination!
(I made this for a party…and it made LOTS.)
Ingredients
4 avocados, mashed

1 red pepper, diced

1 onion, chopped

1/4

cup

lime juice

2 teaspoons ground cumin

Salt and pepper to taste

1/4

cup

sour cream (optional)
Instructions
Mash avocados.

Mix in diced red pepper and chopped onion.

Add in the lime juice, ground cumin and salt and pepper.

Optional: For a creamier guacamole, add 1/4 cup sour cream.

Serve with tortilla chips or veggies crudites.

And don't be afraid to lick the bowl. It's allowed!