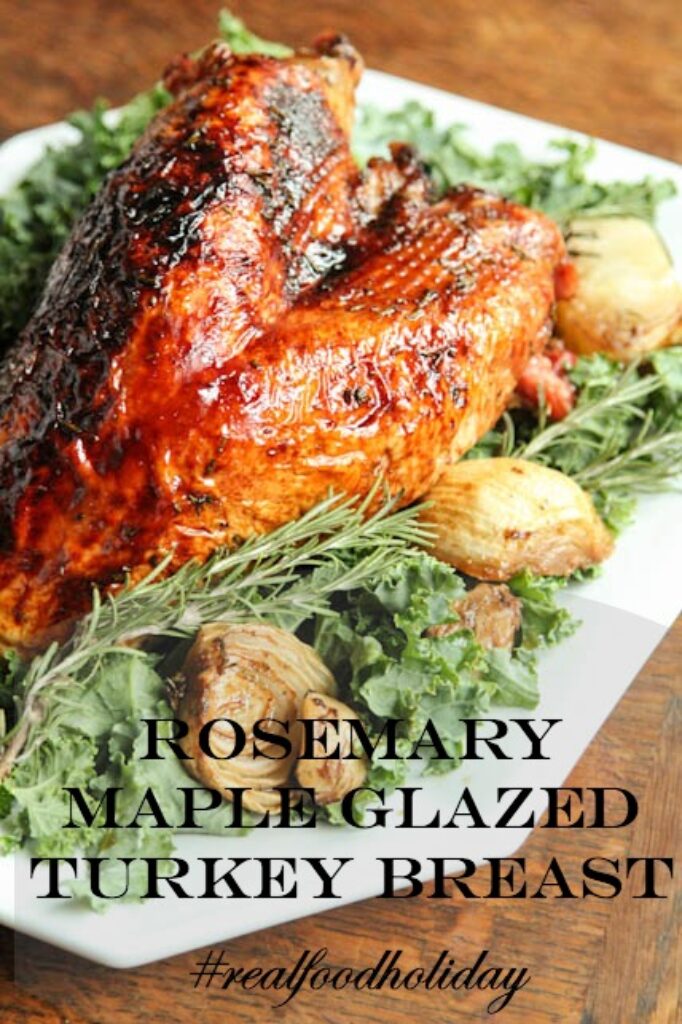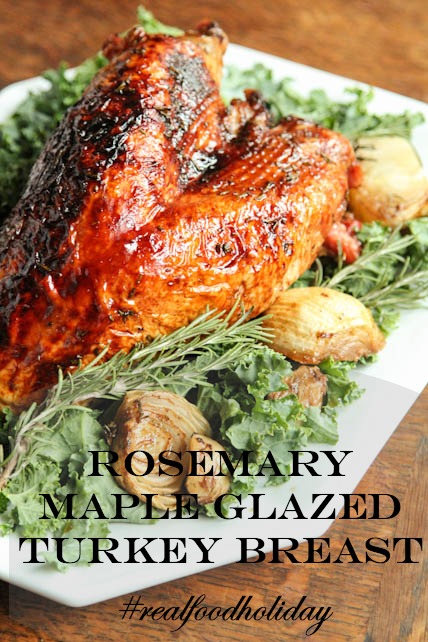 It's that time of year again. When I get to experimenting and figure out the best way to doctor up the turkey this year. I've shared before that I'm not the hugest fan of turkey. I don't mind it. But I don't really like it. (Until now!)
It's just so bland to me. Maybe that's because it sits on a plate with three trillion other amazing flavors coming from the stuffing, 'taters, salad, cranberry sauce, etc. Unless the turkey is completely doused in gravy, I'm just not a huge fan.
I've had deep fried turkey, regular roasted turkey. Turkey that's basted often. A turkey cooked in a bag with extra seasonings. And grilled turkey. From medium size, to small size, to organic and free range. I've glazed them and stuffed them with aromatic fruits like oranges. I've tried them all. (Well, most of the cooking methods anyways!) But not until this glaze came along did I actually enjoy a turkey.
This glaze has a powerful flavor. It's healthy. It's simple. (3 ingredients!) And it will transform your bland turkey into a delicious turkey.
Here's how it went down for me. I used this glaze on a 4-ish lb. organic turkey breast. I wanted to get an organic turkey and in order to stay within budget, I needed to get the smaller turkey breast. Enough to feed 12 people for the meal, but not much will be leftover! (I'm okay with that.) Follow your convictions on organic vs. cost and do what's best for you!
The turkey breast would take about 2 hours to roast, so I plopped it in the oven first with some broth, onions, garlic and rosemary.
Then I started simmering the glaze. 2 cups of balsamic vinegar, 1 cup maple syrup, 3 stalks of rosemary leaves, finely chopped.
I'll show you just how you know when the glaze is ready to brush onto the turkey. Watch the video here.
As you can hear from the video above, it took about 30 minutes for the glaze to reduce down to be ready for the turkey. The turkey had been in the oven a little longer than 30 minutes, so I ended up glazing it (as if you would basting it!) 3 times as it roasted. Once after about 45 minutes while the glaze was still warm and thinner, once after 1 hour and 45 minutes and again before serving.
I divided the glaze into 3 smaller bowls, as to avoid potential for the spoon touching the not completely cooked turkey during the first and second glazes. Overly cautious, maybe….but just sharing what I did!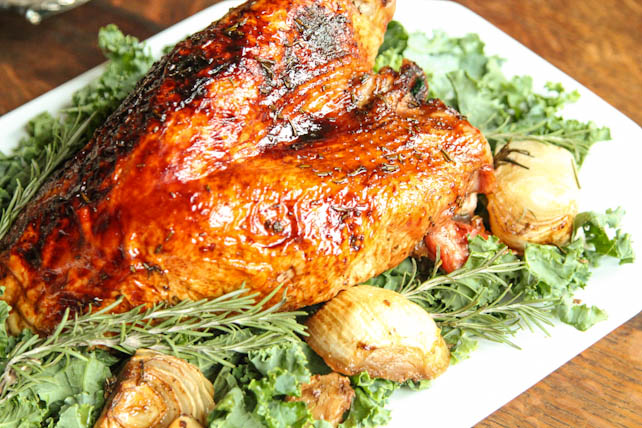 I let the turkey breast sit for 15-20 minutes before adding the last round of glaze and serving it to the boys!
Couple notes before I share the recipe with you:
The balsamic vinegar reduces is pungent. And aromatic. And will make your kitchen smell…you might want to open a window!
The result of the reduced balsamic glaze is well worth the pungent reducing odors!
You can buy a bottle of balsamic glaze, but the ones at my store had some questionable ingredients…which is why I ended up making my own!
I stuffed this turkey breast with onion, garlic and rosemary to the infuse more flavor into the meat as it cooked.
You can definitely use this glaze for a full size turkey, but you might want to make 1 1/2 or 2 times the amount in order to adequately cover and glaze the entire turkey. I've written the recipe below for a 4 lb. turkey breast.
This glaze would also be delicious on a whole chicken! 🙂
If you're like me and think turkey is a bit on the bland side…then kick it up a few levels with this amazingly scrumptious Rosemary-Maple-Balsamic Glaze!
Delicious turkey for your holiday meal!
Ingredients
4ish

lb.

turkey breast

Salt and pepper

4

onions, halved

6

garlic cloves, smashed

6

rosemary stalks, divided

2

cups

chicken stock or water

2

cups

balsamic vinegar

1

cup

maple syrup
Instructions
Place the turkey breast in a small roasting pan and season with salt and pepper, inside and outside.

Place 2 onion halves and 2 garlic cloves with 1 stalk of rosemary inside/underneath of the breast cavity.

Place the other onion halves and garlic and 2 other rosemary stalks around the turkey breast in the pan. Pour in the 2 cups of stock. (I added stock because the turkey breast will not release as much liquid as a whole turkey will. If you are cooking a whole turkey, you can leave the stock out. The stock will give enough liquid to make a gravy after it has cooked.)

Roast at 325 for 2 1/4 hours (or as directed by lb.) or until internal thermometer reads 165. Add glaze 2 times during the roasting.

Once the turkey is in the oven, begin make the glaze and reducing the liquids. To a small saucepan, add the balsamic vinegar, maple syrup and chopped rosemary leaves. Bring to bubbling and bubble over medium-low heat for about 30 minutes, stirring often. Watch the video to see how you know the glaze is finished.

Add about 1/3 of the warm glaze onto the turkey. Pull off the heat and let cool. After another hour in the oven, add the next 1/3 round of glaze to the turkey. Once the turkey is cooked and cooled for about 15 minutes, add the last of the glaze before slicing and serving.

#realfoodholiday Bloggers
This past week and the next week, I'm working with this group of amazing bloggers to bring you scrumptious recipes to make your holiday feast a #realfoodholiday feast! We are on a mission to bring you delicious food, made with real ingredients, to help make your holiday meal tasty and healthy!
Once we've all shared our recipes, I'll put together a roundup post for you so you can see them all in one place! But in the meantime, here's who else is sharing #realfoodholiday recipes!