When a new trend goes viral on TikTok just before Valentine's Day, you make these Raspberry Chocolate "Tortilla Wraps!"
About a week ago, a new "tortilla wrap" – which is a not-so-fancy way to say folded quesadilla – went crazy on TikTok and, just like that, it's the latest food craze online.
It's pretty simple….and after you see how it works, you'll wonder why you've never done this! lol
The possibilities seem endless with what you add to a tortilla wrap. Think:
BLT
Avocado toast
Bean tacos
Meat tacos
Fajitas
And…Raspberry Chocolate Tortilla Wrap. About 5 years ago, we shared this Raspberry & Chocolate Chip Quesadilla, and below is the "tortilla wrap" version.
The basic gist is this: you cut a slit into a large, burrito size tortilla. Then, add a thin layer of ingredients to each of the 4 quadrants. Fold and either eat like that, or heat up and enjoy.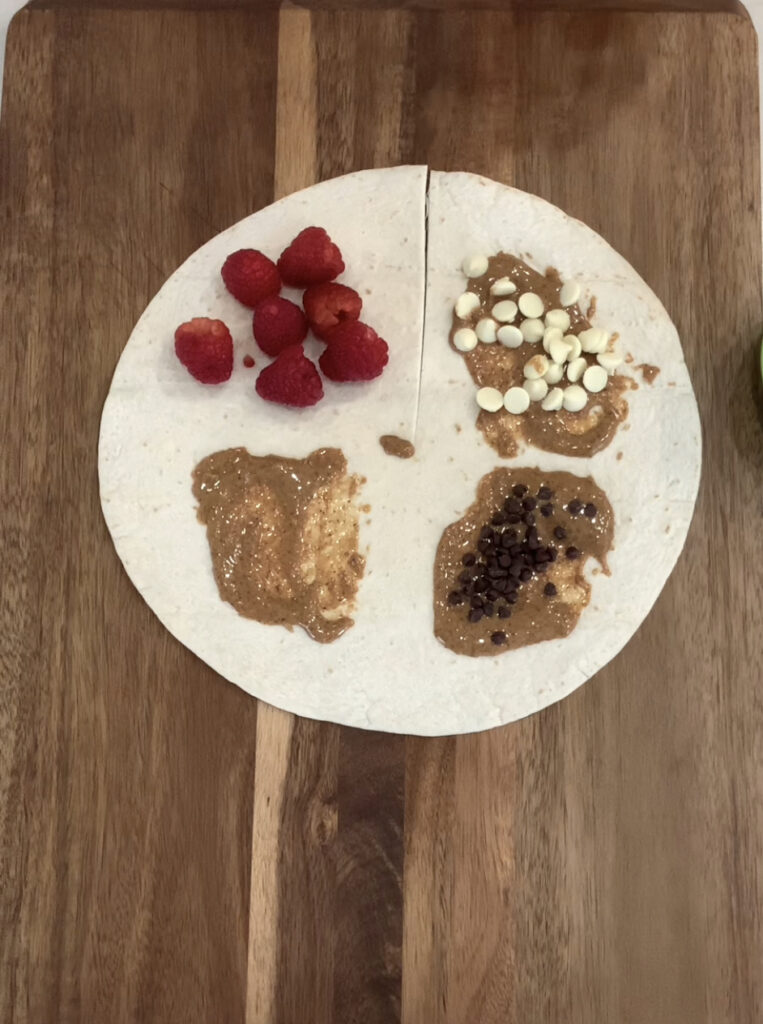 How to Make Raspberry Chocolate "Tortilla Wrap" – Viral TikTok Trend
You can check out the video below, or
watch the full how-to demo here on Facebook
.
A Valentine's Day Dessert - based off the latest TikTok trend.
Ingredients
4

large

burrito-size tortillas

8

Tbsp

almond butter**

1

pint

fresh raspberries

1/4

cup

white chocolate morsels

1/4

cup

mini chocolate chips

parchment paper
Instructions
Cut a small slit as the "radius" of the round tortilla.

Place the almond butter into 1 quadrant, then the raspberries, then more almond butter and the mini chocolate chips, then the white chocolate chips.

Fold into quarters, so the chocolate chips end up on the outside. (See photo above.)

Wrap in the parchment paper and heat for 2 minutes in toaster oven, conventional toaster, or panini press.

Let cool slightly before enjoying.
Notes
**Peanut butter or Nutella could be used in place of the almond butter.