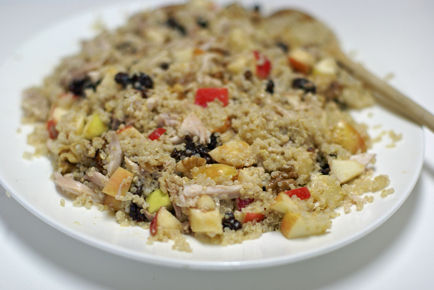 I had firsts.
Then seconds.
Then thirds.
And *maybe* fourths.
(Perhaps it's the half marathon training and the fact that my body is just CRAVING calories! Not only am I still full-time nursing, I've decided to train for the San Antonio Rock n Roll Half Marathon that will take place in November. I think I'm burning close to 3,000 calories per day. Hence *maybe* the fourth serving of this delicious quinoa salad.)
(But truth be told, I'd likely have eaten 4 bowls of this if I was not nursing and not training for this half marathon.)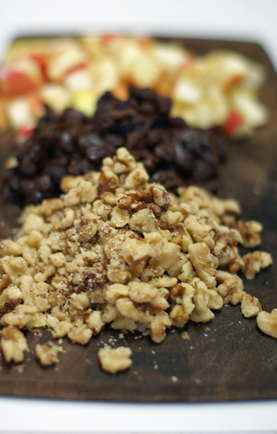 Shall we move on to the ingredients?!
Ingredients
1 1/2 cup white quinoa ($1.25 ) (Red quinoa would be fine too)

2

cups

chopped apples ($.75) From the manager's special apples...and again, a *child who shall remain nameless* ate several before I could get them mixed in

1

cup

chopped walnuts ($1)

1

cup

raisins or dried cranberries ($.50)

2

cups

cooked and shredded chicken ($1.50)
Instructions
1/4 cup maple syrup (free from Amazon using Swagbucks)

1/4 cup apple juice ($.05)

1/4 cup cider vinegar ($.05)

1/4 cup mayonnaise ($.20)

Salt and pepper to taste