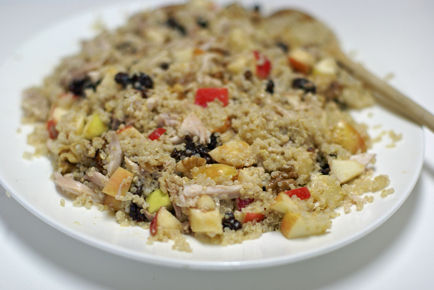 I had firsts.
Then seconds.
Then thirds.
And *maybe* fourths.
(Perhaps it's the half marathon training and the fact that my body is just CRAVING calories! Not only am I still full-time nursing, I've decided to train for the San Antonio Rock n Roll Half Marathon that will take place in November. I think I'm burning close to 3,000 calories per day. Hence *maybe* the fourth serving of this delicious quinoa salad.)
(But truth be told, I'd likely have eaten 4 bowls of this if I was not nursing and not training for this half marathon.)
Here is a brief look at how this meal comes together…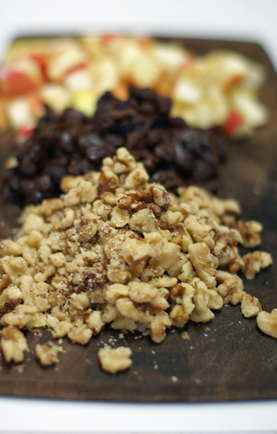 The mix-ins.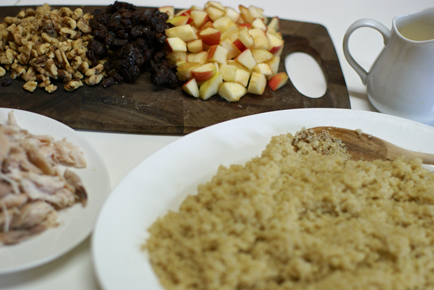 The chicken and quinoa.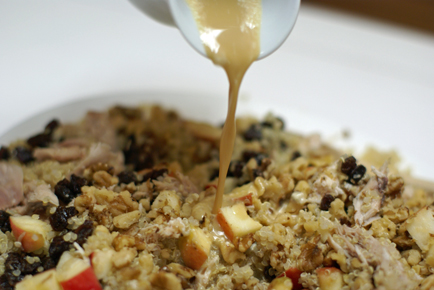 Toss all together and then pour in the homemade creamy maple vinaigrette dressing. Enjoy!
Light and fluffy quinoa, tossed with yummy fall inspired ingredients and a scrumptious dressing.
Ingredients
1 1/2

cups

white quinoa

2

cups

chopped apples

1

cup

chopped walnuts

1

cup

raisins or dried cranberries

2

cups

cooked and shredded chicken
Creamy Maple Vinaigrette
1/4

cup

maple syrup

1/4

cup

apple juice

1/4

cup

apple cider vinegar

1/4

cup

mayonaisse

Salt and pepper to taste
Instructions
Rinse the quinoa with cold water.

Cook the quinoa in 2 parts water: 1 part quinoa ratio. Bring water to a boil, then add quinoa and reduce heat and cover. Cook for about 15-20 minutes, or until little ring separates from the grain.

Chop apples, walnuts and shred the cooked chicken.

Prepare dressing. Whisk all dressing ingredients in a mixing bowl.

Toss together the cooked quinoa, chopped apples, walnuts, raisins and shredded chicken. Pour dressing over the top. Season with a little salt and pepper.

Serve Chicken and Quinoa Waldorf Salad with Creamy Maple Vinaigrette with veggies or salad.