Couple things before we get to the recipe, 'kay?!
First. Are feeling like you can't get enough pumpkin in?! I think that after the pumpkin shortage of 2009 and 2010 all I want to do is make pumpkin this, or pumpkin that. After not using pumpkin in any recipes since earlier in the year (when my holiday stockpile ran out), I'm find myself trying to make up for lost pumpkin recipes!
Second. I was playing around with my Pumpkin Chocolate Chip Muffin recipe last week and decided to try making them with our dairy-free butter instead of oil. Oh my moist-ness! They had the fluffiness and texture of a cupcake. But with the taste of the muffin.
Third. I have already been dreaming about the desserts that I'll be making for this Thanksgiving. I'm thinking about putting a pecan spin on a pumpkin pie…but without the corn syrup. I've browsed a few Pumpkin Pecan Pie recipe…all of which call for corn syrup. So I think a little pumpkin and pecan pie experimenting is in order in the coming weeks.
(All this leads us to this new great recipe.)
(Which you really should try.)
Finally. In a moment of culinary genius, I thought to make the new buttery, fluffy pumpkin chocolate chip muffins without the chocolate chips. And with a cinnamon pecan streusel topping.
Le Stresel Topping Ingredients.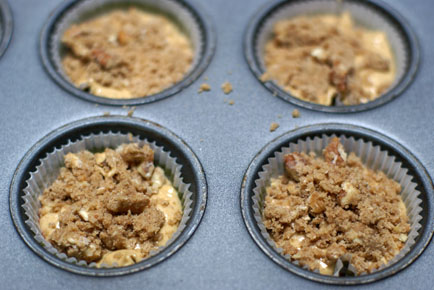 Don't be shy when it comes to sprinkling the streusel. 🙂
Ingredients
1/2

cup

butter

or dairy-free margarine

1

cup

brown sugar

2

cups

flour

1

Tbsp

baking powder

1

tsp

baking soda

1

tsp

cinnamon

1

tsp

ground ginger

1/2

tsp

ground nutmeg

1

tsp

salt

2

eggs

1/2

cup

milk

1

tsp

vanilla

1

cup

pumpkin puree
Cinnamon-Pecan Streusel
1/2

cup

flour

1/3

cup

brown sugar

1

tsp

cinnamon

4

Tbsp

butter

3/4

cup

chopped pecans
Instructions
Preheat oven to 350. Grease 18 wells of regular size muffin tin.

In a stand mixer or mixing bowl, combine together the butter or margarine and sugar until smooth.

In a mixing bowl, toss together the flour, baking powder, baking soda, cinnamon, ginger, nutmeg and salt.

Add the eggs, 1 at a time, to the butter and sugar mixture. Stir after adding each egg and scrape down the sides if using a stand mixer.

Next stir in about half of the flour mixture, until smooth. Then add half of the milk and stir until smooth. Then repeat with the other half of the flour and milk. Finally mix in the vanilla and pumpkin puree. Let mix for 1-2 minutes, or until nice and smooth. Pour into the greased muffin wells.

In a mixing bowl, combine all the ingredients and cut the butter in with a fork or pastry blender. Once crumbly, add the topping to all the muffins. And be generous about it…much of the brown sugar and butter melts into the muffin as it bakes…and the pecans get crunchy on top.

Bake in the preheated oven for 21-23 minutes.

Makes 18 delicious and perfectly moist muffins.