UPDATED! I saw a few comments asking about the baking soda in the recipe…I have remade these a number of times in the past few weeks…with 1 tsp, 2 tsp and 1 Tbsp…I found that the 2 tsp is the best option…so I updated the recipe. The pumpkin makes the cookies very dense, so there needs to be additional rising agent. Thanks for helping me get this recipe perfect!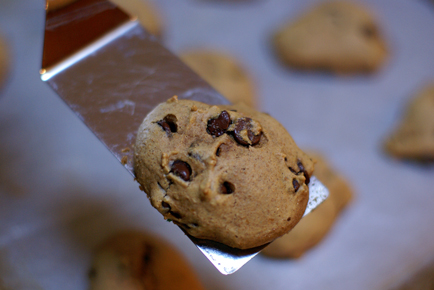 So Ryan has a new habit. A new after school habit, if you will.  Every afternoon when we get home from school, he asks…
"Did you make any treats today?" (every. day. with. out. fail.)
To which I either answer…
"Yes."
"No."
"How 'bout we bake something right now!"
His response is completely dependent on my response.
I mentioned freezing cookie dough the other day. Well, that's how I can pull off the third response. I, just like you, have no time to bake something everyday. (And don't get me wrong…I don't bake everyday!)  But at least once or twice a week, I like to treat my guys to some homemade baked goodies.!
I've got the dough ready…pop it in the oven and by the time we have gone through backpacks and figured out the afternoon plan of action, the cookies are done!
So now that canned pumpkin has been spotted…it's time to get my pumpkin on!
(And I doubled this recipe to use the entire 15 oz. can of pumpkin…worked perfectly…and now I have several days worth of  "did you make any treats today" dough in the freezer.)
(Oh, and the other fantastic thing about freezing dough…you get to control how much you bake. If your gang is anything like mine, a dozen cookies are gone in a matter of minutes…so you can reduce the "temptation" by only making 6 or 8 or 12 or 24 or however many you need for that afternoon! Portion control!)
Pumpkin Chocolate Chip Cookies

Ingredients

1/2 cup butter, margarine, shortening
1 cup brown sugar
2 eggs
1 cup canned pumpkin puree
2 cups flour
2 tsp baking soda
1 Tbsp cinnamon
1 tsp pumpkin pie spice
1 tsp salt
1 1/2 cup chocolate chips

Directions

(Preheat oven to 350. Grease cookie sheets with non-stick cooking spray.)

1. In a stand mixer or mixing bowl, combine the butter, brown sugar, eggs and canned pumpkin puree. Once smooth, add the flour, soda, cinnamon, pie spice, and salt. Stir until dough forms. Fold in the chocolate chips.

2. Spoon batter onto greased cookie sheets. Bake in the preheated oven for 9-11 minutes. Let cool on cooling rack before serving.

3. Feed to hungry (and somewhat demanding) children as after school snacks.

4. And go ahead and enjoy one yourself too!