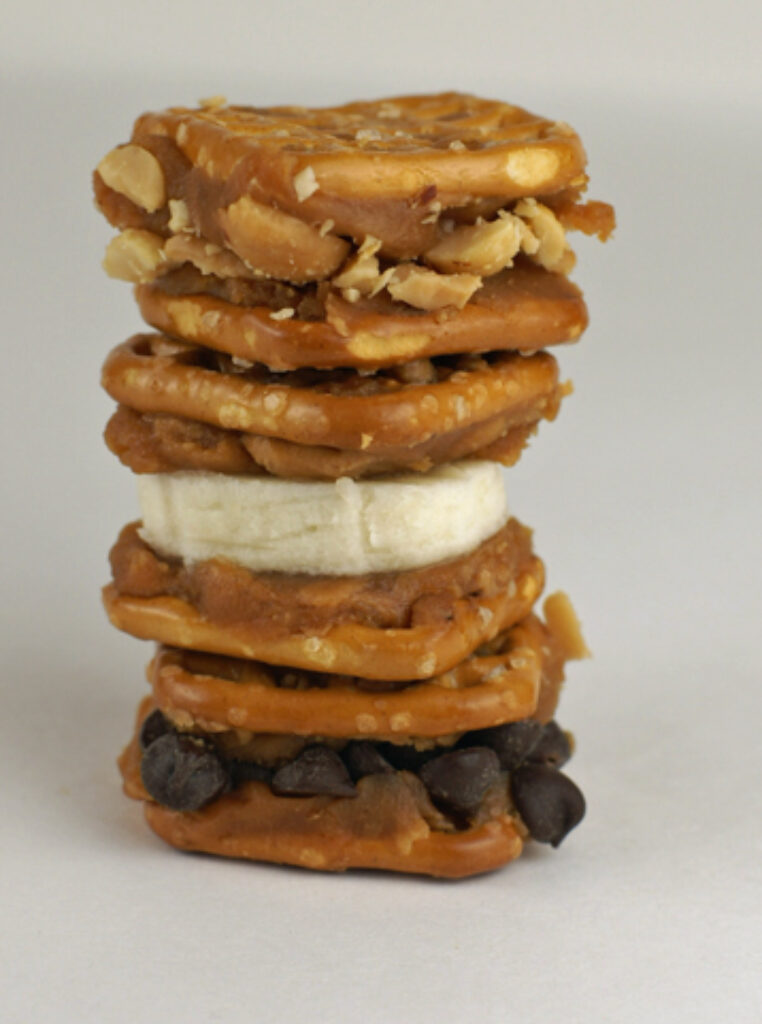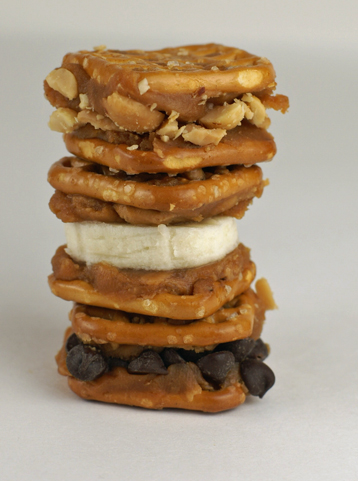 We  love these Pretzel-wiches that are shown above.  They are made from waffle pretzels, peanut butter and other goodies, like sliced bananas, mini chocolate chips and chopped nuts. I love these because they've got a little protein, a little energy, and a little sweetness!  Perfect combination…that everyone loves!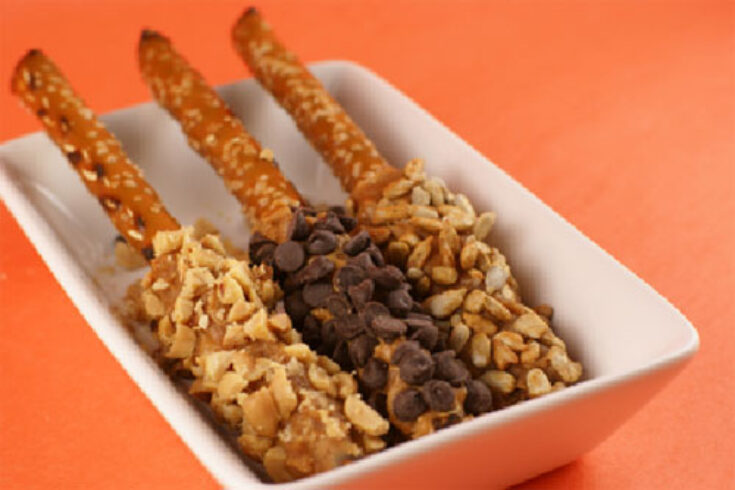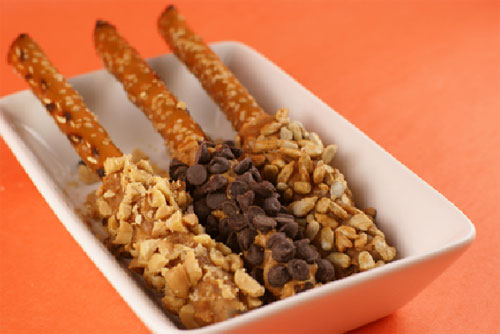 When the children get home from school, one of two things generally happen. They either start complaining about being hungry, or about having too much homework. So let's kill these two birds with one pretzel pop, shall we?!
I like to have these goodies made before my children get home, or I set out the ingredients and let them make them as soon as they walk in the door. You'll be one step ahead of the complaining and these snacks will hopefully prevent the complaining from happening in the first place. This fun snack will definitely fill up their tummies and give them the energy and brain boost they need to get through the rest of the afternoon.
How to make pretzel pops:
1. Take a pretzel rod, roll it in a soft natural peanut butter.
2. Provide a couple goodies such as: chopped peanuts, chopped almonds, chopped walnuts, mini chocolate chips, chopped chocolate candies, sprinkles, or other favorite small treats that will stick to peanut butter.
3. Dip the pretzel rod into the goodies.
4. If using a crunchy or thicker peanut butter, spoon it onto the pretzel and press the peanut butter around the rod with your fingers.
You can also make pretzel sandwiches with the waffle or mini pretzel twist varieties. Just add some peanut butter in between the pretzels and let a little of the peanut butter ooze out the sides of the pretzel sandwich. Then roll the peanut butter around in the suggested goodies and let them stick to the peanut butter. Or, place a thin slice of banana inside the pretzel-peanut butter sandwich.
Pretzel pops and pretzel sandwiches keeps mom happy because they are an easy way to provide children with protein and energy to fight the afternoon blues. And they keep children happy because they are fun and tasty treats!
Do you have a favorite pretzel snack that you and your young-uns love?!
Recipe originally posted on SCJohnson.com.