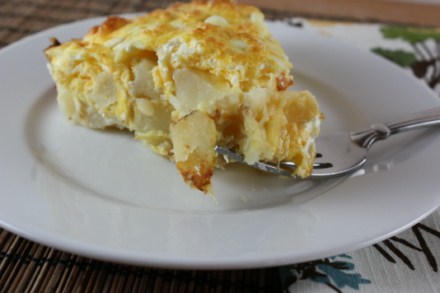 Breakfast is always a simple and frugal dinner option! A big thanks to Lynn for sharing this great recipe with us tonight. The next few recipes will be from some special guests. I'll be taking some time away, as we deal with a loss in the family. Be back soon!
Frittatas can be made from a wide range of ingredients, but they all contain eggs and some dairy, like milk, cream, or sour cream.
I love frittatas because, like quiches, they can easily be changed by using different ingredients. You can add meat or change the cheese to give it a different flavor.
I sometimes make this recipe meatless, sometimes I use sausage, and other times bacon.
This frittata uses cooked potatoes. Instead of baking potatoes just for this dish, I like to make extra baked potatoes when I am cooking them for dinner on another night. Doing this step a day or two in advance, when I am already cooking baked potatoes, saves me a lot of time.
Ingredients
4 5 potatoes, baked, cooled, peeled, and cubed or sliced

3 tablespoons of oil

1 onion, chopped finely

cup shredded cheddar cheese

10 eggs, whisked

cup sour cream
Instructions
In an oven proof skillet, cook onion in oil until tender. (I like to use my cast iron pan.) Add potatoes and stir until potatoes are slightly browned. Remove from heat.

In a separate bowl, mix together eggs, sour cream, and cheese. Pour over the potato onion mixture.

Bake at 400 for 15-20 minutes or until eggs are done. Cool about 5 minutes and cut into wedges and serve.
Lynn is a homeschooling mom of three. She loves to cook and try new recipes. She blogs at Lynn's Kitchen Adventures, sharing recipes, tips, and ideas to help you meld a love of cooking with a busy life.