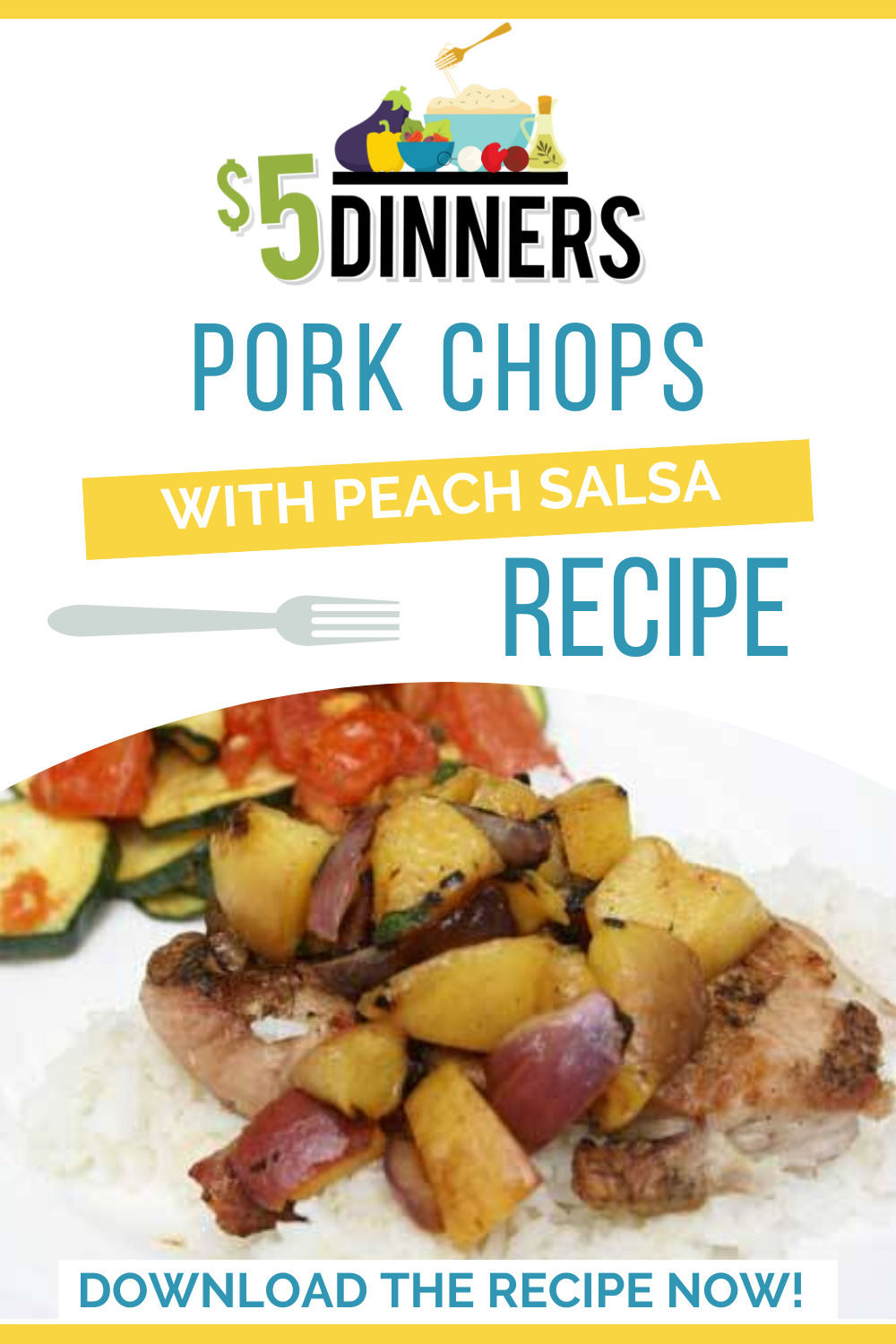 Monique shared this recipe with me. Hello, scrumptious!
I couldn't bring myself to buy the $2.49 jar of peach salsa. So I compromised and used the peaches I bought last week and the red onion from this week to make my own peach salsa. And ended up grilling it alongside the pork chops!
I also grilled up some zucchini and tomatoes in the grilling basket!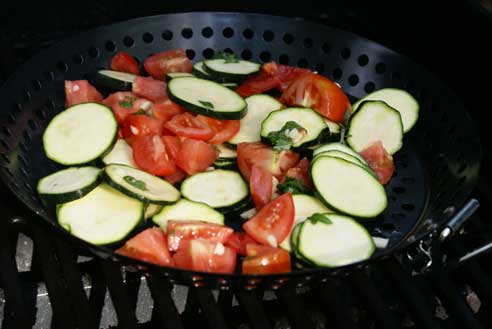 Homemade peach salsa for the win!
Ingredients
4

pork chops

I used a little more than 1 lb

4

small

peaches

About 1 lb

1/2

red onion

Bunch parsley

tsp

canola oil

1

zucchini

3

small

tomatoes

2

cloves

garlic

4

basil leaves, chopped

1

tsp

olive oil

1

cup

white rice

Salt and pepper, to taste
Instructions
Grill pork chops for 6-8 minutes on each side, or until no longer pink in the middle. Cooking time will vary depending on heat of the grill and thickness of the chop.

Cut peaches and red onion into 1 inch-ish size pieces. Add to bowl with chopped parsley and canola oil. Toss well. Add to grilling basket and grill for 8-10 minutes, or until peaches soften and onions become translucent. Stir occasionally.

Remove from grilling basket.

Slice zucchini into thin circles. Cut tomatoes into 1 inch-ish cubes. Add to bowl with minced garlic and chopped basil leaves and olive oil. Toss well. After the peach salsa has cooked, use the same grilling basket to grill the zucchini and tomatoes. Stir occasionally. Grill for 8-10 minutes, or until all the zucchinis have turned golden and the tomato skins have started to peel away. Season with salt and pepper, to taste.

In medium saucepan, add 1 cup rice with 2 1/4 cup water. Bring to a boil and then reduce heat and summer for 20 minutes. Fluff with fork before serving.

Serve Grilled Pork Chops over Rice with Grilled Peach Salsa and Grilled Zucchini/Tomato Medley.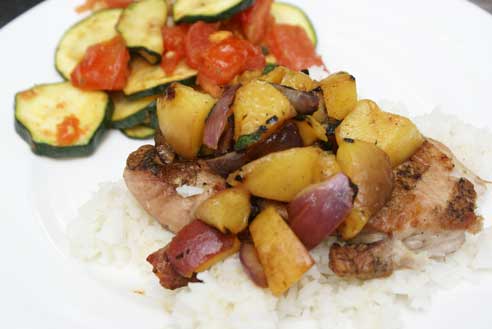 Cost $4.15