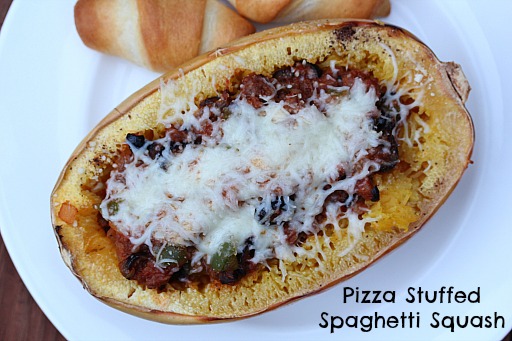 I've been seeing a bazillion sales on squash lately…tis the season after all. I regularly see butternut and acorn squash on sale, but see fewer sales for spaghetti squash. So when I saw the at Sprouts a week (or so!) ago for $.39/lb, I snatched up a few. They have a longer "counter life" than most produce, so I knew I'd be able to use them up before they were too ripe.
First recipe…
Something stuffed. I knew the boys would get a kick out of the "noodles" but I didn't want to make spaghetti, as we've been having that more lately with my crazy travel schedule! Next closest thing to spaghetti…pizza "sauce" with toppings. Stuffed inside. With some cheese on top.
Perfect.
Seriously delicious. And fun too.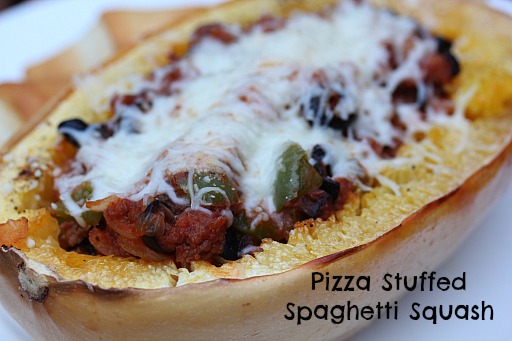 The flavors of pizza plus the fun "noodles" made this a hit with the boys!
Happy squash stuffing y'all!
Ingredients
2

medium

spaghetti squash

Drizzles of olive oil

Salt and pepper

1

lb.

ground Italian sausage

1

small

onion, chopped

1 green pepper, seeded and diced

2 8 oz. cans black olives

3

cups

spaghetti sauce

about 1 cup shredded mozzarella cheese

Side of bread, optional (I didn't have any bread because it was so good and so filling...no room left!)
Instructions
Preheat the oven to 400.

Cut both of the squash lengthwise and lay open/seed side up on a baking sheet. Drizzle with olive oil and sprinkle salt and pepper on top. Bake in the preheated oven for 1 hour, or until soft.

In a large skillet, brown the Italian sausage with the chopped onion and diced green pepper. Once browned, add the olives and spaghetti sauce.

When the squash is soft, scoop out the seeds and insides. Then gently pull apart the "noodles" before adding the sausage stuffing. Stuff each of the squash with the sausage mixture. Top with a few pinchfuls of shredded cheese. If the cheese doesn't melt, put back into the oven for 5-10 minutes, or until cheese melts. Remove and let cool slightly before serving.

Serve Pizza Stuffed Spaghetti Squash, as is or with side of bread.