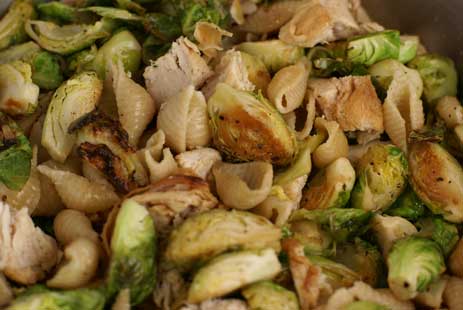 Over the Christmas holidays, we visited the Second Street Market here in Dayton. I saw these little gems in a bin…and they were calling my name.
I like brussel sprouts. I've liked them all my life. But I've never cooked with them. I'd only eaten them from a bag out of the freezer. Cooked, of course.
But never had I made them from "fresh" sprouts.
Since I wasn't exactly sure what I was to do with these little green gems, so I searched around. Every where I looked, said to cook them with pancetta or bacon. But I didn't have any bacon on hand, and well, pancetta is just too pricey for me! So I ended up deciding to work up a pasta. Seemed safe.
After all, I didn't want to screw this up and waste these green little gems.
Ingredients
3/4

lb.

Brussels sprouts ($1.49) Bought at $1.99/lb

1

Tbsp

olive oil ($.10)

1 tsp lemon juice ($.03)

2 chicken breasts (about 1 lb.) ($1.89)

2

cups

shell pasta ($.50)

1/4

cup

lemon juice ($.25)

Salt and pepper, to taste
Instructions
Rinse brussels sprouts and remove any yellow leaves.
Cost $4.26