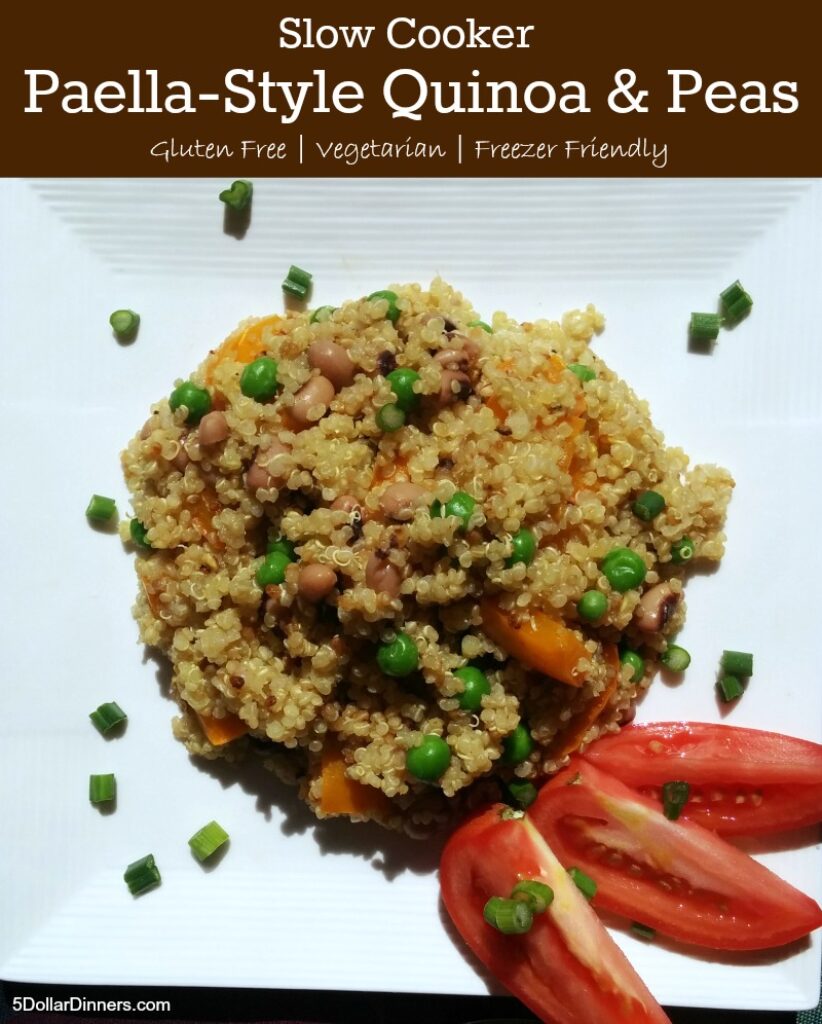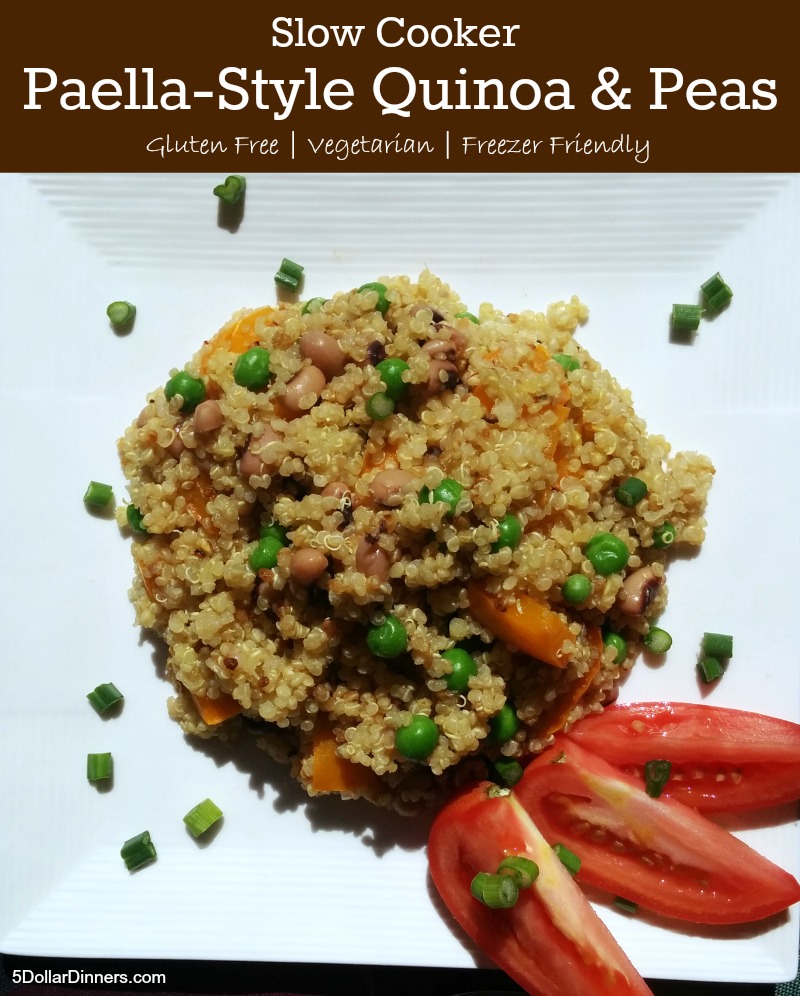 Quintessential paella has the following key ingredients: green peas, aromatic saffron, and the Latino all-purpose seasoning, Adobo.
Don't skip this recipe if you don't have adobo seasoning in your pantry. The first time I heard of adobo seasoning, I asked a friend to show me her bottle. The main ingredients were salt, black pepper, garlic powder, dried oregano, and tumeric. So if you have another all purpose seasoning that is heavy on these ingredients, it should substitute well. Then you can add adobo to next week's shopping list.
To make this recipe really hearty, I replaced the rice with high-nutrient quinoa (which still means it's gluten-free). Adding extra broth to the quinoa keeps it closer to the consistency rice-based paella.
I chose creamy black-eyed peas to be a vegetarian protein replacement and really appreciated the texture and color.
In the recipe, I leave the green peas out until the end so they look more appetizing and less wrinkled. This is a quick way to cool the meal for your kids.
While the slow cooker does a wonderful job of melding flavors in this dish, the rice cooker often crisps the quinoa on the bottom (sometimes requiring a spray of oil on the bottom), which more closely resembles traditional paella. Pick which method works best for your family.
Because this one pot meal is also freezable and allergy-friendly, it's at the top of my list for bringing to sick friends as well as enjoying it at home on a frequent basis, too!
This one pot meal is also freezable and allergy-friendly
Ingredients
1

cup

quinoa

15

oz

can black-eyed peas

1

orange bell pepper, cut into large bite-sized pieces

3-4

cups

vegetable broth

(or chicken broth if vegetarian isn't required)

1/4

tsp

saffron fronds

1

tsp

adobo powder

(or more to taste)

1

cup

green peas
Instructions
Coat bottom of pan with an oil spray, if desired.

Rinse quinoa in a strainer with cold water.

Combine all ingredients except green peas in a rice cooker or slow cooker.

Turn rice cooker on or set slow cooker on high to 3 hours.

Add extra broth if black-eyed peas are absorbing too much.

Meanwhile, measure out green peas and leave on counter (especially if frozen).

When quinoa is soft and broth is absorbed, fluff with a fork and stir in peas.

Once peas are warm, serve Paella-Style Quinoa and Peas and enjoy.